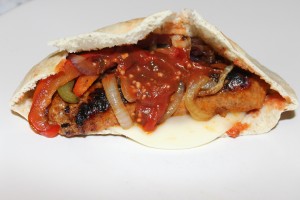 Much like so many meals, this one came out of a craving.  I love Italian Sausage sub sandwiches. Obviously I don't often eat them with that whole Gluten-free thing.  I have tried making these before and they have been pretty tasty but this version just rocked.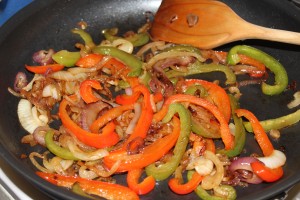 Onion, green and red peppers sautéed in a little Olive Oil until caramelized.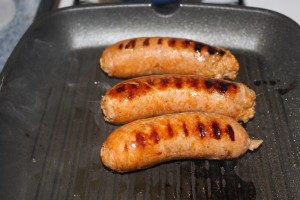 Spicy Hot Italian sausage – I tried a different cooking method I saw on a cooking show. Boiled the sausage links for 10-minutes then finished cooking them on the stove-top griddle.  This makes it easier to make sure the sausage is cooked through.  The griddle helps "crisp" the sausage skin.  Cooked until the sausage reached 160-degrees internal temperature.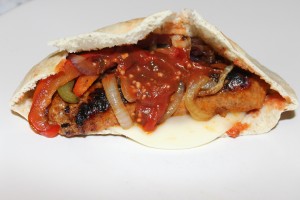 I also made a basic tomato sauce to bring the flavors together: Low sodium tomato sauce (small can), 1Tbsp minced garlic, 1Tbsp dry Italian seasoning, 1/2 Tbsp sugar (to taste) – I wanted a tomato-y sauce with a touch of sweetness.
Plated: Toasted the pita so it is warm, a slice of provolone cheese topped with the grilled sausage, sliced in half, topped with the peppers and onions and then a hearty spoonful of tomato sauce.  Absolutely delicious – totally the taste that I was looking for, like one of those rich Italian sausage subs you get at some sandwich shops.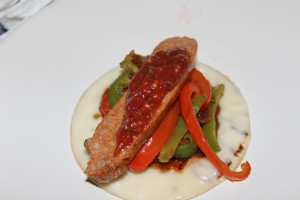 There was one sausage left and my Heart didn't think we should let it go to waste but didn't want all the "bread" from another pita so he threw a couple corn tortillas on the griddle, toasted them and topped with a slice of provolone and the rest of the makings – pretty darned good too!