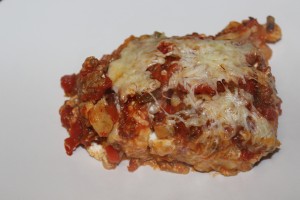 First, the name – I got this recipe (well, something very close to this recipe) from my former mother-in-law in about 1978. "Husband's Delight" was what it was called when she gave it to me and I can't remember where she got it from but she had made it for years so it probably originated in the 60's. I sorta like the name but was recently reminded that my daughter liked the dish so much when she was little I actually changed it to Angela's Delight when I would put it on the menu. I also think it is funny that I had never made it for my Heart but part of the reason is probably because of that pesky gluten-free thing. I put it on the menu but had planned on improvising with rice noodles (spaghetti or rotini) if I couldn't find something closer to egg noodles, which is what the original recipe called for. Imagine my surprise and delight when, on the Passover display in our favorite grocery store, I saw gluten-free wide noodles – serendipity!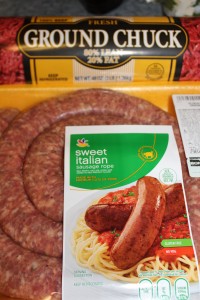 My plan was to buy the ground beef that was on sale (family pack) and the family pack of Italian sausage – oddly enough there was a total run on hamburger (in theory because of the impending snow storm – I guess everyone wanted chili or tacos or something) so I ended up with a 5-LB chub of ground beef, which worked.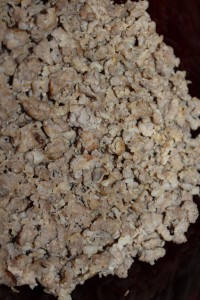 To be clear, I did NOT use all this for the casserole but I also wanted to share what I actually do. Purchasing the large packages of ground beef and Italian sausage can be a big cost saver.  I cook up the beef and set it to drain in a colander and do the same with the Italian sausage.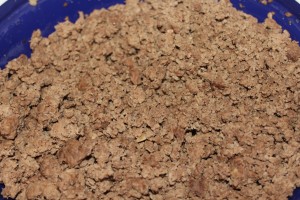 I then combine the two and scoop out what I need for the dish I am preparing that night – in this case approximately 3c of the combined mixture.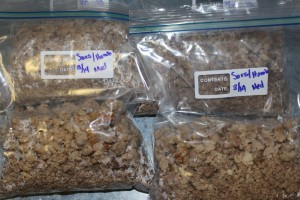 Next I do similar scoops of the mix into quart-size freezer ziplock bags. Some bags have slightly more in them so I mark them "med" or "lg" so I know what to get out depending on what I am making (i.e. "Lg" for chili).  Out of those two packages of meat I had meat for our dinner that night and six more bags for future meals – cost effective and efficient. Also, if I am making something like chili in the slow cooker, I don't even defrost the meat – it can go in just as it is. I use this mixture for everything from tacos and enchiladas to spaghetti and casseroles.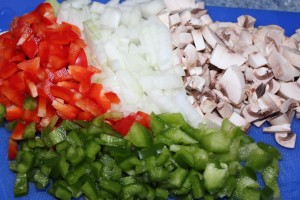 On to Husband's Delight
Meat mixture: 1/2 red bell pepper, 1/2 green bell pepper, six medium white mushrooms, and a small sweet onion – chopped.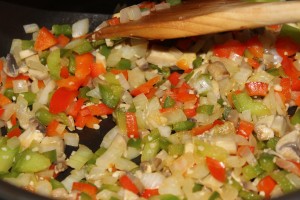 Sauté vegetables in 1 Tbsp olive oil with 3 cloves of garlic, crushed.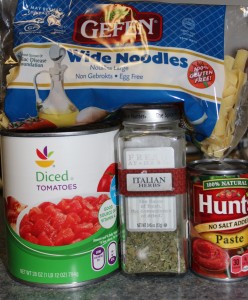 Add in 28oz can of diced tomatoes, 12 oz no-salt tomato paste, 1 Tbsp dry Italian seasoning, and freshly ground black pepper.  Make sure that the tomato paste is entirely incorporated.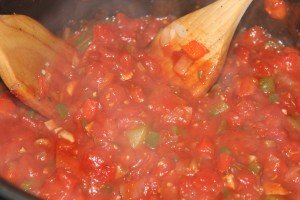 Then add in the previously cooked meat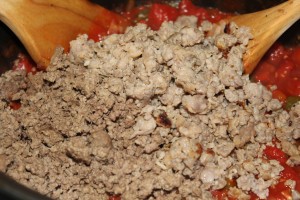 and combine thoroughly.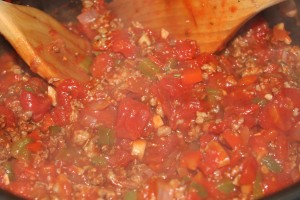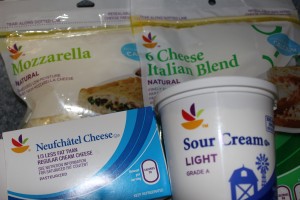 Cheese mixture: Combine 1 1/2c light sour cream and 8oz softened neufchâtel cheese with 1/2 Tbsp dried parsley and freshly ground black pepper.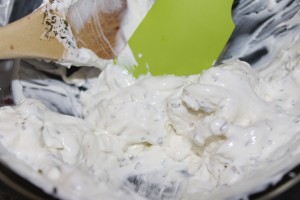 Oil the casserole dish you are planning to use. Preheat oven to 350-degrees.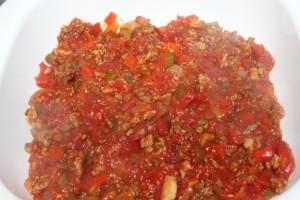 Layer one: 1/3 of the meat mixture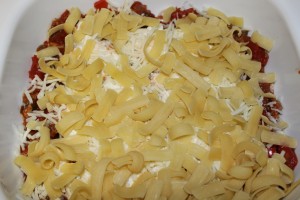 Layer two: Spread 1/2 of the cheese mixture, 1/4c shredded mozzarella (sharp cheddar also works) and, in a non-gluten-free version this layer would be topped with egg noodles, but a very exciting part for me (and my son) – Gefen Wide Noodles. They are 100% gluten-free and are also egg free and Kosher (which was why they were on the Passover display – I imagine they can be used quite well in Kugel.) My plan was to use a rice noodles but I know the texture wouldn't quite be right so this gave me hope. Sprinkle on 1/2 of the 9oz package and spread out. (approximately 2c of cooked egg noodles)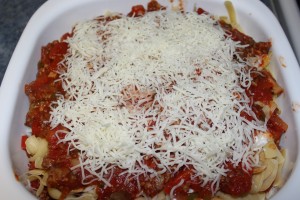 Repeat layer on top of the noodles: 1/3 meat mixture – remaining cheese mixture – 1/4c shredded cheese – remaining noodles. Then top with the remaining meat mixture and a final sprinkling of shredded cheese. NOTE: If you are using the gluten-free noodles, a final step – pour 1/2c water around the edge of the dish. I imagine this is the needed fluid to hydrate the noodles.  If you are using regular cooked egg noodles, skip this step.
Seal the dish tightly with foil and bake for 60-minutes. (if you are not using the regular cooked egg noodles, bake for approximately 30-minutes or until bubbly) Remove from the oven and open foil to release steam and re-cover and let sit for 10-minutes to "settle".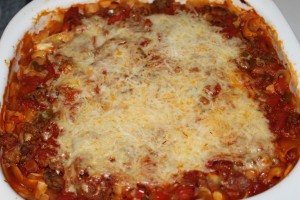 This turned out perfectly – the gluten-free noodles are a little gummy/sticky but not in a bad way. Definitely a different texture from egg noodles but closer to egg noodles than the rice noodles would have been.  Even though the texture is a little different, it is still reminiscent enough of the original recipe to completely work.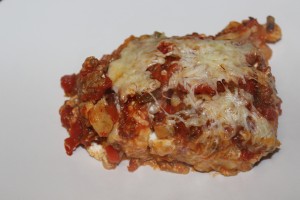 Also – this re-heats beautifully for lunch leftovers. I shared a serving with both of my kids and they were very happy with the results… I'll probably have to make it for Sunday Roast sometime.