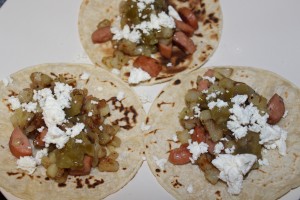 I have a co-worker you often uses the phrase, "Yup, this is happening."  I sort of feel that way about this meal, which was far more satisfying than it had any right to be.  Now, part of the justification for "tacos" is that whole gluten-free thing and, yes I know that there are gluten-free breads, I generally don't find them worth the exorbitant price they charge. An aside – I was in the gluten-free aisle of the grocery store on Sunday and watched a young couple walk up to the "baked goods" section. The young man picked up the donuts (a small box of six for $5.99) and look at the young woman who said, "I will eat the regular ones – I just don't feel like paying $1 EACH for a simple donut." YUP – exactly how I feel. Now if the bread was fantastic and was like regular bread maybe but it is NOT. Ok… enough on the rant – on to these slightly bizarre but yummy tacos. No inspirational recipe for this one (although there are chorizo & potato taco recipes out there so I'm not entirely off-the-wall) – it just came together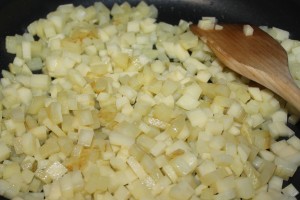 Diced russet potatoes cooked in 1 Tbsp olive oil until it just started to turn brown and get tender.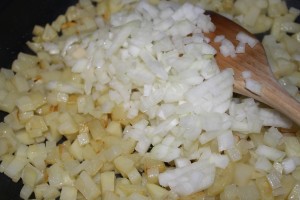 Add chopped sweet onion to the potatoes and continue cooking.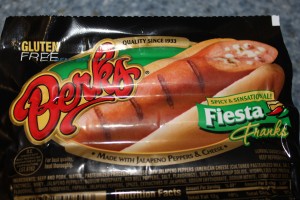 The real inspiration for these tacos – Fiesta Franks – spicy hot dogs seasoned with cheese and jalapeños. Sounded like a Win to me!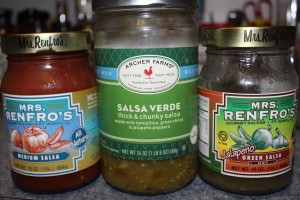 Choice of salsa for topping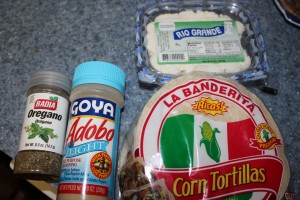 Additional ingredients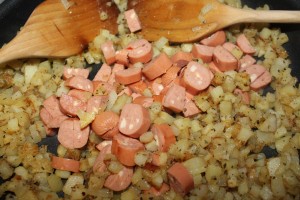 Add in the hot dog chunks. I kept the pieces fairly large since they were really the "main" ingredient and I also didn't want the cheesy bits to melt away to nothing.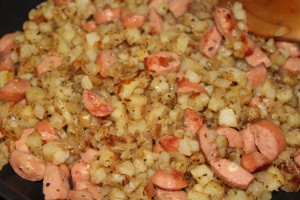 Seasoning: a sprinkling (probably 2-3 tbsp) Mexican Oregano and a good shake of LITE Adobo seasoning, and this is to taste. Combine and taste again but remember that the seasoning intensify with the heat.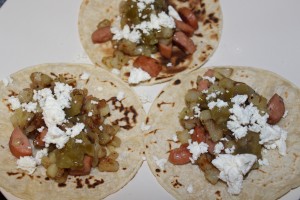 Plated (mine): I really love the salsa verde and I also enjoy the heat from a little of the jalapeño green salsa.  Everything topped with a little queso fresco, which is a fresh Mexican cheese that is crumbly and salty like feta and has a light, fresh taste.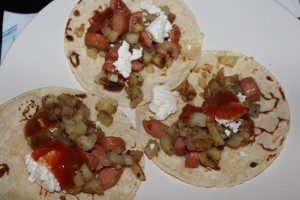 Plated (my Heart): He prefers the red salsa – the great thing about tacos? To each their own!
This was sort of a silly meal but it really came together and was very satisfying – I will probably do more "meat" & potato tacos!