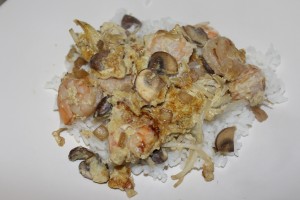 This is what happens when I have a craving for something but want it to be healthier – I really wanted Egg Foo Young.  I found a recipe from Rasa Malaysia that is more authentic than anything we get in Chinese restaurants: Egg Foo Young.  I changed a few of the ingredients but basically followed her directions for the seasoning in the eggs.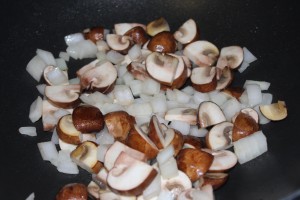 Chopped sweet onions and baby bella mushrooms.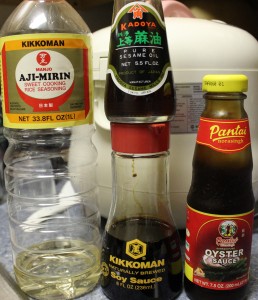 In the Eggs: Mirin, Sesame oil, soy sauce, and oyster sauce (approximately 2 tsp. of each) beaten into the eggs.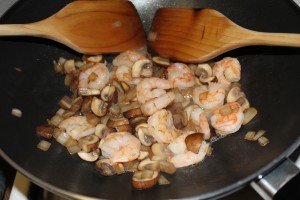 Added defrosted cooked shrimp to the stir-fried mushrooms and onions and cooked for a minute or two.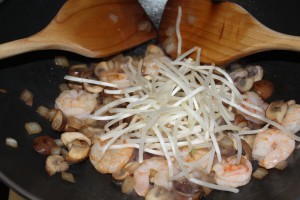 Next fresh bean sprouts and tossed with the onions, mushrooms, and shrimp.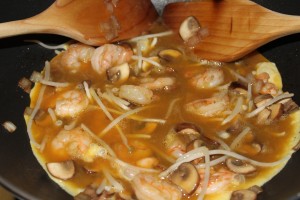 Poured in the egg mixture – as the egg started to set, gently lifted the cooked egg to move the liquid down to the bottom of the pan – like when making an omelet.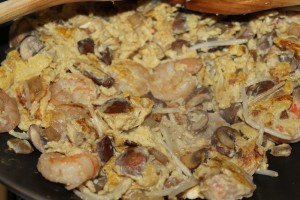 Flipped the "omelet" and finished cooking.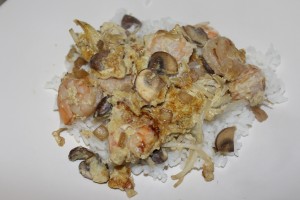 Plated on Asian short-grain rice with just a little soy sauce. Definitely satisfied my craving and a do-again. The seasoning in the eggs was perfect. Would also be good with chicken or pork.