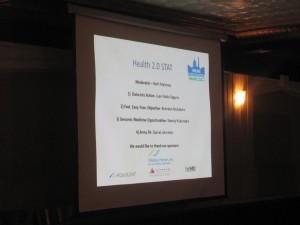 I always love coming to Health 2.0 STAT. People so much smarter than me with so much cool stuff out there. DC Health 2.0 STAT happens about every two months with lightening talks (5-minutes) and then panel q & a.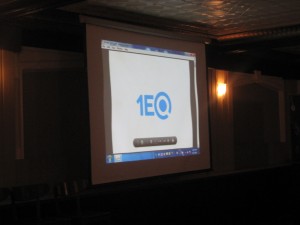 Data Into Action – Juan Pablo Segura
1EQ
Mobile Digital Healthcare
The growth of connected devices
Improve access, costs, and …
Consumers want ACTION
Finding focus: Pre-natal care.
The Box includes a wireless scale and BP cuff
Fits Life-flow and workflow
Piloting at George Washington Hospital (100+ low risk pregnancies)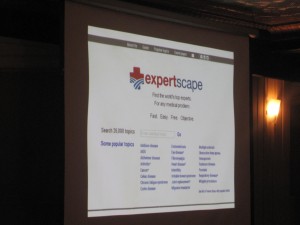 Fast. Easy. Free. Objective – Brendan McAdams
Expertscape: find the world' stop experts for any medical problem
A couple clicks and you can find the experts in that topc (disease) geographically
Different? Objective, highly specific, current, and global
What it isn't? Not for routine medicine – based on knowledge (not on outcome or bedside manner) – bias toward cities – unpublished = Unknown
Revenue model? Advertising / sponsorship and partnership model
Can be difficult together into those Experts. Hoping to have the experts "claim" their page and they can say I DO or Donnot see patients but then allow them to make recommendations.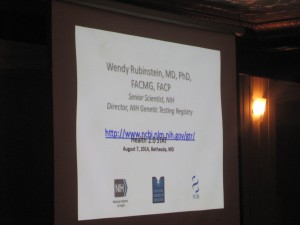 Genomic Medicine Opportunities – Wendy Rubinstein, NIH Genetic Testing Registry (GTR)
Barriers identified by physicians and concern over cost of genetic tests to patients
Costs falling, insurance coverage increasing…

GTR -ClinVar – MedGen

GTR launched two years ago and growing swiftly

Integrator of test information

Widespread adoption of handheld devices by healthcare providers is growing

Most genetic tests do not go through FDA approval

Data voluntarily submitted by the labs doing tests.

Is it valid information? Labs agree to a code of conduct and a method for vetting the information.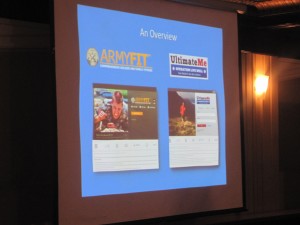 Army Fit – Daniel Johnston
ArmyFIT and UltimateMe

Total Health = Physical + Mental (total assessment)
Web-based assessment
Leverage social engagement
Also able to analyze the data
2k soldiers per day – launched in January 2014
Connect them with Experts that interest them
Also share trends within the unit for the higher ups
Not planning on using the data related to promotions
3 versions: soldiers, families of soldiers, and Army civilian employees
Hoping to include other services and possibly the VA
Working on GEO targeting to help them find opportunities close by, i.e. There is going to be a 5k in two weeks, here is how to register
Program is run out or personnel… NOT medical
Looking at adding activity monitoring
Panel Question Time