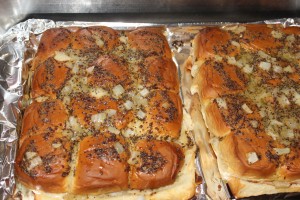 Saw Hawaiian Baked Ham and Cheese Sandwiches on Pinterest and thought they would be perfect for the 4th of July.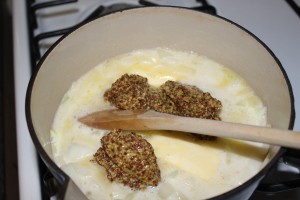 Sauce: 2 sticks of butter (Note: I almost doubled the recipe because we were making two sets of sandwiches), 6Tbsp grainy Dijon mustard, 2tsp Worchestershire sauce, 2 chopped sweet onions.  Notes for next time:         Caramelize the onions in a little butter before adding the remaining butter, mustard, etc. because it would add to the look of the sauce and also deepen the flavors.  Also LESS butter – there was simply too much sauce.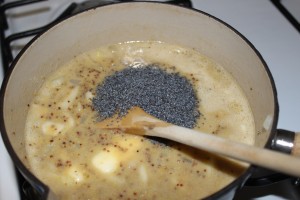 6 Tbsp poppy seeds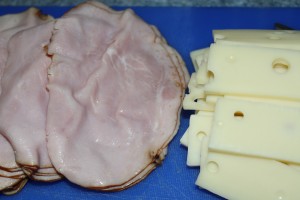 2 lbs. Thin sliced Black forest ham and thin slices of Swiss cheese (could have used more cheese).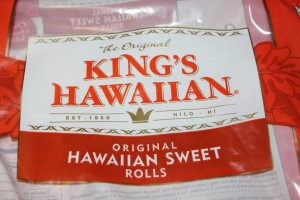 King's Hawaiian Sweet Rolls – these can often be found in the Deli section of the grocery store. Slice cross-wise .  Spread 1/2 butter / mustard mixture on the bottom half, top with ham slices and slices of cheese. Cover with top half of the rolls and spread the remaining sauce mixture across the top.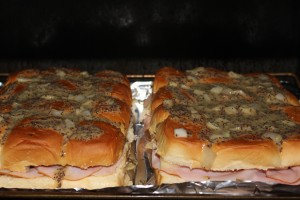 Place completed sandwiches in a foil lined 8×13 baking pan and bake in a 350-degree oven for 15-20 minutes. Note: for some reason, the bottom of the sandwiches burned.  I am not sure if the oven was not to temperature when I put them in (we don't have an indicator on our stove – don't ask… it is a gas stove, which I love, but has no "features") or if the rack was too low.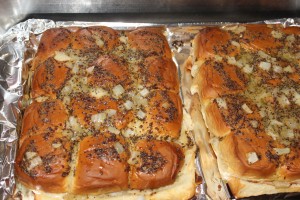 They looked "pretty" from the top but the bottoms were definitely burned.  We decided not to waste them though, they didn't taste too bad, so I let them cool slightly and then wrapped them in foil and took them to the 4th of July festivities anyway.  Once they were opened up, a couple hours later, the bottoms had softened a bit and just tasted super crunchy – they were a hit and I will definitely try this recipe again.