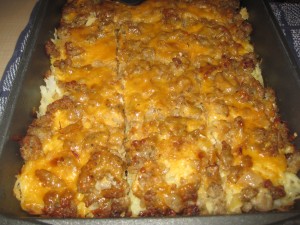 We generally celebrate birthdays in my division with cake but scheduling is so crazy I started celebrating my boss' birthday with a breakfast.  My family makes a very traditional Breakfast casserole for brunch at Thanksgiving, etc. but my son and I try to be gluten-free so I was looking for a different breakfast casserole that is always gluten-free.  This Hash Brown & Egg Casserole definitely meets the criteria and was a hit, based on the number of people who asked for the recipe.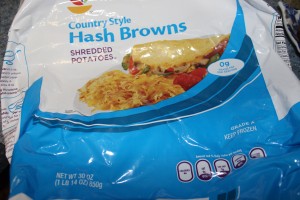 The night before prep time: Put a large package (30oz) of frozen hash browns in the fridge to defrost.  In a skillet over medium heat, cook alb of pork sausage (type of your choice – I used Mild) and 1 medium onion, chopped, until the sausage is crumbled, evenly brown, and the onions are translucent.  Drain thoroughly and refrigerate.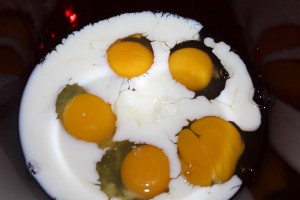 In the morning – pre-heat oven to 350-degrees.
Combine six eggs (I added another one after I took this picture) and 1/2 c 2% milk.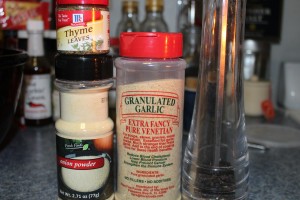 Add 1/2tsp onion powder, 1/4tsp garlic powder, 1tsp thyme, and freshly ground black pepper to the egg mixture.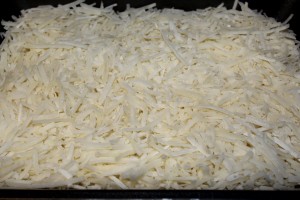 Grease a 9×11″ casserole dish, pour in the defrosted hash browns.  There were still a few ice crystals but they were mostly defrosted.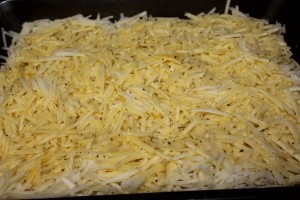 Pour the egg mixture over the hash browns.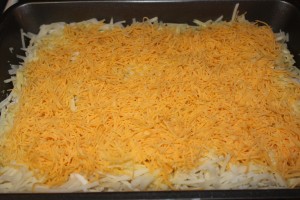 Top hash browns with 1 1/4c shredded cheddar cheese.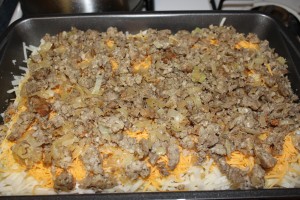 Top with cooked sausage mixture (I slightly warmed the sausage in a microwave so it would be easier to sprinkle on top.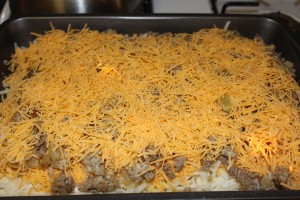 Final topping is 3/4c shredded cheddar.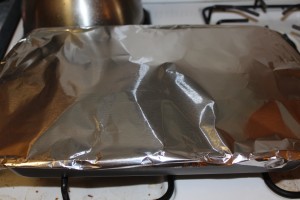 Cover with foil and bake in the pre-heated oven for 1 hour.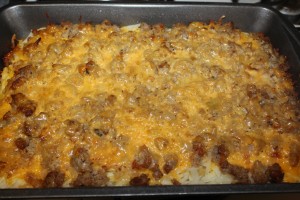 Uncover and return to the oven for an additional 10 minutes, until a knife inserted into the center comes out clean.  Let stand for 5 minutes before serving.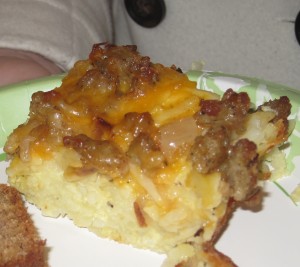 Savory and delicious – I used mild pork sausage but I am sure it would be good with any variety. If I used Italian pork sausage, I think I would add additional Italian seasoning.  Chopped cooked bacon would probably work also.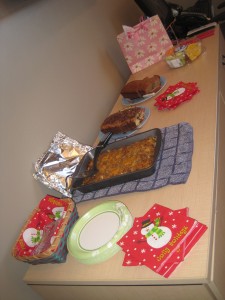 I also made some banana bread and chocolate coffee cake.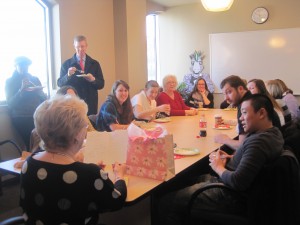 Everyone came out to wish the boss a very Happy Birthday!