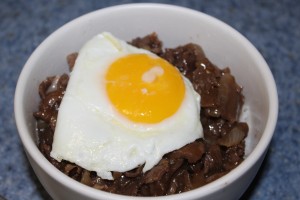 The original plan was to make Oyako Domburi, always a favorite but as I was taking the chicken out of the freezer, I noticed the thin sliced beef and – plans changed!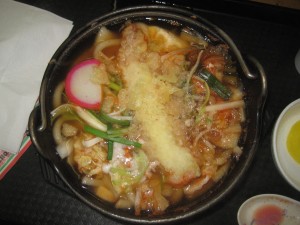 My Heart and I were heading to one of our favorite local markets and stopped in the food court to have lunch before shopping. I had the Nabeyaki Udon – it was very good.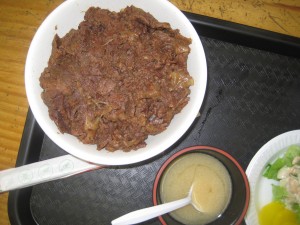 My Heart had the Gyūdon, which he really loved. I thought it would be a good time to try my hand at it.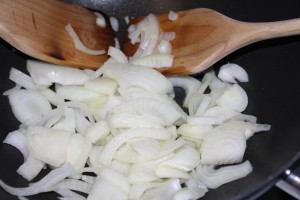 Started to sautéed one whole chopped sweet onion in 1Tbsp olive oil.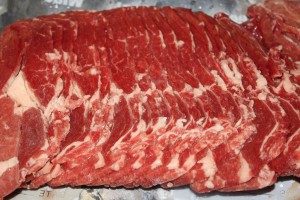 Many Asian markets sell packages of very thinly sliced meats (including beef, pork, chicken, and sometimes lamb) for different dishes like bulgogi. I buy a package and then split it up into reasonable servings for two and freeze then freeze them.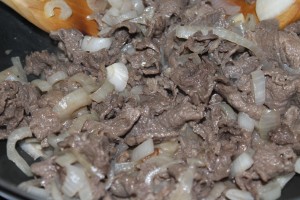 Added in the thin sliced beef and continued to cook until cooked through and the onions started to soften.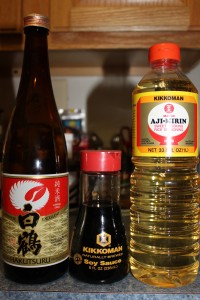 The key to the dish is the sauce. The recipes I read all used Dashi as the base but I wanted to avoid some of the salt so I used sake instead – it seemed like a good exchange v. chicken broth. Combined the 1/2c sake with 1/4c low sodium soy sauce and 1/4c Mirin, for sweetness.  The quantities can be adjusted accordingly until you get the flavor you are looking for. Combined 1 Tbsp cornstarch with 1 Tbsp cold water.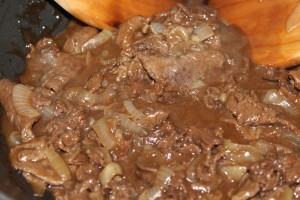 Added the sauce to the simmering meat and onion combination and brought the mixture put to a steady bubble then added in the cornstarch to thicken.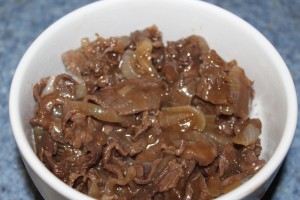 Cooked a pot of short-grain Asian "sticky" rice.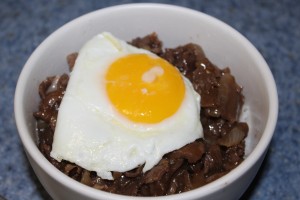 When I was growing up, my godmother would make Gyūdon and she would add a raw egg right before serving. When you mixed together the raw egg with the hot meat mixture, it would partially cook. Unfortunately we can't really trust today's store-bought eggs so I fried eggs to put on top but made sure that the yolk was soft and runny to get a similar taste. Dinner was a success for our snow day, a satisfying comfort food meal that my Heart seemed to enjoy. I can tell I'll be making this again.