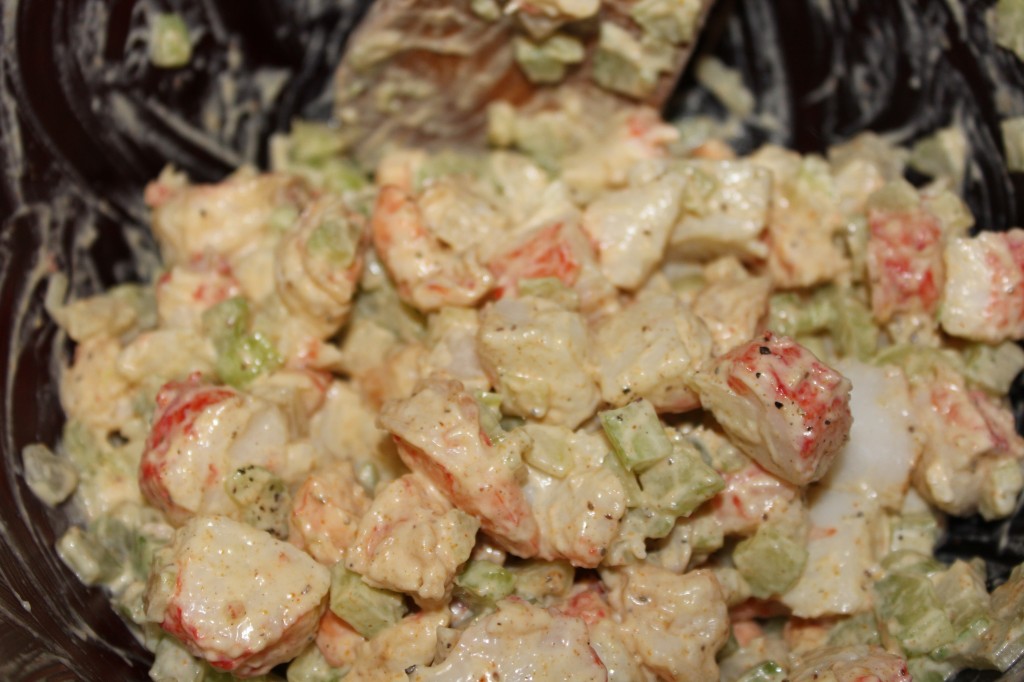 Seafood salad totally spells SUMMER to me. I know that we can eat it anytime during the year but I really have a tendency to go into hibernation mode the minute it gets cool – give me casseroles, creamy hot dishes, and soup, chili and chowder.  Salad is spring and summer fare and seafood salad is always a family favorite.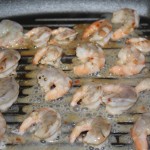 I've been making seafood salad a lot this year for our evening's at Boordy Vineyards Summer Concerts, which is what we do on Saturdays during the summer.  This time I decided to switch it up a bit.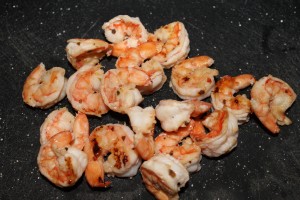 Peel 1 lb of fresh raw shrimp and put into a gallon ziplock bag (I always user the freezer bag variety – thicker = safer for accidents) and mix with your favorite marinade for whatever flavor you are looking for. I frequently take the cheapest Italian salad dressing I can buy. Reason? Often the more inexpensive salad dressings have a higher vinegar ratio and that is what you want in a marinade.  Salad dressings generally make great marinades and cost about half the price of pre-made, bottled marinades.  Also, and you can find almost any flavor you can imagine. Marinade the shrimp overnight, if possible.  Then grill the marinated shrimp – I don't have a bbq (or a patio or a deck – I miss my bbq grill) so I grill on a stovetop griddle pan, which works just fine. Cook the shrimp until just opaque. Set aside and let cool while you pull together the rest of the ingredients.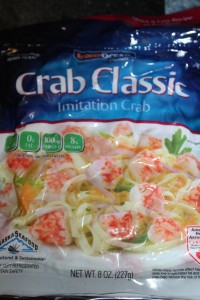 YES – I use imitation crab or lobster. I was thinking about it and there are lots of reasons: 1. I used it often when we lived in Japan and that was before it was even in the US, which was a struggle when we moved back. This meant I developed lots of ways of using it early in my cooking life.  2. It is super inexpensive but gives me that "seafood" taste I am looking for. 3. It really doesn't taste bad and is incredibly versatile. 4. It lasts a long time, unopened, so it is handy to keep in the fridge.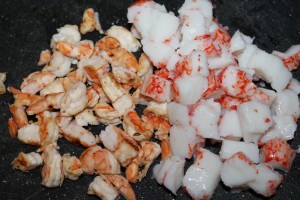 Break apart the imitation crab. This package was the chunk variety so I didn't have to cut it up but any type works – just cut into bite-size pieces. The shrimp can be left whole but, if you want it to go further, cut into bites also.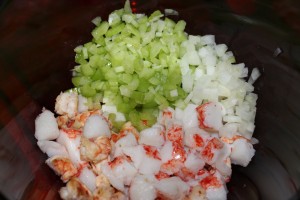 Some veg – my preference is chopped celery and sweet onion but I have also used red onion, red and yellow bell pepper, and even jalapeño. Again, what flavor  are you looking for? And also think about the colors. This is pretty traditional seafood salad.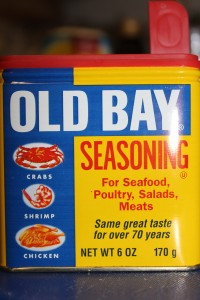 As seasonings go, I am pretty traditional on this one – Old Bay Seasoning. I seriously put Old Bay on everything during the summer – french fries, seafood, tomatoes, you name it. It just tastes like a Maryland summer.  I also add some freshly grated black pepper.  ALL to Taste.
I didn't take a picture (oops) but also 1-2 Tbsp plain Greek yogurt, 1-2 tsp Dijon mustard (optional), and 1-2 Tbsp mayonnaise (not Miracle Whip, too much sweetness). It all depends on how creamy you want the mixture. You can also use all mayo or less mayo and more Greek yogurt but I would still add a little mayo, it is thicker and makes a better binder than Greek yogurt alone.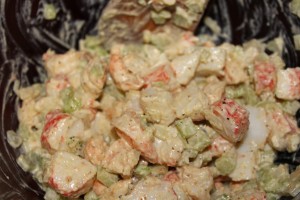 Combine and taste – remember that the flavors will get stronger as the salad sits and you want to make this several hours before serving, if possible, so that the flavors can meld.
Think about switching up the flavors too – can't get Old Bay where you are?
Creole: Although be careful because packaged creole / cajun seasoning is often very very salty but you can make your own – This is my favorite recipe and I just skip the salt entirely:

Emeril Creole Seasoning.
Asian: Look for an Asian (ginger wasabi or Thai lime) salad dressing to toss everything in.  Switch up your vegetables with green onions instead of sweet onions. Then add some toasted sesame seeds as a garnish or add slivered almonds for additional texture.
Curry: Leave out the Dijon mustard and add a little more mayo.
Truly – Have fun with the flavors.
To serve – Just as a side dish works but we eat it on crackers at picnics and it can also be served with rolls for little sandwiches or pile it on a plate of mixed greens for a main course.