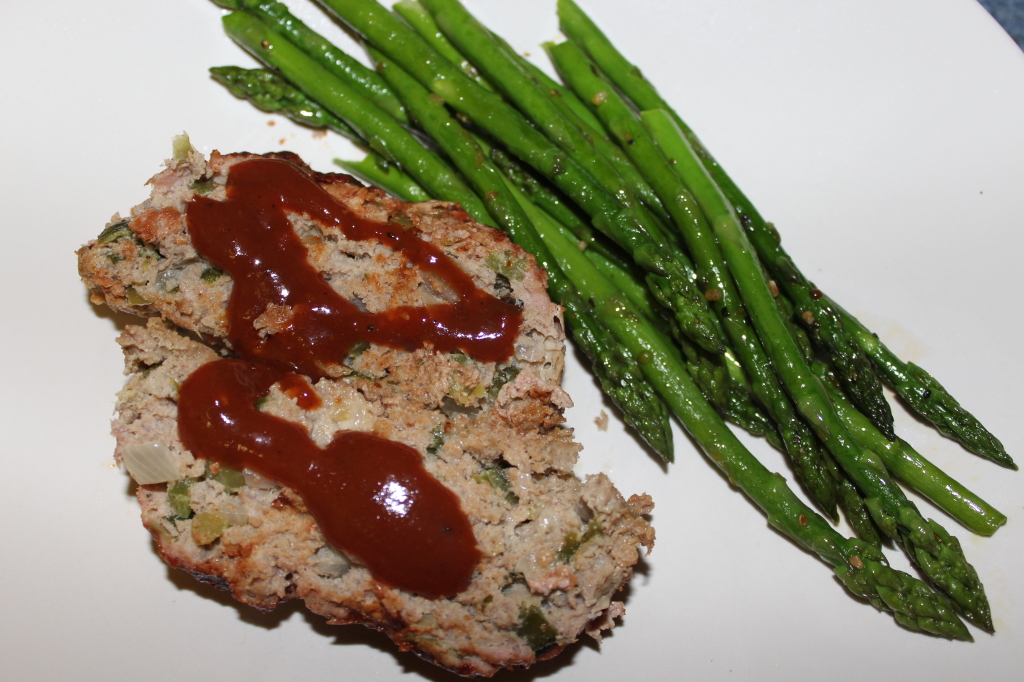 I can always tell when I get into fall / winter mode because I want substantial and filling comfort foods. Obviously I turn into a bear preparing to hibernate! The inspirational recipe: BBQ Chicken & Green Chili Meatloaf Muffins looked perfect and also would make for great lunches, assuming there was any leftover.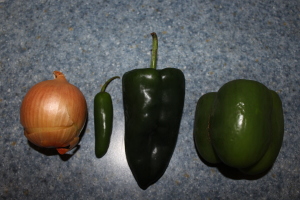 So why "Green" peppers for the title? Well, because I am using three kinds of peppers and they are All green. (smile)  1 small green pepper, 1 nice-sized poblano pepper and 1 small jalapeño pepper (I would have gone for a bigger jalapeño but there weren't any). Oh, and 1 small sweet onion (Vidalia)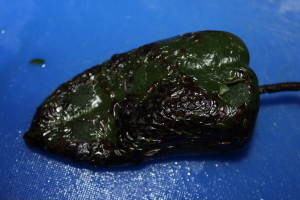 Decided to roast the poblano pepper. Using heat-resistant tongs, hold the pepper over the stove flame (yay for a gas range) turning and changing the angle as the skin blackens. If you do not have a gas range and/or don't have a way to easily hold the pepper over the flame or you just don't want to risk burning anything or setting yourself or the kitchen on fire, you can roast the pepper in the oven. Once thoroughly blistered and blackened, drop the pepper in a brown paper bag and let sit as you prep the rest of the veg. This lets the skin "steam" so it is easy to remove when you are ready to chop up.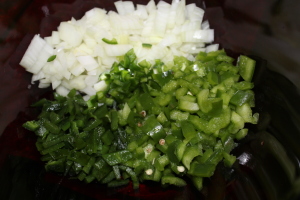 Chop the onion, seeded green pepper, seeded jalapeño and the skinned and seeded poblano. Seeds? Leaving seeds adds to the heat of the dish so judge accordingly. I left a few (probably three or four each from the jalapeño and poblano) because we like some spice but I didn't want to overpower the meatloaf, at least not with this first try.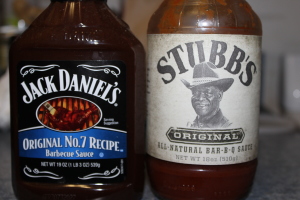 I love BBQ sauce on meatloaf. I also really like the Stubb's BBQ sauce but wanted something slightly thicker inside the meatloaf. Solution? Jack Daniel's Original #7 Recipe BBQ sauce has great thickness and excellent flavor.
Pre-heat oven to 375-degrees.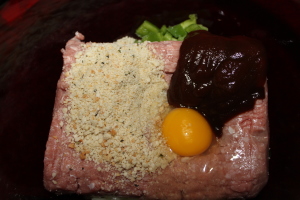 To the chopped vegetables, add in 1 lb. ground turkey (ground chicken or beef would work also), 2 Tbsp Jack Daniels Original #7 Recipe BBQ sauce (or BBQ sauce of your choice or even just plain tomato paste or ketchup), 1/4c gluten-free bread crumbs (I only had Italian seasoned gluten-free bread crumbs, they didn't detract from the flavor in any way but plain would also work just fine), and 1 whole egg. Combine thoroughly – I always use my hands to combine meatloaf and meatballs, it just seems to work the best.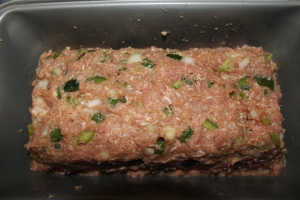 I had meant to do the meatloaf "muffins" as the recipe called for but totally forgot that we had used up the muffin / cupcake wrappers so – lightly oil a standard loaf pan. Form your "meatloaf" and press into the pan. I try to "dome" the meatloaf a bit and keep the edges away from the sides of the pan so that it won't stick. It "settles" as it is cooking.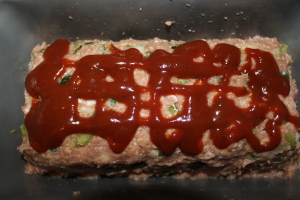 Top with 2-3Tbsp BBQ sauce (here is where I used the Stubb's) and place in pre-heated oven for approximately 50-60 minutes, until the meatloaf reaches an internal temperature of 165-degrees F.
Remove from oven and let rest for 5-minutes before cutting.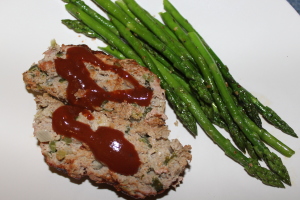 We were being extra "good" this week because we had just come out of Homecoming week (I work at a University) and had eaten very "badly" ALL weekend (Including a Happy Hour on Friday and a super delicious Crab Feast on Saturday). This meant cutting back on the carbs so I served the meatloaf, drizzled with a little more BBQ sauce, with just a pile of roasted asparagus – Perfect.
The meatloaf was fantastic – totally moist and packed with flavor. And it was equally delicious for lunch (I had enough leftover for one lunch). And, if you are like my Dad and love meatloaf sandwiches – totally yummy cold as well.
Notes for the future – Might add a few more pepper seeds for more spice. This would be fantastic with a side of Mac & Cheese and my Heart and I talked about how good a drizzle of Queso would be when served up. Would also make great meatballs served with a Queso Mac & Cheese or even, on the healthier side, a Queso Spaghetti squash as a side. Definitely a Do Again!