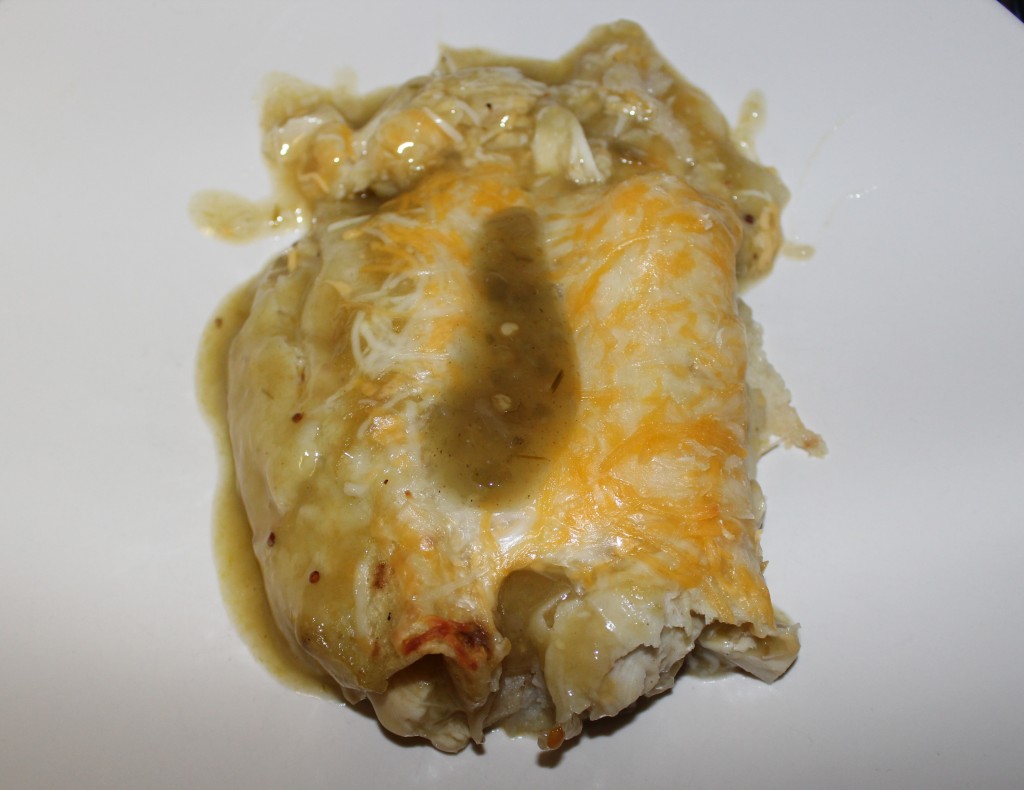 Two things I Love – First, I Green Chili things. Chili Verde with pork is one of my favorite dishes ever. Also… enchiladas, especially homemade. You can literally put anything in enchiladas and they are good. They can be super creamy and deliciously rich, they can be light and healthy, they can have pork, chicken, seafood. The options are limitless – what's not to love?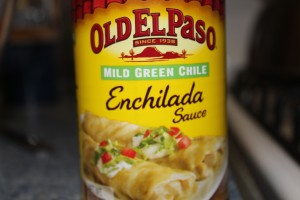 I do admit to using pre-made enchilada sauce, especially for a quick meal, but making my own is on the To DO list once I have an actual full-sized kitchen with more than one counter.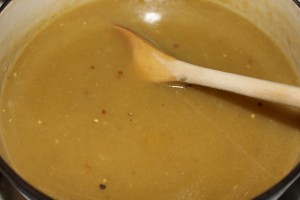 In the past, I have heated the enchilada sauce but have also found that it isn't always necessary. The choice is up to you.
Lightly oil a casserole dish and pour in enough enchilada sauce to cover the bottom. Pre-heat your oven to 350-degrees F.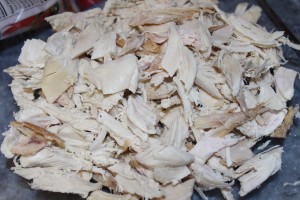 For these enchiladas I used store-made rotisserie chicken. Again, a simple step for a quick meal. Those rotisserie chickens can be used for innumerable dishes – not over expensive and so time-saving!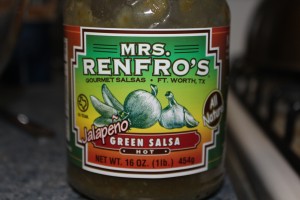 Add in 1/4-1/2c green salsa and, if you like your salsa hot, this Mrs. Renfro's is hot hot hot.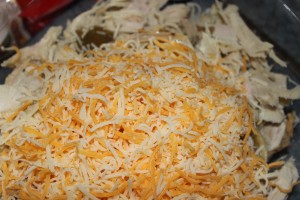 2-cups of shredded Mexican mixture cheese. The amount of cheese and type of cheese is totally up to you. Pepper Jack works, as does sharp cheddar.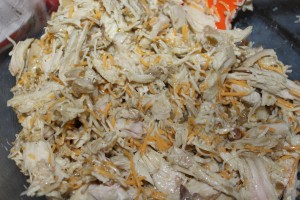 Combine thoroughly. At this point you could also add in some diced green chilies and even some diced raw onion and peppers, if you want some crunch and color.
I use corn tortillas because I try to eat gluten-free. Using corn tortillas can be very frustrating because they break up easily. The way around this? In a griddle pan, lightly toast the tortillas on each side, no oil is needed – this makes the tortillas much more pliable.
Put a heaping scoop of the chicken mixture in the middle of a toasted tortilla,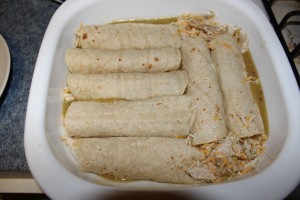 Carefully roll up and place in the casserole that already has some enchilada sauce in the bottom, seam side down.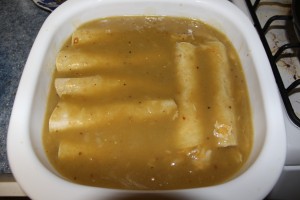 Pour over the remaining enchilada sauce.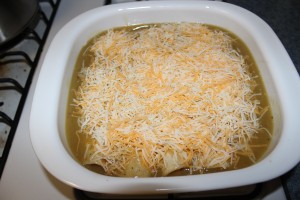 Sprinkle on another cup+ of shredded Mexican blend cheese. The amount is up to you – we like them cheesy !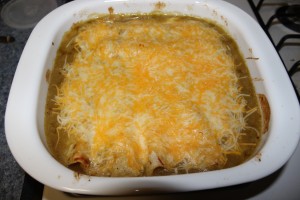 Bake in the preheated oven for approximately 30-minutes, until lightly browned on the edges and bubbling. Let sit for 10-minutes to settle, that makes serving much easier.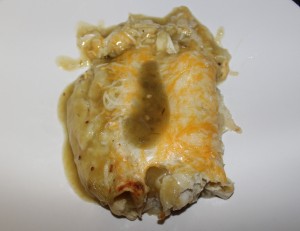 Serve up! I've added a little of the salsa on top. Sometimes I've topped with some fresh pico de gallo or other types of salsa, or even a few slices of avocado and a squirt of lime juice, the choice is yours.
Enchiladas are a great, quick and easy meal that can use almost any leftovers you have on hand. Use your imagination!