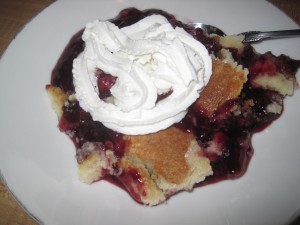 As firmly established in previous blogs – I don't (as a rule) bake and I rarely make dessert (because my Heart makes Amazing desserts so I don't have to!). But, for occasions like my Heart's birthday or when he is away, as was this case, I can rise to the challenge. "Dump" Cake has always been one of my favorite recipes because: 1. it is super easy 2. it is super delicious and 3. the family loves it. Now that my son and I are gluten-free (at least we try) – This is my first attempt at gluten-free Dump Cake.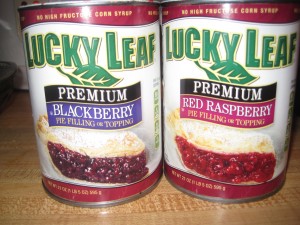 Dump Cake – so named because you basically "dump" everything in a baking dish and Bake. Nothing too complicated there. I got the recipe in the 1980s from my stepmom and almost everyone, at least in the south, makes a version – even Ree Drummond, The Pioneer Woman. And she reminds us that there is Nothing healthy about this but it is just good.
The first ingredient is canned pie filling – traditionally cherry (often combined with pineapple but my dad couldn't eat pineapple so I imagine that's why my original recipe did not contain it). My favorite is cherry but my son's girlfriend doesn't like cherry and I have made other varieties over the years. Yes, I did check and these pie fillings (I did half pan blackberry and half pan raspberry) are gluten-free, they are thickened with cornstarch. I have also mixed in a little alcohol with the pie filling – rum, bourbon, vanilla vodka, etc., just to Spice things Up. Be careful not to add too much extra liquid, it needs to be serve-able.
Lightly oil / butter a 9 x 13″ baking dish and pour / spread in the pie filling of your choice.  Pre-heat the oven to 350-degrees F.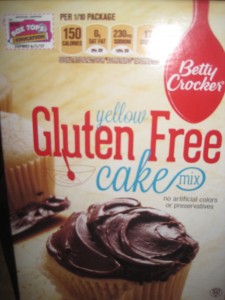 In the "I eat gluten" past, I would use the cheapest brand of yellow cake mix for the next layer but, trying to be "good", I used gluten-free cake mix for this version. My Heart has made cakes with this brand and they are very good.
So sprinkle – DRY and right out of the package – the cake mix over the pie filling.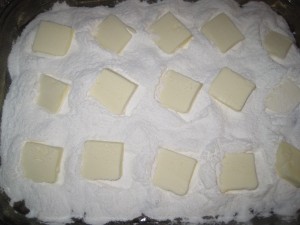 See how Healthy this is so far? It gets better!  Take one STICK of butter (unsalted is probably better for you but it really doesn't matter) and cut "pats" of butter to put on top of the dry cake mix.  I would say probably 1/4″ thick pats but just plan on enough to Cover the dish. Don't use margarine, it melts too quickly.
Place the dish in the 350-degree oven for approximately 30-40 minutes – just keep an eye on it, you want it to be lightly browned and bubbly but not burned.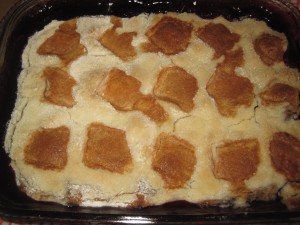 So, what happens normally? The butter melts and melds with the dry cake mix forming a lovely sweet, buttery crust.  It would seem that the same does NOT happen with gluten-free cake mix. The good part? It was still very tasty, just a little more crumbly than usual.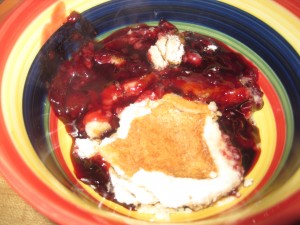 Now, to "cut" the sweetness, we always served this with Cool Whip – because it wasn't unhealthy enough, why not add more chemicals? Remember, I said I got this original recipe in the 80s. It was another time!  I now serve it with a squirt of whipped cream – either store-bought OR homemade (homemade is preferable). I have had friends who served it with ice cream and it is also fine just play.
This dessert also is just as good leftover.
Notes – Next time I will try melting the butter and drizzling it across the dry cake mix so that there is more even coverage. We will see if that helps.  Also, while cherry is my personal favorite, other berries, or a mixture of berries also worked well.