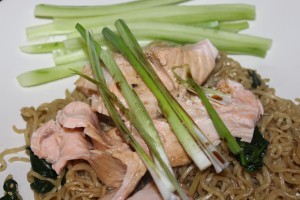 I made this recipe a couple years ago with Tilapia and it was ok – this was definitely better but that might have been the side dish as well. Inspirational recipe: Steamed Tilapia with Ginger & Scallions.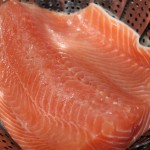 Laid the salmon fillet, skin-side down, in the steamer basket with water underneath.
Julienne scallions (green onions), cucumber, and ginger root.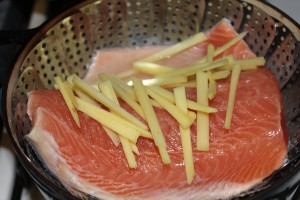 Laid julienne ginger root on top of the salmon fillet – brought the water up to a boil then dropped the temperature to a steady simmer and steamed the salmon for approximately 10-minutes, until the fish flaked.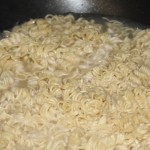 While the fish steamed – Side dish: Top Ramen cooked yakisoba-style. Boiled two packages of ramen noodles in 1 1/2c water, just enough water to cook the noodles.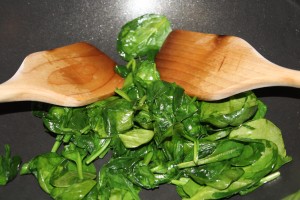 Remove cooked noodles from wok.
In hot wok, tossed in baby spinach with a touch (maybe 2 tsp) of peanut oil to sauté until just wilted.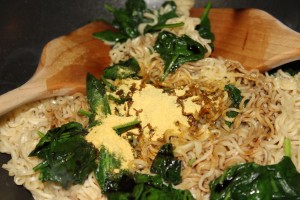 Return noodles to pan and add in one and 1/2  of the seasoning packets from the Top Ramen packages.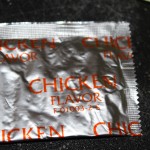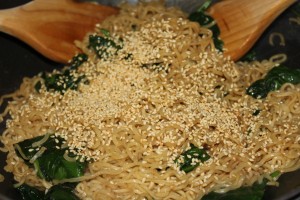 Sprinkle with roasted sesame seeds and toss.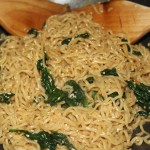 The salmon finished steaming – let it rest during the final step.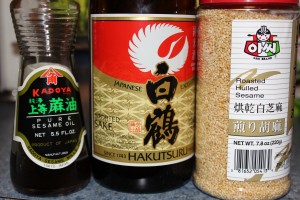 In a small skillet – heated 2 Tbsp peanut oil, 2 Tbsp  sake, 2 Tbsp soy sauce, and a drizzle of sesame oil – brought up to a boil and let bubble for a few minutes while plating.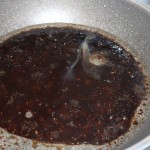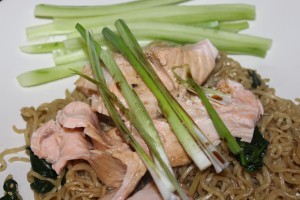 Plated: Spinach Yakisoba topped with steamed salmon, julienne scallions, then poured over the hot soy sauce / sake / sesame oil combination.  Garnish with julienne cucumber on the side.
This was good the first time I made it but was even better this time. The sauce is what pushes up the flavor profile. The yakisoba side worked well, especially with the sauce.