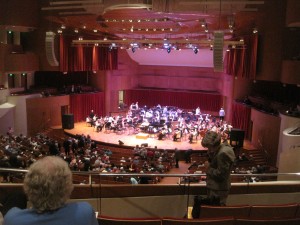 Headed to the Joseph Meyerhoff Symphony Hall for the Baltimore Symphony Orchestra's Bond & Beyond concert.  It was too much fun – they did everything from Goldfinger to Skyfall and the "Beyond" part included the Pink Panther Theme and Secret Agent Man.  It was a great concert.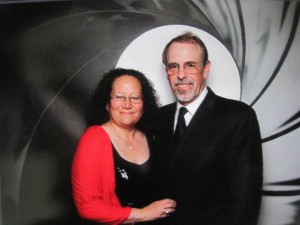 As a cool bonus – they were doing snap shots of concert goers in the lobby – there was a Bond-themed cocktail hour prior and they suggested people dress "up" for the event… which we did.  My Heart looked very dashing in his Italian suit !!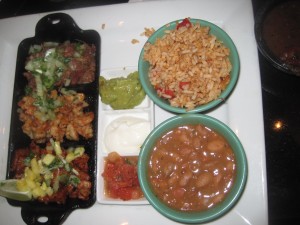 After the concert we went to the Mari Luna Bistro, across the street. The service left a great deal to be desired but the food was delicious.  My Heart had the tacos: lamb / shrimp / pork.  The lamb was amazing and definitely something I want to try to make.
I had the Beef Enchiladas Ranchero which is topped with a fried egg. YUM!
Saturday we were off to Boordy Vineyard for a Case Club event – one of our favorite events.  The appetizers were steamed shrimp, mussels, mixed cheeses and delicious raw oysters. I really love oysters with a Mignonette sauce – something about the sharpness of the vinegar blends so well with the oyster flavor, especially really good oysters.
Beautiful pansies were the centerpieces – I love purple.
Lunch: I know we receive the menu but I can't find it so I'm faking the description .. anyway – beautifully cooked beef brisket with a very light sauce, grits cooked with.. I think parma ham and parmesan cheese, and green beans with a wonderful balsamic glaze.  All the flavors worked very well together and everything was delicious.
We had to try ALL the desserts – my favorite are definitely the dulce de leche eclairs but the little caramel napoleon (lower left corner) was also very good.
Rob Deford, owner & president of Boordy Vineyard, always gives a tour at the Case Club events – he talks about what they are doing, plans, future wines, etc.
He's a pretty funny guy too – this tour was very interesting and gave lots to look forward to in the coming vintages.
And he talked about the new wine building – which we should get to tour at the November event.
James Prichard is one of our favorite people, doesn't hurt that he's a Brit. (smile)  He is the Director of Winery Sales and, at this event, gave an interesting tasting of the four varieties of wines that ultimately make up their Landmark Reserve.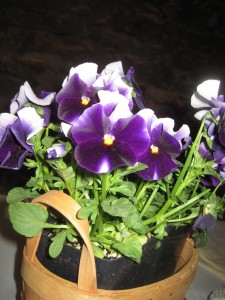 No real reason for these pics.. just pretty!
And the dregs after a lovely event – picked up our Landmark wines and our case .. AND, my Heart was right, they all fit in my little car.  We headed out.
Next stop?  We stopped at a movie theater on our way and watched GI Joe 2: Retaliation – not a particularly smart movie but pretty fun with good one-liners and Bruce Willis, what's not to like?
We decided to have dinner on the way home and my Heart found good reviews on Yelp for John Brown's Store.  The location is between Hunt Valley and Owings Mills, in the middle of horse country.  The location is also notorious for unsuccessful restaurants and shops but – what a great Find.  Really good Indian food in a rather odd location.
My lamb biryani was definitely spicy.. more like incendiary but also delicious.  If you look at the picture above you will see a little bit of the delicious yogurt sauce that came with mine – the yogurt sauce was definitely wonderful with the spice and had pieces of chopped tomato, cucumber, and onions.  There was also lovely garlic naan.
My Heart had the chicken vindaloo – also extremely spicy but probably the "freshest" tasting vindaloo I've every had.  YUM!  And, just in case you decide to go, all of the dishes are spiced "to taste" so you can ask for a dish to be "mild" if you prefer.
My Heart also had the Alu Paratha, which is naan stuffed with potato and peas.  Delicious and a lovely side with the spicy vindaloo.   Truly a peculiar location but the food was definitely good enough for return visits.  The prices are fairly high but you get a ton of food and the young man behind the counter was friendly and helpful.  They seem to do a good carryout business as well so we're hoping they stick around!
It was a wonderful weekend with some real quality time with my Heart – something we really needed.