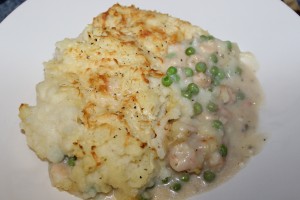 Another great example of – I love it when a plan comes together. Fish Monday – weather had cooled off again (in fact there was snow in the forecast for April), leftover mashed potatoes in the fridge that needed using up, shrimp and petite peas in the freezer, Cod on sale – all sounds like a plan to me.  I've had the inspirational recipe for several years and have no idea where I found it – there is no picture so I must have gotten it from a magazine.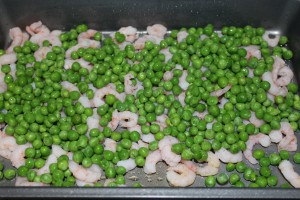 Defrost 1/2 package of "salad" shrimp and 1/2 package petit peas and sprinkle on the bottom of an oiled baking dish.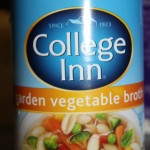 Over medium heat, sauté 1 small sweet onion in 3 Tbsp butter until translucent then sprinkle in 3 Tbsp gluten-free all purpose flour and combine until smooth – cooked for approximately 3-minutes so the flour is not "raw". Remove from heat and stir in 1 can of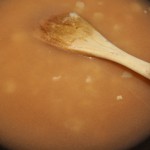 vegetable broth (2c) and 1/2c heavy cream and combined until smooth then return to medium heat to thicken, stirring frequently.  (Note: the recipe also suggested 1c vegetable broth / 1c white wine – I might try that next time.)
As the mixture begins to thicken, stir in 3 tsp dried dill weed and 3 tsp dried parsley flakes. (Note: the original recipe called for fresh dill and parsley but the fresh herbs in the grocery store were not great – next time will try fresh herbs.) Also lots of freshly ground black pepper.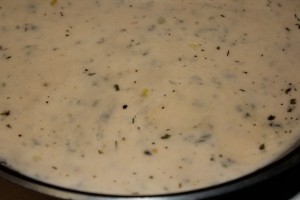 The mixture was nice and thick and not lumpy.
Pre-heat oven to 425-degrees F.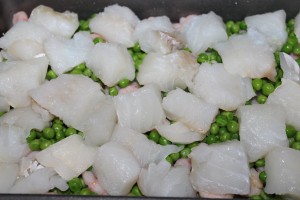 Cut up the Cod and place the chunks on top of the defrosted peas and shrimp.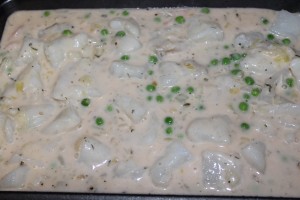 Pour the still hot creamy mixture over the fish, peas, and shrimp – moving the edges around to make sure that everything was coated.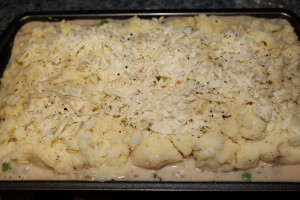 Now the potatoes – I had leftover mashed potatoes in the fridge, which I microwaved to warm up enough to be able to easily layer on top of the now combined fish / sauce combination.  You could make mashed potatoes as you are pulling the dish together although the recipe had a different potato topping so I will list the instructions for that at the bottom of the page.  Sprinkle grated Parmesan cheese and freshly ground black pepper over whatever potato topping you choose to use.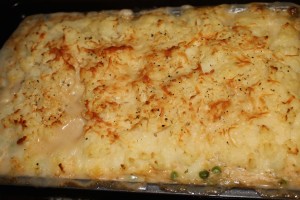 Bake in pre-heated 450-degree oven for 30-minutes (or until the fish is cooked through and flakes easily) – Remove from oven and let "settle" for 10-minutes before serving.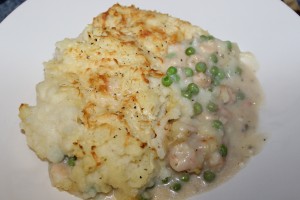 This dish was a huge hit with my Heart (and my daughter, who got some of the leftovers – oh, and it is really good leftover as well).  The Parmesan cheese worked amazingly well, I might have used cheddar but decided to follow that part of the original recipe and I wouldn't change it in the future.  The original recipe also included scallops, I might add those in the future but the shrimp and fish worked really well together. The original recipe did not have the peas but I wanted a bit of veg and some color and my Heart agreed that it was a good addition.
Here is the original recipe's potato topping instructions:
1 1/2 lbs red or white potatoes (they do not recommend russet potatoes because of the process they use) and 1/4c melted butter.  Boil the potatoes in salted water until barely tender, 6 to 8-minutes. Drain the potatoes and allow to cool. Peel and coarsely grate the potatoes and toss with melted butter. Spread the potatoes over the seafood mixture and top with Parmesan Cheese.