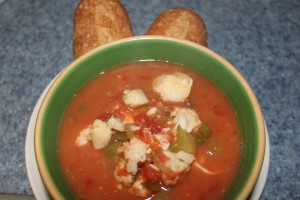 Working on getting back to Fish Mondays but with Monday evening meetings this might not happen again for a while but here we go. Trying my hand at Cioppino… and I Almost followed the recipe.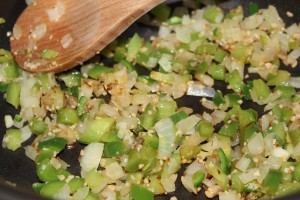 Sautéed chopped green pepper, a single small serrano pepper (seeded & chopped) and onion in a drizzle of olive oil then added 4 cloves of garlic and sautéed a bit longer.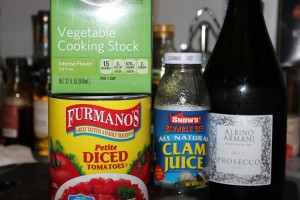 Liquid base: Approximately 2c vegetable cooking stock (they didn't have seafood / fish stock at the grocery store), diced tomatoes including juice, 8oz clam juice, 1 1/4c Prosecco (the recipe recommended white wine but we didn't have any that would work so my Heart said "Prosecco is just white wine with bubbles."… and it Totally worked)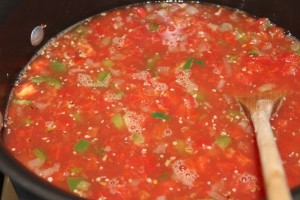 Seasonings: a mixed blend of "Italian" seasoning that included: basil, oregano, rosemary & thyme), approximately 3 Tbsp. A dash of Worcestershire sauce and lemon juice.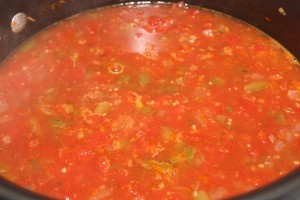 Brought to a boil and then simmered for one hour.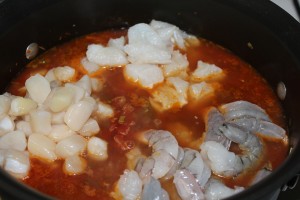 Added bay scallops, chunks of haddock, shrimp.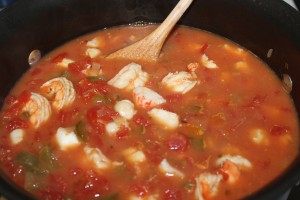 Simmered for 10-minutes.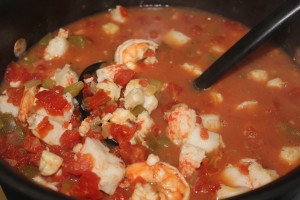 Then added in some Imitation crab (chunk-style). Considered adding real crab but nothing we found looked great – not the best season for fresh crab. Simmered another 5-minutes.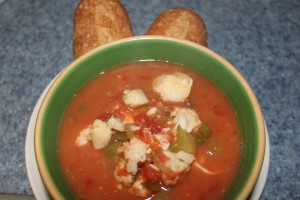 My Heart's serving all plated with some crusty bread on the side. Bread is a necessity to soak up the delicious broth. This was a super simple dish that just couldn't be rushed and was totally worth the simmering time and was a huge hit. Might trying using some real crab legs next time, if I can find decent ones, but I think my Heart was pretty happy and doesn't really care if I change a thing.