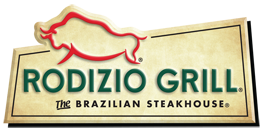 The last time I was in Salt Lake City (November 2012) I had a little time on my own while my Heart had to work (this is what happens when I tag along on his work trips – it ends up being a nice vacation for me but, sadly, not for him), I stopped by Trolley Square, a fairly popular mall when I was at the University (1976-1980). There are far fewer shops now but there is a Whole Foods, which probably helps keep the place going.  While wandering around I saw Rodizio Grill, Brazilian Steakhouse, which seemed to be very similar to one of our favorites back in Baltimore, Fogo De Chao – basically a lovely, delicious Meat Coma !  The lunch price for Rodizio Grill was very reasonable ($18.99 for all you care to eat) so I tried it out (especially since I knew that I would be on my own for dinner also, I figured I could just eat one meal that day!)  On this recent trip, I found myself also on my own and knew that, once again, I would be on my own for dinner again – Seemed like a good idea again!  Also, the price for lunch actually went down to $17.99 – can't beat that!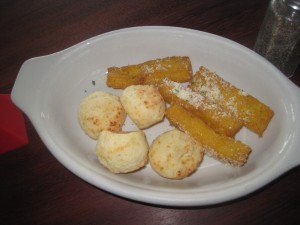 If you have never been to a restaurant like this – the waiter first brings the side dishes which include, at Rodizio, Pao de Queijo (lovely little cheese bread made from yuca flour… making them gluten-free!) and polenta (fried up like french fries and topped with parmesan cheese)…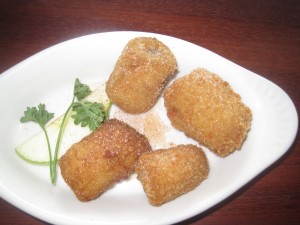 …and banana fritters (which I am sure are very good but I am not a fan of bananas so I don't eat them).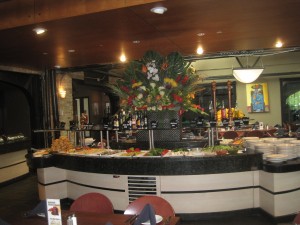 There is also an extensive salad bar.   I don't think it is as good as Fogo de Chao but not bad.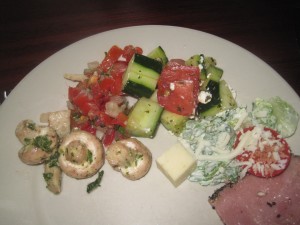 I really enjoyed the Ceviche (on the left side of the cucumber & tomato salad) this trip – the flavors were excellent.  I miss the selections of salami and proscuitto that they have at Fogo de Chao though, and smoked salmon.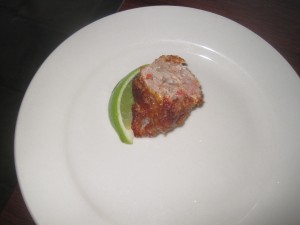 Next up are the meats and there are lots!  You have a "thing" for each person at the table (I keep meaning to take a picture and keep forgetting) – at Rodizio it looks like a plastic hourglass.  One end is green and one end is red.  If the Green side is up then waiters, who are wandering the restaurant with "swords" of meat, stop by your table to offer you some of whatever they are carrying.  It is pretty fanciful having people walking around with basically giant skewers of grilled meats and cutting you off chunks.  My first "offering" was Queijo: pork with parmesan cheese and a lime wedge – this was probably my favorite for this trip.  The cheese is crusty from being roasted and the pork was tender and juicy.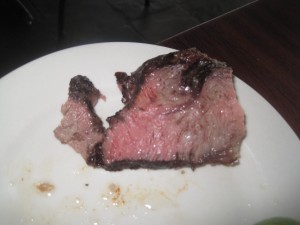 The Raquete (skirt steak) was my next favorite – it was the most tender and whatever rub they use the on the meat is delicious.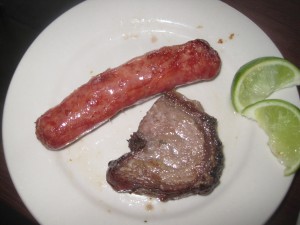 The Linguica (Brazilian sausage) is always a favorite and the Picanha (Top Sirloin) was fairly tender.  I was happy to get a rarer piece of top sirloin later in the meal.
Sometimes the waiters walk by with meats, one right after the other, which can really fill up your plate.  That is about the time you turn Over to the red side to indicate you aren't ready for more meats at that time.  It is a pretty fun process.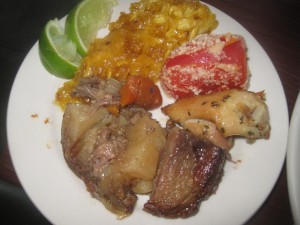 This was one of those times – at the top of the plate is Abacaxi: glazed and grilled pineapple that is totally delicious – next to that grilled tomato with parmesan cheese (the name is simply too long to write down), then Sobre Coxa: marinated and seasoned chicken breast, Miolo da Paleta: Beef Center Cut, and Assado: basically beef stew with potatoes, carrots, and onions (and this is obviously not on a skewer – the waiter walks around with a pan).  The tomato is pretty good – the chicken fairly tender with good flavor – the beef was a little too well done for my taste, this round – the stew was very good.  I like that, although most things are grilled, everything really doesn't all taste the same and you really get to sample the tastes and textures of different cuts of meat, all in one sitting.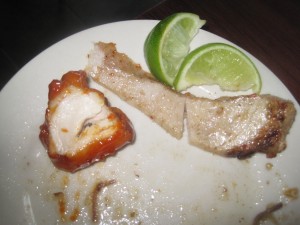 On the left side, Frango Agri-Doce: Sweet & spice chicken covered in a flavorful sauce and Lombo: Marinated pork loin.  Both were very good but the chicken was surprising because it really was sweet but had wonderful heat – it was perfect with pieces of the grilled pineapple.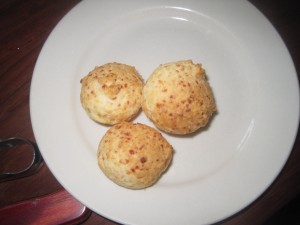 After all that food, I really didn't need anything else but I noticed that the gentleman next to me was served "nicer" Brazilian Cheese Bread so       I had to have a couple (ok – three) more because the ones I was initially served were pretty small.  These were the perfect dessert – hot, cheesy goodness!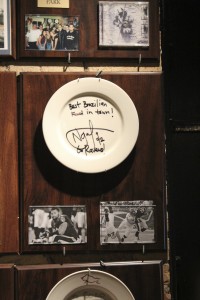 I do think I prefer Fogo de Chao but Rodizio Grill is not bad. I am always disappointed that this location does not serve any lamb (some locations have one type – Fogo has several lamb selections) but the price for lunch is very good and I always leave stuffed and in that delicious meat coma one expects from a place like this – which is why we don't really frequent these restaurants more than one or maybe twice a year.
I was very amused, while standing in the lobby waiting to be seated, to see on their wall of signed plates / famous people autographs, a plate signed by Baltimore Ravens player Haloti Ngata … a little bit of Baltimore here in Utah.