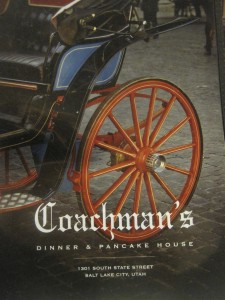 The last time I was in Salt Lake City (November 2012), and had some time on my own, I just drove around trying to remember places that we would go when I lived there for college.  Driving down State Street, I was so surprised to see Coachman's Dinner & Pancake House still up and running – I HAD to stop.  We only went there a few times and for three reasons: 1. It was fairly inexpensive considering… 2. the amount of food you got – A Lot !! and 3. my then boyfriend and his roommates liked that the waitresses wore very very short skirts, especially for Salt Lake City.  The waitresses wore old-fashioned waitress costumes (fluffy skirts… sort of French maid like) that basically brushed the table tops.
The first things I noticed when I went in: The decor was completely unchanged – they don't take credit or debit cards (cash or checks ONLY) – they play the same music (40's & 50's ballad / country / sort of), which was vintage back then! (I was in college at the University of Utah from 1976-1980).  Now the waitresses wear black shorts (fairly short shorts) and white shirts & vests… not all that different either!  The prices have gone up but not dramatically – still a pretty good deal.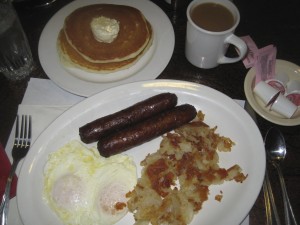 My last trip I stopped for breakfast / lunch – I LOVE breakfast food!!  I had the Italian sausage with eggs, country potatoes and pancakes.  The eggs were cooked perfectly and the Italian sausage had that little bit of heat that   I like and were really delicious.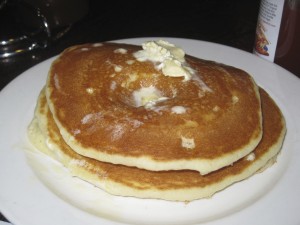 The pancakes were exactly how I remembered them – huge and fluffy.  It was a perfect breakfast and not a bad deal for $7.95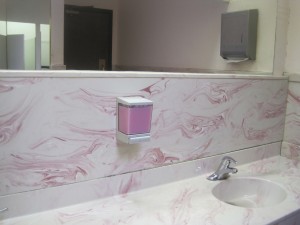 I had to laugh – even the bathroom is completely unchanged!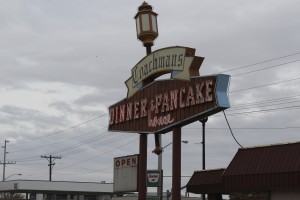 Very old school sign – unchanged too!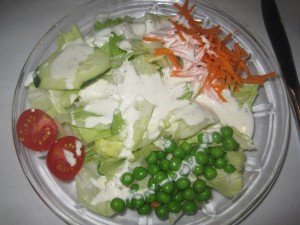 This trip (July 2013) after a long day and a mediocre lunch, I wanted comfort food and Coachman's was the first place I thought of.  The "Dinner Favorites" come with your choice of beverages (I had coffee), salad (there were five or six choices of salad dressings, none of the low or nonfat –   I had ranch) AND soup (one choice – this night it was Ham & Navy Bean.  I am not a fan so I skipped the soup).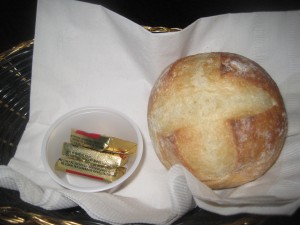 A warm dinner roll, which I should not have eaten but I really did want comfort foods and it was all warm and crusty and, I have to admit, totally yummy!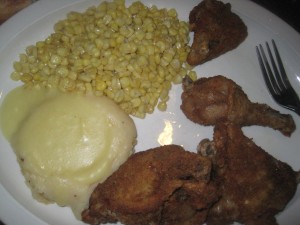 I picked fried chicken for my main course.  The main course includes "potatoes & vegetables".  I didn't get to choose what kind of potatoes (of course you would want mashed potatoes & gravy with fried chicken) or the vegetable (I am assuming corn was the only option).  There were four pieces of chicken.  The chicken was ok – not as moist as I would have liked and I sort of regretted not having the chicken fried steak or chicken fried chicken instead but the mashed potatoes and gravy and corn were very homey and nice.  Definitely a better meal than my lunch that day and pretty much what I was looking for.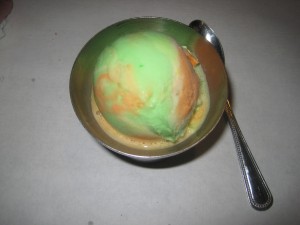 AND dinner also includes your choice of dessert (in-house made bread pudding, caramel custard, and about six choices of ice cream).  I am a sucker for sherbet so that was an easy choice.  So, for $9.95, you get four courses including bread and your sides and a drink.  Really not a bad deal.  The cliental leans toward an older crowd, although there were several big families there with kids, etc.  Lots of business men types and actually, thinking about it, most of the people were men or older couples.  The waitresses are friendly and helpful and obviously have a relationship with the regulars – I was really impressed when I was there for dinner, a man came in with his severely handicapped teenage son, the waitress talked to the man about how life was going and the vacation they had taken (because he and his son hadn't been in the restaurant for a few weeks) but she also took the time to talk to the son, who could hardly speak, asking if he liked the soup and had a good time on vacation.  She was also very considerate of when she brought parts of the meal because the dad was feeding his son.  That is customer service and is also probably a good part of why Coachman's still exists.  The food is not extraordinary but it is reliable and not bad, the prices are good, the servings are substantial, and the place makes you feel at Home.  Can't ask for much more than that !