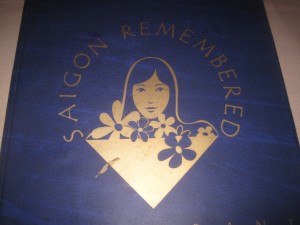 Saigon Remembered has been one of my favorite restaurants for years – Literally – Years!  We read a review in 2000 in The Sun newspaper that a small Vietnamese restaurant had opened on Belair Road (I can't remember the name of that restaurant) and immediately planned to go (I grew up in Northern California and Vietnamese food was always a favorite but I hadn't found any restaurants here in Baltimore).  It was a bit of a trek for us, at least 35-45 minutes depending on traffic, and not a great neighborhood.  The restaurant was small, six or seven tables and  obviously a family run business,  totally unprepared for all the attention from the review because they were swamped.  The food was wonderful, very authentic, and we kept coming back.  Once the fervor calmed down, their young son (he was probably 3 or 4 when we started going) would sit at the back of the restaurant playing with toys, etc.  We came to find out that they lived in an apartment above the restaurant.  So we kept coming back, watching their son grow, bringing our family and friends to enjoy the wonderful food.
One day, we came and a new person seated us – the decor was the same but the food definitely was different.  It turned out they had sold the restaurant.  Unfortunately, due to a language barrier, we could not find out where they moved to.  About six months later, one of my co-workers let me know that a Vietnamese restaurant had opened across from the then very popular Senator Theater.  Of course this meant we HAD to try it!  We walked in the door of this beautiful, elegant large restaurant and Literally heard a shriek as the owner walked quickly toward us.  We Found Them!  They had moved to a house in the neighborhood, definitely a better area for raising kids, and now they had a beautiful baby girl!  Their menu had expanded but the quality had definitely not changed – all our favorites were still there and still delicious!  As happens with restaurants and patrons, we had not gone in quite a while and I heard recently that they had closed at that location.  It made me sad that I hadn't gone in so long, probably three years.  (In my defense, it still wasn't very close – easily a 30 minute drive.)  For some reason, a couple weeks ago, I decided to Google the restaurant name to see if maybe they had just moved again and, to my delight, there was a Saigon Remembered restaurant listed in the Cockeysville area (I really wish I could get them to move to Owings Mills!).  Coincidentally we were heading to Cockeysville for Sunday lunch with the kids and I made them detour to the restaurant to see if maybe it was the same.  The logo was the same so I went in to check and get a menu and was greeted by the same owner, who was equally happy to see me and wanted to know all about the kids and everything.  Unfortunately, we had already eaten lunch at that point but I promised to return!  This is a review of our recent visit.
Long story short – This is truly one of my favorite Vietnamese restaurants.  While I have become a Pho fanatic (truly one of my favorite foods!!) and Saigon Remembered has actually added Pho to their menu, I will always go for the other foods. The Sun newspaper did a review of the new location and when we were there, the restaurant was busy, so I have hope that they have found a new home where we can come visit more often than the recent past.  The kids have grown up but I was highly amused to see a little boy, probably 7, sitting at a table at the back of the restaurant playing on an iPad – the decorations on the walls are very reminiscent of that first tiny restaurant but the elegant white tablecloths and wonderful service continued from that very elegant 2nd location.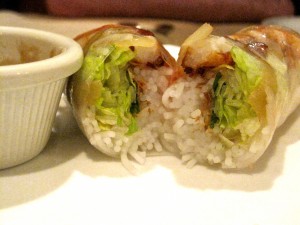 First – Summer Rolls  – But they don't just do "summer rolls" – They DO Summer Rolls.  There are at least 8 varieties to choose from and frequently they also have Special summer rolls based on the fresh ingredients available at that specific time of year – i.e. a soft crab summer roll.  All of them are worth a try!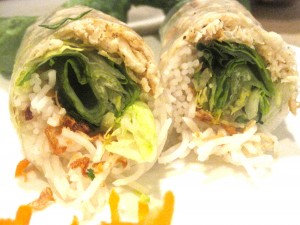 We had the grilled shrimp roll and combination roll – YUM!!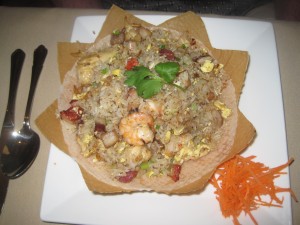 My Heart had the Queen Fried Rice: Stir-fried with egg, Vietnamese sauces, dried shrimp, BBQ pork, Vietnamese special shrimp sauces and served in a crispy rice paper bowl – this is a new dish and the flavors are amazing.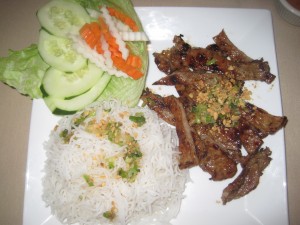 I had one of my favorites: Grilled pork with rice noodles – the pork is marinated with lemongrass and then is charbroiled and topped with chopped green onions and peanuts and served with fresh cucumber and picked daikon and carrots and steamed rice noodles.
We did not have the following dishes during our last visit but these are also favorites: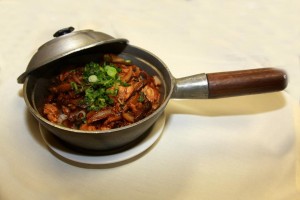 My son always has the Chicken in a Clay Pot: the chicken is cooked with black mushrooms, onion, and ginger with steamed rice.  The chicken is incredibly tender and infused with the ginger flavor.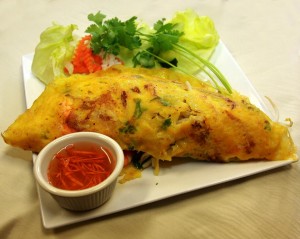 One of my favorites is also the Saigon Golden Crepe: a crispy golden crepe filled with shrimp, chicken, or pork (I always get the shrimp), bean sprouts, and onion.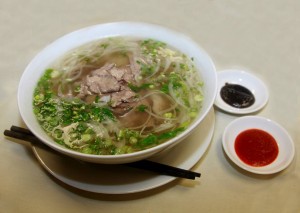 Of course, if you really love Pho – you can get that also.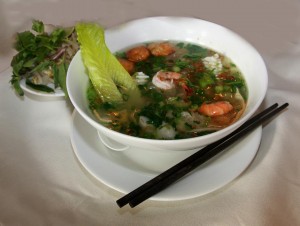 Including a seafood soup with clear or egg noodles and shrimp, squid, scallops, and shrimp balls.
I can't recommend Saigon Remembered enough – they are lovely people who serve up food filled with the flavors of their country.