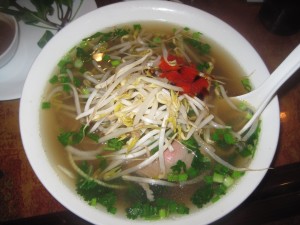 So it might seem like I am Pho-obsessed and, admittedly, I am a huge fan BUT… I was actually out shopping and my Heart is traveling and … what else would I have when I am right in the same shopping area?  Seriously?  Pho #1 is not necessarily in the best neighborhood and may not be the closest to home but their broth rocks.. right on target – and Pho really should start with the broth!  The Pho above is my "usual" – a large bowl with rare beef and flank steak topped with, of course, fresh basil, bean sprouts, Sriracha, Hoisin sauce, green onions and fresh cilantro – there are rice noodles on the bottom of the bowl.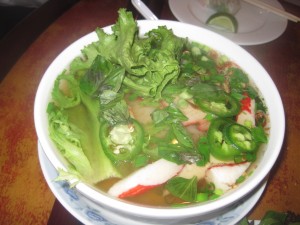 My Heart's favorite is a seafood / pork mixed soup – I would do a description from their online menu but it is actually in Vietnamese and the "English" version doesn't have all of the menu items – I sort of LOVE that.  When I go into a Asian restaurant and 80% of the people dining there are Asian – that is generally a good sign.  Yes… there is some lettuce floating in that soup. And, again, rice noodles on the bottom.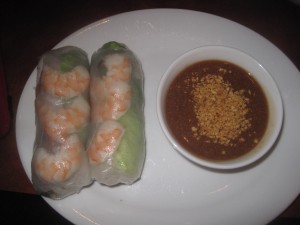 This is what fresh Spring Rolls should look like!  Cindy Lee Cafe tried but they were so hard to dip because they fell apart.  These are filled with shrimp, lettuce, pork, and rice noodles and are wrapped very tightly so they hold together.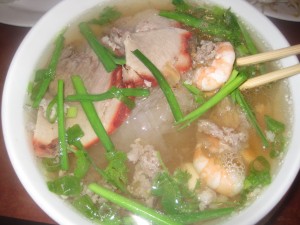 One of the reasons I decided to post this review today is because I actually tried a different soup during tonight's visit.  I had Pho last week and I think Pho #1 has a new menu or, at least, some new menu items including Vietnamese Noodle Soup. There was no real description but the picture was intriguing. First taste… was it the same broth?  Yup – so a good start! Green onions, fresh cilantro, pieces of Char sui (bbq pork), some ground ??? (I think it was pork but it might be chicken), and nice sized, perfectly cooked shrimp.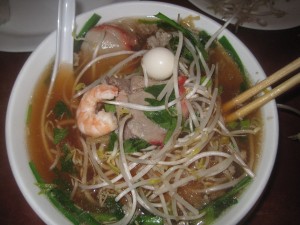 Of course, all the usual fresh toppings – fresh basil, bean sprouts, sriracha sauce and Hoisin sauce, and … you couldn't see it in the last picture, two hard-boiled quail eggs.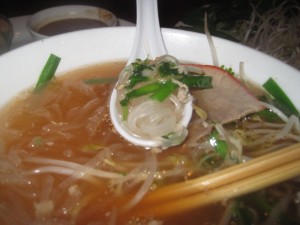 One surprise when there isn't a written description – the noodles.  I could tell that they weren't egg noodles but I was expecting rice noodles.  Nope – Cellophane or Crystal noodles, which are usually made from yam or mung bean.  The good part, still gluten-free for me!  The texture is very different from rice noodles – denser, thicker, slightly more rubbery but I have had these before so no problem.
If you have never had Pho – the best method for enjoying the soup broth, other ingredients & noodles is by "building" your spoon.  This is really one of my favorite parts of Pho – I love filling my spoon with noodles and bits of meat, herbs, a little bean sprouts, and then dipping and filling the spoon with broth.  Yes… there is a little slurping happening but … YUM!  I also love being able to put in the extra ingredients as you choose including the sriracha sauce.  You can make it as spicy as you want.  I find Pho to be a comfort food – I feel the same about most Asian noodle soups but the rice noodles used in Pho are better for me.  I will definitely order the Vietnamese Noodle Soup again.