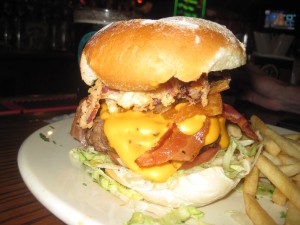 Bill Bateman's Bistro – Yesterday someone asked me for recommendations for Bill Bateman's because she noticed that we often go there (read: weekly). She was specifically asking about gluten-free options (there are few and there is a gluten-free menu but they also recognize that they cannot guarantee cross-contamination) but it got me thinking about whether or not I would recommend Bateman's to people. The answer is a resounding Maybe.
The food is not bad but is not necessarily reliable – some days are better than others, probably depending on how busy they are and who's in the kitchen. And the Bateman's we go to, in Reisterstown, MD, is a bit of a dive bar. That said – why do we go back?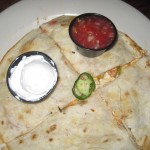 If you read my blog, then you know that my Heart is British and, as is tradition, he likes to find his "local". That pub where he feels comfortable, can watch the game on one of the multitude of TVs (baseball preferably but football and soccer are good too), and where the bartenders know him. Bateman's is definitely our Local and, with $2.75 drafts on Wednesday and not only Smithwicks but also Angry Orchard cider on tap (and they do have a fairly extensive beer selection), this is where we are most Wednesdays and occasionally other evenings of the week. Frequently our pints are already on the counter as we reach our bar stool. You can't beat that!  Our location is most often filed with locals, lots of Orioles and Ravens fans who cheer the good plays and groan at the losses, and a wonderful mixed demographic. A young urban African American man will high five that white-haired biker guy when Chris Davis hits a grand slam in the 7th. It is a perfect atmosphere to have pints, nibble on pretty average food, and share the ups and downs of whatever American sport you enjoy. (Last time we were there three guys asked that one TV be changed to the U.S. Open so they could cheer on Serena Williams)
Now to the food: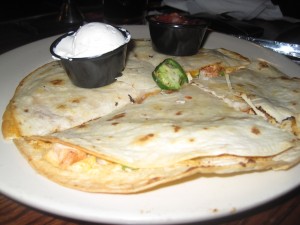 There are several quesadillas on the menu. One favorite is the Seafood Quesadilla (pictured), which is filled with the always delicious Bateman's Crab Dip, lump crab meat (just a little), shrimp, Old Bay (of course) and cheese. Basically anything with the crab dip is good. We also like Four Cheese Quesadilla and the Shrimp and Chorizo Quesadilla. These are all pretty reliable, although sometimes things come a little too "crispy" i.e. burned, but you can easily send things back.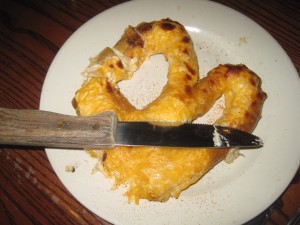 And speaking of the Crab Dip, one of the best things at Bateman's and something you can get a multitude of ways. My daughters favorite? The Crab Pretzel, which is peculiar to Baltimore. A soft pretzel coated in crab dip and a sprinkling of cheese – served up piping hot. This may not look that big but that is because there is a $5 version in the bar, which is a darned good deal. There is also a full-size version on the menu.  You can get just Crab Dip served with toasted bread,
Crab Fries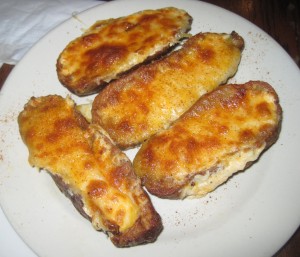 (crispy fries smothered in crab dip with fresh jalapeños and melted cheese), a Maryland Crab burger (a nice big burger topped with crab dip, lump crabmeat, cheddar cheese, and Old Bay) and Crab Skins (pictured), which are traditional potato skins filled with crab dip and topped with cheddar cheese. They have improved this dish by cutting each skin in half which it makes it easier to share and to eat. Almost anything with the crab dip is delicious. It isn't the crabbiest crab dip I've had but has good flavor.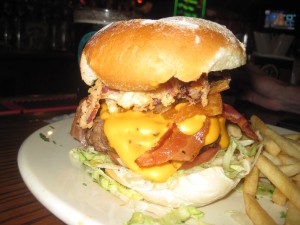 There is a big selection of burgers – our two favorites are the Crunch burger (pictured) – A burger topped with bacon, cheese sauce, fried onion strings, and potato chips with lettuce and tomato. My Heart's favorite burger to order, although he has had the Maryland Crab burger also.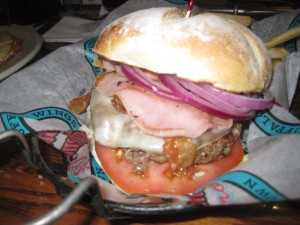 My favorite (and no, this is definitely not gluten-free) is the Cordon Bleu. Again, a nice big burger but this one is topped with bacon, ham, and swiss cheese with lettuce, tomato, and raw red onion.
They don't skimp on the burger or the toppings and they all come with french fries.  You can also do any of the burgers as a chicken sandwich instead.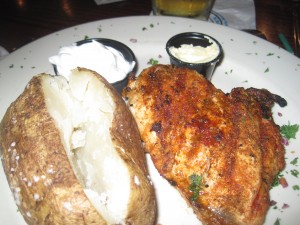 There are a ton of main dish / entrees to choose from. I was being good and tried the Grilled Chicken platter. The chicken was a little dry and I think they should offer to put one of their many sauces on it to perk up the flavor, but it wasn't horrible. We haven't tried the ribs, steak, or fish options but the steak is fairly popular.  On Wednesdays they have a $10 crab cake special that is very very popular. They also have specialities like a meatloaf platter, hot turkey, fried shrimp, and fish or shrimp tacos but, again, I haven't seen anyone order these. There is a Fish 'N' Chips platter but imagine my Heart's disappointment when the "Chips" actually were potato chips vs. the french fries one would get in England. He was Not Happy.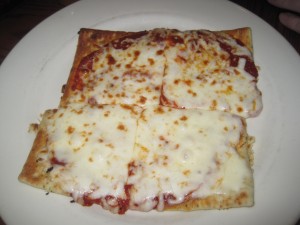 We normally sit in the bar so we get to take advantage of the $5 bar menu which includes a mediocre flatbread cheese pizza (very plain, with basically no seasoning in the sauce) and an  Italian sausage sub, which isn't bad (small but the sausage has a nice flavor). My Heart frequently gets the Nachos, which are definitely sized as an individual serving, but are substantial enough for a light dinner and tasty. For the nachos, Bateman's does a combination of cheese sauce AND grated cheddar, which is unusual. There are also a couple types of mini burgers.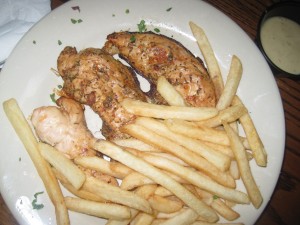 My favorite $5 menu item is the Jamaican Jerk Tenders. We were sitting at the bar one visit several years ago and saw someone get this. The guy commented that it was the "best deal" on the $5 menu and he was right. The tenders are substantial and coated in a dry rub jerk seasoning so no breading and it comes with a pile of fries and honey mustard dipping sauce. It would be nice if there was a choice of dipping sauces but, surprisingly, the honey mustard works fairly well.
Some other favorites (sorry, no pics) include the Cowboy Wrap, which is a mixture of Philly Steak, grilled chicken breast, grilled shrimp, wrapped up with pepper jack cheese, sautéed onions, and sweet peppers and served with fries. This could easily be share with soup or an extra order of fries. The Texas Chili can be a whole meal unto itself with a nice sized bowl of chili smothered in melted cheese and served with a big pile of tortilla chips. That is one of my Heart's favorite choices during the winter.
The menu is extensive, I have just touched on our favorites, and there are daily specials including All You Can Eat wings on Mondays, special prices for favorites every day, like the $10 crab cake on Wednesdays, and 1/2 price burgers on Sundays.
The bottom line? Bateman's doesn't have the best food that you can get at a sport bar / pub style place but we love our local and will keep going back!