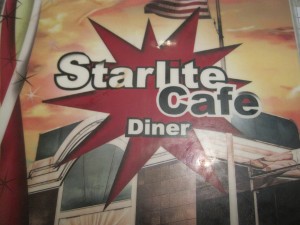 We were staying outside of Allentown PA as my Heart was doing his PSIA Level Two Practice Exam at Bear Creek Mountain Resort.  For the first day, the skiers were working with the examiners on what would on the exam, etc.  I stayed at our hotel and just chilled that day and then we went out to dinner with a couple of other Liberty Mountain ski instructors also there for the same course.  The Starlight Cafe Diner was right across the street from our hotel (in fact I tried to walk there for lunch but couldn't get across the street because it is a major roadway with a barrier in the center – I did finally see a way across when we went to dinner but ended up being happy where I had lunch: Florence Italian Grille)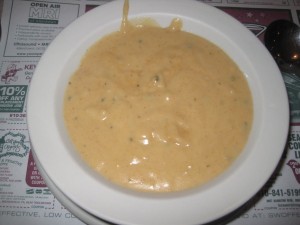 Most of our dinners included the soup and salad bar but, I guess because it was such a cold night, all of us had soup and no one had salads. The salad bar did look good but the soup rocked. The choices included a lobster bisque, which was everyone's choice!  It was super thick and creamy – I am not sure it was actual lobster, more likely imitation crab "lobster" but the flavor was very good and it really was perfect for a cold winter dinner.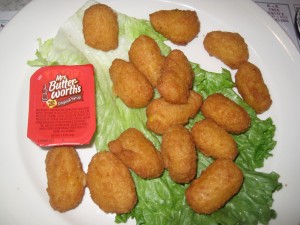 These corn nuggets called to my Heart (he deserved the calories after a whole day of skiing his butt off!) – If you've never had corn nuggets (sometimes called corn fritters), they are sweet corn wrapped up in a corn meal / flour batter and deep fried until hot and crispy.  They are frequently served with syrup, just to add to the sweetness.  These weren't anything extraordinary but were delicious nonetheless. 
On to the main courses. First off – it took forever to get through the typical crazy huge diner menu. Honestly, if you can't find something to eat at a traditional diner, you simply aren't hungry.  They also had the requisite specials for the week / for senior citizens / for the day… honestly, the menu is 10 pages.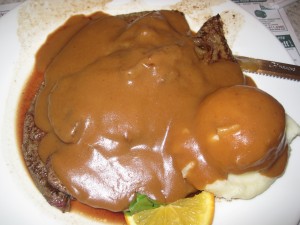 For me, something I haven't had in forever and something that is frequently well done at a good diner.  Liver and onions – You can see the serving! There were four nice sized calves livers, cooked perfectly – they were not over cooked, which is something many people do wrong.  My side just had to be mashed potatoes and gravy on everything – a nice hearty beef gravy with good flavor (sometimes brown gravy is just that… "brown" with no flavor to speak of).  It really was a massive serving – I couldn't finish it (especially after the super rich soup).
My Heart was deciding between the lasagna and something else and the waitress (who was very friendly and helpful) said, without hesitation, "Lasagna!".   Good choice – again a ginormous serving packed full of meat and cheeses and with great flavor.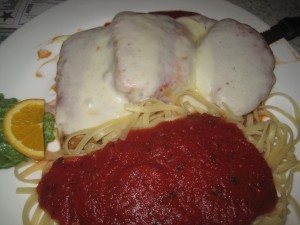 I had to take a picture of our one friend's dinner – Turkey Meatloaf Parmesan. I might try to recreate this one. He said that the turkey meatloaf had great flavor and texture and it was topped with a scoop of marinara sauce and then melted mozzarella cheese. It really looked delicious and is not a dish I would have ordered, just reading it on the menu.  Of course, the requisite side of pasta and marinara as well – the sauce was very nice and tasted homemade.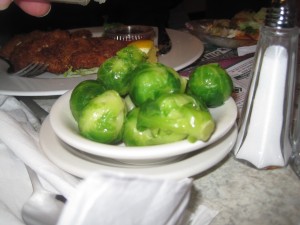 I also had to post a picture of our other friend's brussels sprouts.  He had fried oysters, they looked pretty good (you can see them in the background) but I was seriously impressed with the brussels sprouts – frequently in restaurants, especially diners where there is a big menu with lots of choices, the vegetables are cooked to "death" but these weren't… they still had their bright green color and he said that they were perfect.  Nice job!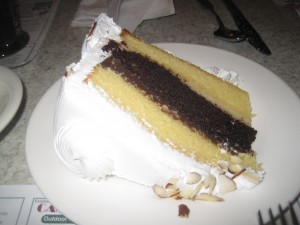 And while none of us needed dessert – I couldn't pass up a piece of homemade cake.  Again, I asked the waitress to choose between their Cannoli cake and Italian Rum cake – she picked the rum cake and it was a great choice.  The frosting was a whipped cream frosting vs. a heavy buttercream and the rum flavor was perfect. There is a chocolate pastry cream AND a vanilla pastry cream between the layers and the cake was super moist, probably from soaking in some of the rum.
It was a really fun night with great conversations, mostly about skiing, and lots of laughter – add really good food and you can't ask for much more.