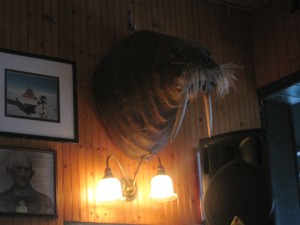 On the way back from an event in Northern Virginia – my Heart surprised me (and my daughter, who went to the event with us) with a birthday dinner at a little cafe in Herndon, Virginia: The Ice House Cafe.  This was on Saturday and my birthday fell on the following Friday, right in the middle of Homecoming week at the University – as usual.  What a wonderful treat!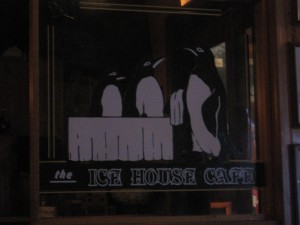 The decor was eclectic and reminiscent of an old hunting lodge or men's club.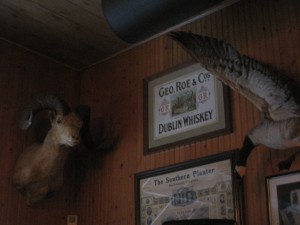 I didn't get pictures, because of where we were seated, but a small jazz band set up as we were eating so we actually had some lovely Live jazz with our dessert. (no pictures because we were basically seated "on" the stage.. we had to move a chair to accommodate a speaker!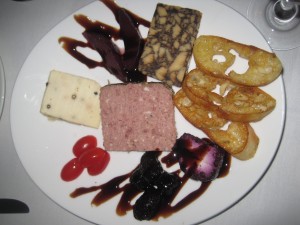 Our starter: The Charcuterie special – can't remember the white cheese but it was a hard, almost parmesan-style cheese, lovely & salty. The brown cheese was an Irish Porter and was also delicious. Pâté was very dense and had great flavor.  (I should take pictures of menu descriptions to remind me)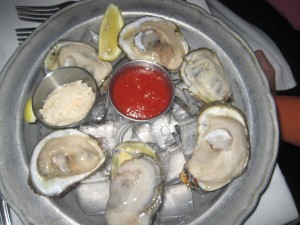 Of course, you can't very well go to an Oyster Bar and not have oysters. Both my Heart and I LOVE raw oysters.  These were very good Chincoteague oysters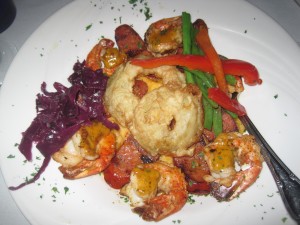 I had the Grilled Cajun Style Jumbo Shrimp over creamy Southern style grits with andouille sausages.  The combination of flavors were very good and the sausage had real heat.  The grits weren't as creamy as I like, closer to polenta, but the flavor was good.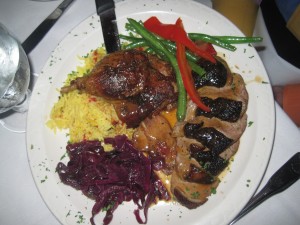 My Heart had the Five spiced duck leg confit and tea leaves smoked duck breast served with orange and ginger sauce.  Definitely the "winning" dinner that night. The duck was amazing – cooked perfectly with wonderful Asian seasoning.  There was also a crazy amount of food.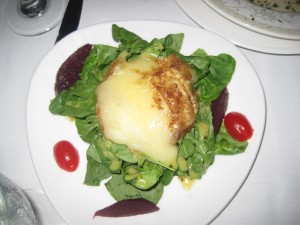 My daughter decided to go with soup & salad – The salad was grilled brie cheese coated with breadcrumbs , served on top of wilted spinach with a sweet basil vinaigrette.  A fascinating salad that combined the warm brie with the cool spinach and packed with flavor.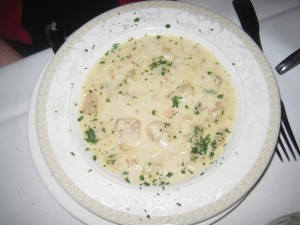 And Clam Chowder, one of her favorite soups.  This chowder had huge pieces of clams and was very rich and creamy.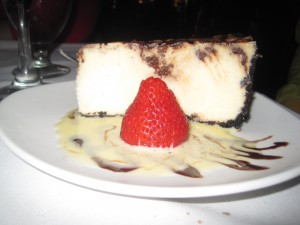 While we probably didn't "need" them, desserts were shared and included a very nice cheesecake with chocolate ganache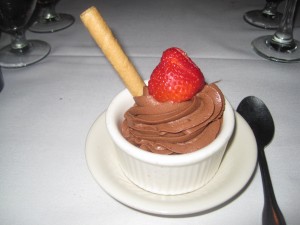 And a very luscious chocolate mousse – which we enjoyed as the Jazz Band got started.  I couldn't have planned a better Birthday Dinner.