My Heart's new company was kind enough to invite us to their holiday dinner, even though he had only been with the company about a month. I was super excited for the opportunity to eat at Texas de Brazil – I LOVE the Brazilian steakhouse restaurants we've been to in the past, including Rodizio Grill in Salt Lake City and Fogo de Chao in Baltimore.
The place was certainly decked out – it was lovely. We had a private room and our own server, which made the evening very nice. I have no idea what the wines were that had been selected for us but the Merlot was delicious.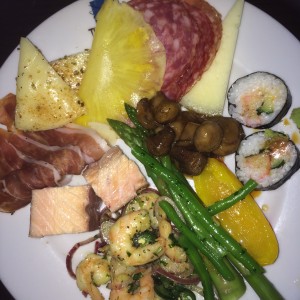 All of the Brazilian steakhouse restaurants I have been to have had amazing salad bars and this one was no exception. I have never seen sushi as an offering and, while it wasn't amazing, it was good. There were lots of other fantastic choices including the marinated shrimp salad and smoked salmon – both were delicious. There was also three soup choices including a lobster bisque that people were raving about  and the most delicious red wine mushrooms I have ever had. I couldn have eaten a bowl of them.
Of course, part of the reason for the amazing salad bard / appetizer station is to fill you up but I know better! (smile)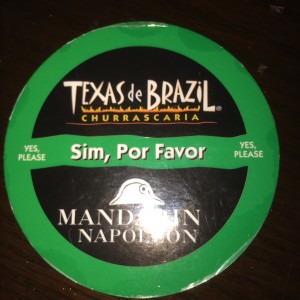 If you have never been to this type of restaurant – here's the deal. All You Care to Eat MEAT – brought out to you on giant skewers / swords and sliced  to your liking right onto your plate. Can anyone say Meat Coma. You have a token or placard next to your plate with two sides – Green for "YES, Please" keep it coming ! and Red for "No, Thank You" I have enough… I am taking a break… I am DONE!  As long as the green side is Up, the server will continue offering you meats!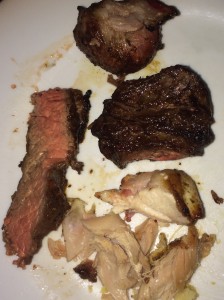 There is always a wonderful selection of beef including Filet mignon, Brazilian Picanha (a rolled roast), flank steak, and more. Texas de Brazil also offered a parmesan-crusted pork loin and a herb-crusted pork loin, both of which were fantastic,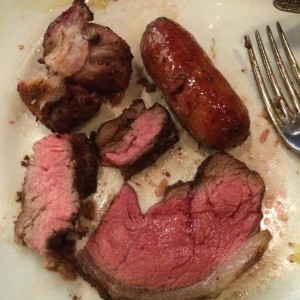 When I say "to your liking", there is often a choice on doneness, which is really nice. The Brazilian sausage was fantastic and the bacon-wrapped chicken was some of the best I've ever had.
All of the meats I tried were very good. My only disappointment was not getting to try any of the lamb. The server only brought in lamb twice the whole evening, even when we asked for it, and he ran out the first time, before he got to us, and the last time was after we had ordered our dessert. Lamb is usually one of my favorite parts of this type of dining so I was very disappointed in that.  Otherwise, the meal was wonderful and totally worth every calorie!
I should mention, there are also side dishes on the table – traditionally: roasted plantains, mashed potatoes, and one of my favorite things ever pão de queijo, amazing little Brazilian cheese rolls which are also gluten-free. I DO eat those!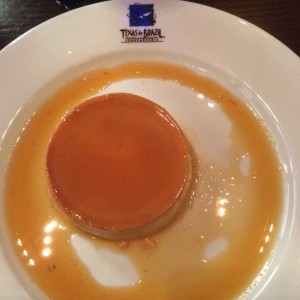 And then there was dessert – After all that food, one would think I would not want dessert but it was simply too tempting.  While they did have my all-time favorite dessert, crème brûlée, I was tempted by the crème caramel, something I haven't had in a while and also a favorite. Turned out to be the perfect choice – their crème brûlée was flavored and the general consensus around the table wasn't positive whereas, the crème caramel was the best I have ever had – creamy, rich, perfect with a wonderful sweet caramel top. I couldn't finish the whole thing but it was equally scrumptious the next day.
All in all, we enjoyed Texas de Brazil. I think my favorite Brazilian steakhouse will always be Fogo de Chao but if we get invited here again… yup, we're going!