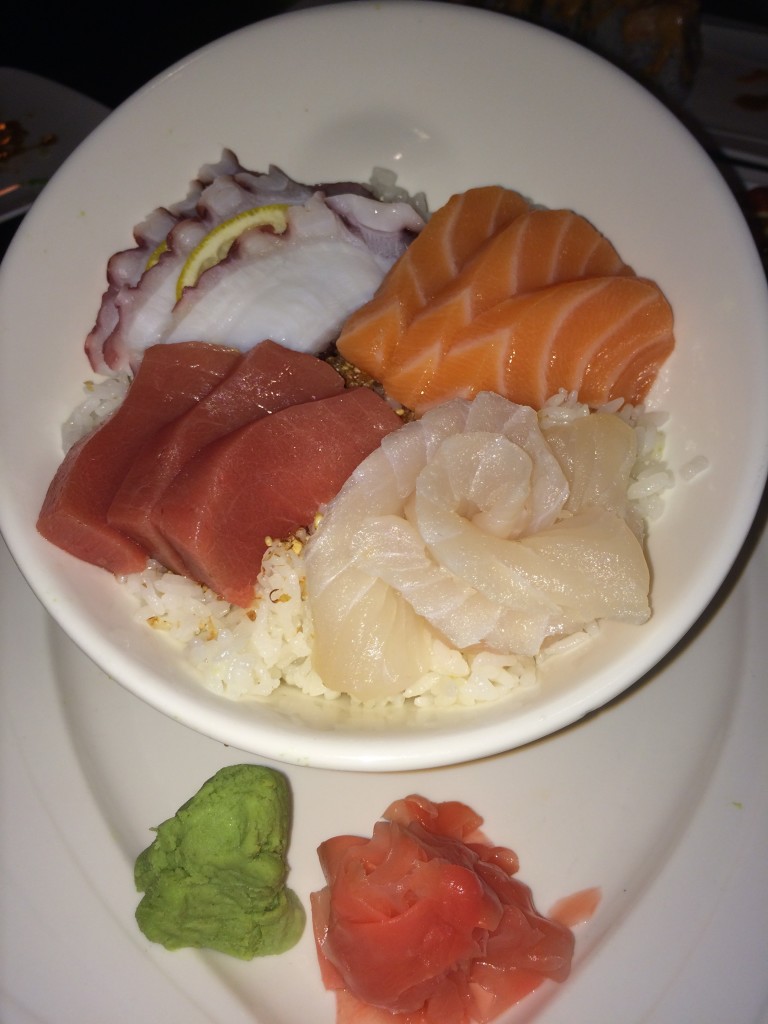 One of the best restaurants in Eldersburg, MD is J & Y Tokyo Market. It has some seriously good sushi and it a spot you would definitely drive past because of its nondescript cinderblock building. When we heard that the owners were opening a new restaurant, Tao Asian Cuisine, we had to check it out. The location is larger than J & Y and very nicely decorated, far more upscale, and looks like none of the previous restaurants. The building  had originally been a Pizza Hut and none of the other failed restaurants managed to remove that "look".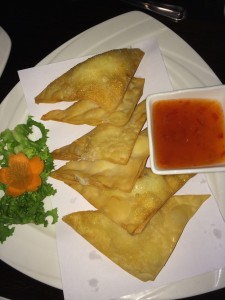 There is a fairly extensive appetizer selection and we knew we were having sushi for dinner so we tried some other items – The Crab Wontons were on the Specials menu. A little skimpy on the filling (definitely not as good as our favorite takeaway Chinese restaurant) but they were super crispy and not at all greasy and the sauce was sweet and spice so generally not bad.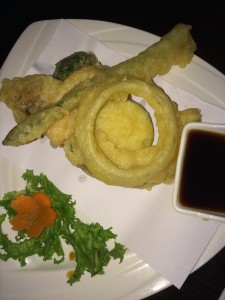 I really like tempura and it is always a good test for a "Japanese" restaurant. There was both a Vegetable ($5.95) and a Chicken or Shrimp Tempura ($6.95) on the appetizer menu and the prices are very good. We tried the veggie version and weren't disappointed. Nice and hot and crispy and not greasy but the best test? Are the vegetables cooked through? Everything was cooked perfectly – I especially loved the asparagus and mushroom and the best surprise was a piece of Delicata squash, which I haven't had as tempura before – it was Fantastic! The sauce was not what I would expect with tempura – a brothy sauce with grated daikon – it appeared to just be soy sauce, which was disappointing. I wonder if they serve a more traditional sauce with the tempura dinner?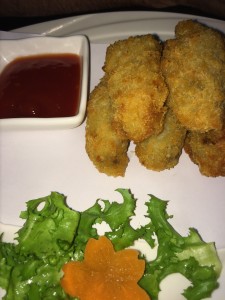 As part of his main course, my Heart decided to try the Fried Oysters ($7.95) that were on the Specials menu. OK – Look At The Size of those oysters and for that price!  They were huge and there is actually a sixth one hiding behind the pile. Like the other fried dishes, these were super crispy and not greasy and definitely not overcooked. They were fat and juicy and he was making happy yummy sounds so I think he was very satisfied with his choice.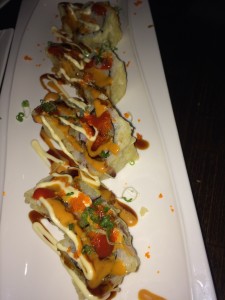 We shared a Volcano Roll from the Specials menu. It was different from other Volcano roll I've had, with a mishmash of ingredients rolled in rice and then battered & deep-fried and topped with Tobiko and assorted sauces. Not my favorite but certainly delicious.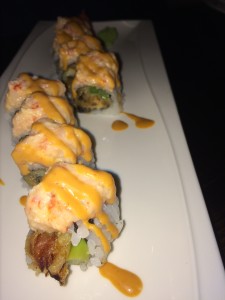 My Heart also tried the Longly Star Roll ($11.95) (I'm not sure it isn't supposed to be the Lonely star) which had fried eel and asparagus inside and lobster salad and spicy mayo on top.  He said it was very good.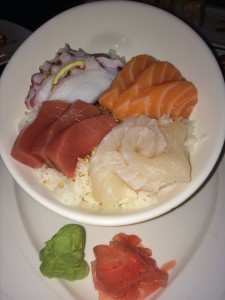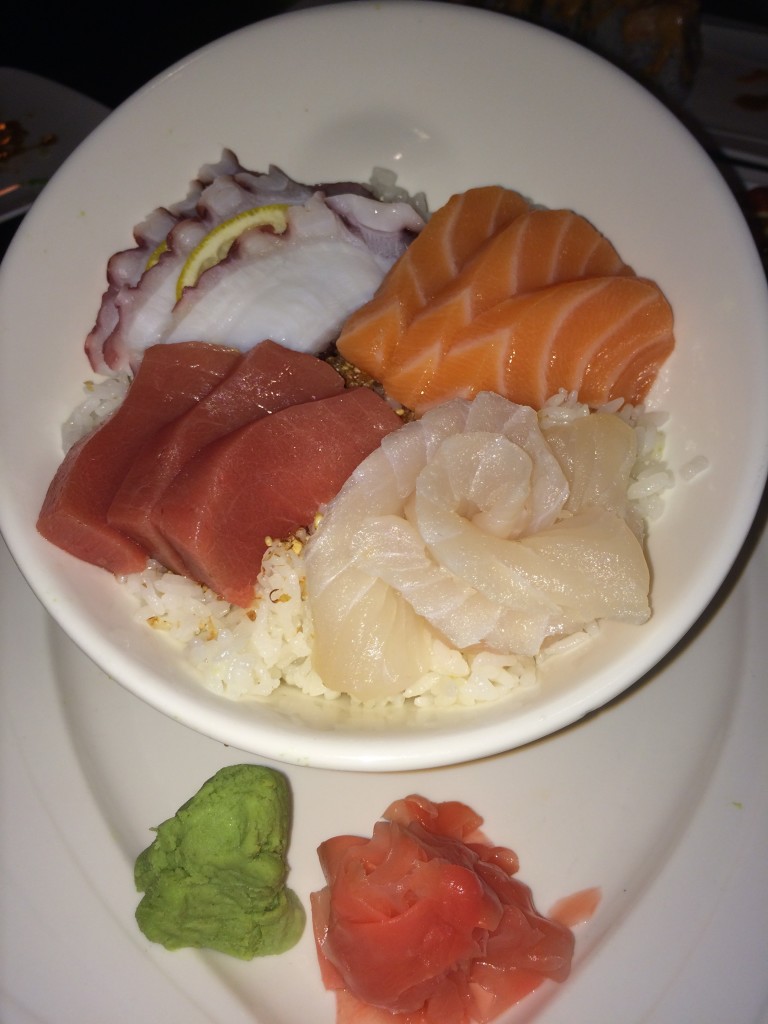 Now, my Go To main dish at most sushi restaurants is Chirashi Don or Chirashizushi ($16.95) – I like it because it usually showcases the chef's best fish and technique. It is sort of DIY Sushi as the ingredients are on a bed of sushi rice so you scoop up rice with each bite. This was definitely not the best Chirashi I've ever had with only four kinds of fish. That said, the quality of the fish was excellent and the size of the pieces were perfect and the octopus was layered with thin slices of lemon which left a lovely lingering flavor but – not what I would expect.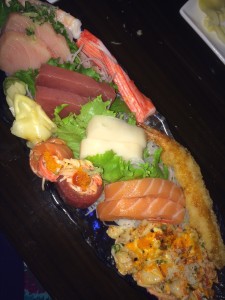 This is what I expect when I order Chirashi, and yes, this is far more expensive at $19.95, but definitely showcases the sushi chef's Best.
Although I was disappointed in my dinner, our experience was fine. The restaurant is very nice and the service was excellent. I didn't take a picture of our drinks but we shared a large sake (or two or three), which came to the table very hot, not tepid as we've had at other restaurants. There are lots of things on the menu we still want to try, including a ramen noodle soup (one of my favorites), so I'm sure we'll be back!