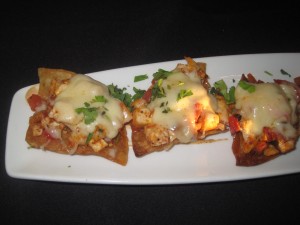 UPDATED: June 1, 2015 – Sadly, Talara has closed. 
We went to a networking dinner with friends – Talara Baltimore was a lovely bit of exploring.
As a table we shared the:   MINI TOSTADAS    Corn tortilla, queso blanco, talara salsa, Vegetarian black beans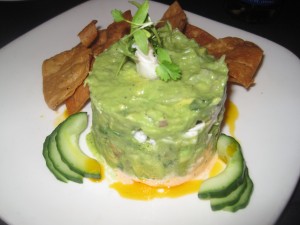 There were only four so all of us didn't get one but my Heart said it was pretty good.
I had a big lunch so I decided to do the small plates for my main meal starting with:
AVOCADO AND CRABMEAT TIAN
Jumbo lump crab, avocado, cucumber, tomato,
red onion, tortilla chips, harissa mayo, chile oil
A little short on "crab" and tortilla chips but great flavor and texture.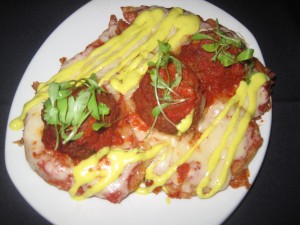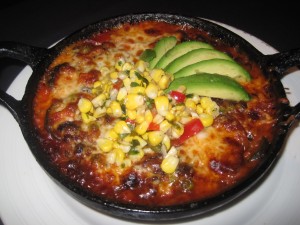 Another at our table had this meatball flatbread dish – there was no description on their online menu so it must be new. I didn't get to taste it but it looked pretty, although he didn't finish it or take it with him so I'm not sure it was a hit.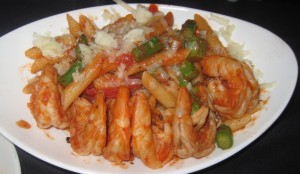 Another table-mate ordered:  VEGETARIAN CASSEROLE
Black bean, onion, red pepper, poblano pepper,
peas, carrot, corn tortillas, tomato sauce, queso
blanco, avocado, corn salsa
This, on the other hand, was a hit. Cheesy vegetarian goodness packed with flavor.
Also at the table was one of the night's specials – grilled shrimp with penne pasta. Nothing too extraordinary but lots of plump and well cooked shrimp.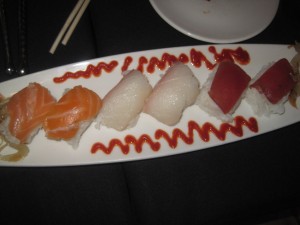 My Heart was feeling like a lighter dinner to so he went with the sushi sampler – two tuna, two white fish, and two salmon. Not the quality of a "good" sushi restaurant but nice.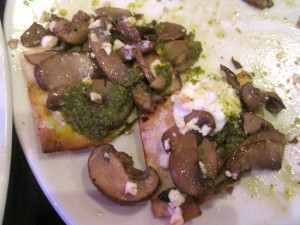 My final small plate choice was the:
MUSHROOM FLATBREAD
Cremini mushroom, roasted tomato, FireFly
Farms chevre, kalamata olive, chimichurri
Which was perfect – packed full of great mushroom-y flavor that was not overwhelmed by the cheese, olives, or chimichurri. A total YUM!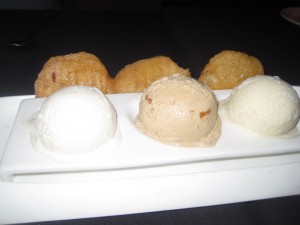 Dessert: An Italian Ice sampler with vanilla, mocha chip, and dulce le leche flavors paired with sopapillas. I didn't have any of the sopapillas but everyone snarfed them own but the mocha chip was delicious (I am always a sucker for anything coffee flavored).
It was a nice dining adventure but I'm not sure we would pick it / go again. Definitely pricey, not surprising because of the location, but there are also restaurants in the area that are just as pricey but far better.