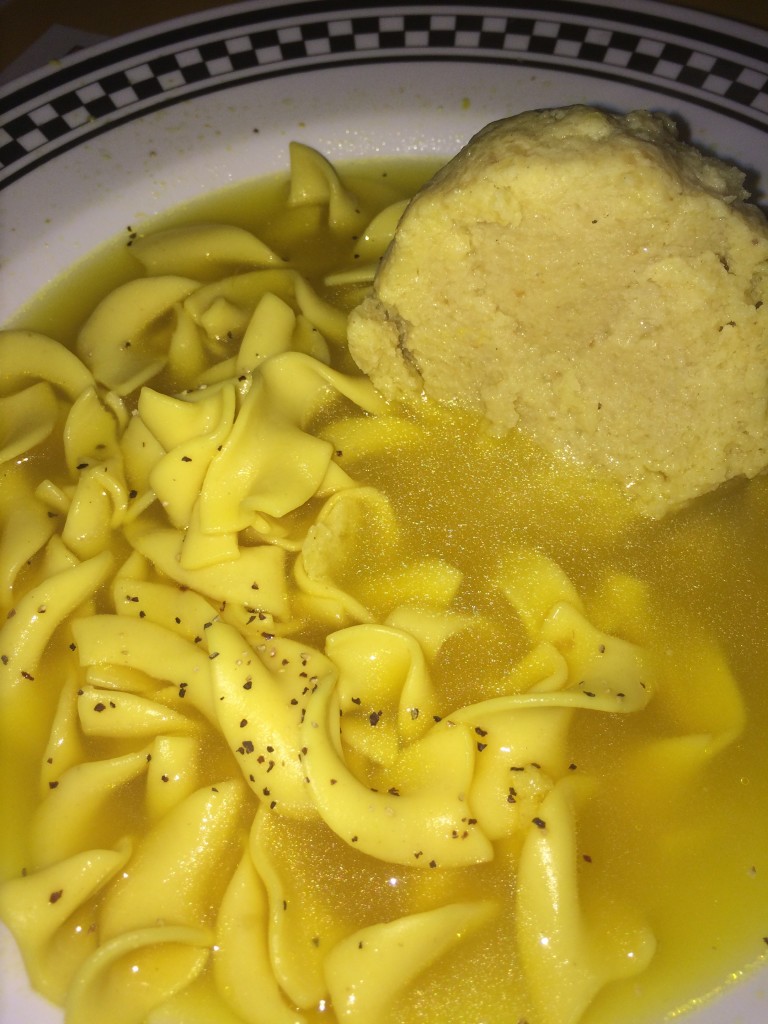 Our favorite neighborhood diner closed a few years ago and left a hole in our food-heart. One thing that my kids and I really miss is Matzah / Matzoh Ball Soup, amongst other traditional Jewish Deli / Diner foods. Suburban House had been recommended to us but we had never tried it out but recently I was looking for somewhere new and checked out their menu, which was exactly what my food-heart was missing, including Matzoh Ball Soup!  And this is how much I enjoyed it – we have made three trips in just over a week so that I could share the deliciousness with the whole family!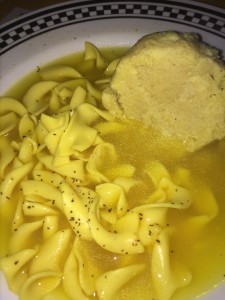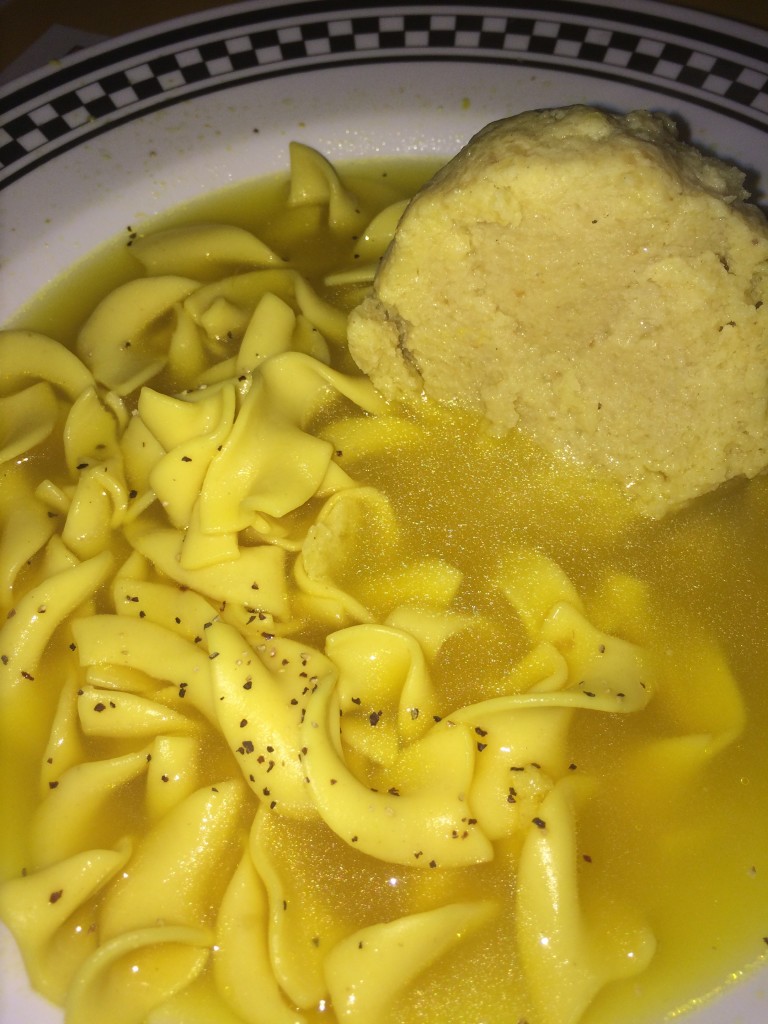 First – the soup: Matzoh Ball Soup ($6.99) is pretty simple – a rich chicken broth with egg noodles and a, hopefully, giant and well-made matzoh ball. This was not the best I've had but definitely hit the spot. The chicken broth was fairly rich and not too salty (that is sometimes a problem) but it was lacking in the veggies I am used to in chicken noodle and/or matzoh ball soup (traditionally onions, carrots, celery), but the bowl was filled with egg noodles and a big matzoh ball. Really, the key is the matzoh ball and this was one of the best I've ever had. It should be hot, cooked through, but also super tender – if they are over-worked the ball gets tough – this one was perfect. A little pepper (ok – a Lot… I like pepper in chicken soup) and heaven.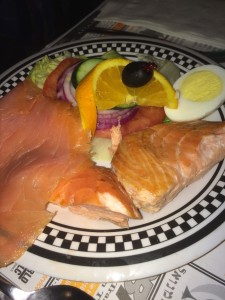 The first trip was just my Heart and I.  My Heart ordered the smoked fish platter ($19.99: choice of two types of smoked fish): Lox and Kippered Salmon. The platter came with a bagel (his choice was sesame), lettuce, tomato, red onion, cucumber, and hard-boiled egg. The serving size was good and the lox were delicious but the stand-out on the plate was the kippered salmon. This was a hearty serving and it was outstanding – good smokey flavor and great texture. I would swing by Suburban House just to buy some from the deli for dinners at home.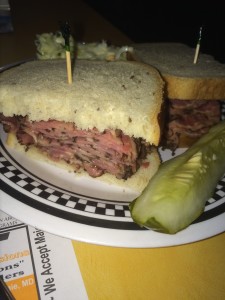 So, I am not a sandwich eater but there are a couple sandwiches that tempt me and pastrami ($11.99) is one of them. Suburban House makes its own pastrami and you can tell – packed with flavor and just the right amount of seasoning and fat, again, not the Best I've had (try it at the Carnegie Deli the next time you are in NYC, if you want some excellent pastrami) but some of the best that I've had in the area. Obviously this is a substantial serving, warm on your choice of bread or roll (of course, I picked the rye), and accompanied with a side of cole slaw (I am not a fan so I can't really say how it is), chips, and a really delicious crisp and sour dill pickle. There is mustard on the table to add to your taste. When we came with all the kids, my daughter ordered the lean pastrami ($12.99) and it is very lean – she was thrilled.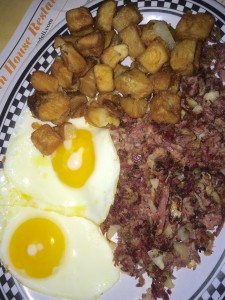 Three days later I brought my son for lunch. I wanted to be different so this time I ordered the matzoh ball soup (ok – I really enjoy it !) and the homemade corned beef hash ($11.99). I love a good corned beef hash – this was ok. It was obviously actual corned beef vs. canned hash but it was very dry without a lot of flavor. The eggs were cooked correctly to order (sunny-side) and the home fries were also dry and lackluster. It is a shame, because I really do love hash but I'm not sure I would order it again.
Side note: If you are a corned beef hash fan / breakfast fan / deli fan – be sure to check out Chick & Ruth's Delly in Annapolis, Maryland. It is an experience and, honestly, their corned beef hash is the best I have ever had.
My son had the matzoh ball soup, of course, and ordered the corned beef sandwich ($10.99) (I forgot to take a picture – he was hungry).  The corned beef was good, very mild, but not nearly as good as the pastrami. Definitely not the best we've had and my son ordered the pastrami when we came back.
The next visit was for Sunday lunch – ok, we weren't planning on three visits in less than a week but the place we were planning on going to was closed for the 4th holiday weekend and… we wanted to share the experience with the girls (my daughter and my son's girlfriend).
Of course, my son, daughter, and I had the matzoh ball soup. When I was there for lunch with my son, I heard a woman order the soup and sandwich and looked for that on the menu. For $11.99 you can get your choice of soup (including the matzoh ball) and HALF of a sandwich (pastrami was an option). Perfect because, really, after that big bowl of matzoh ball soup, who needs a whole sandwich. My son, daughter, and I ordered that!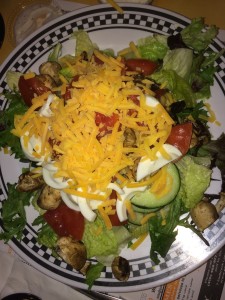 My son's girlfriend was the healthiest of us all (we had really feasted on the 4th so we all should have been healthier… we weren't!). A whole portion of the menu is dedicated to a "You Design-it Salad".  Choices include type of lettuce ($8.99), toppings (pick 4 then $1.19 ea. additional), protein toppings (ranging from $2.49 for hardboiled egg to $6.99 for shrimp), and dressing. Based on the salad she received, I would say this is not their biggest seller – the serving was fine but the mushrooms were questionable (dry and old looking), the other ingredients uninspiring, and the price adds up quickly if you are looking for a meal salad.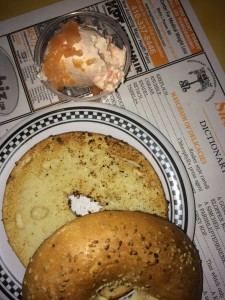 My Heart struggled to find something he wanted (he is not a big sandwich person and is also not really a deli fan – I won't make him come here often) and I think he was also trying to be healthy after the 4th. He finally decided on a bagel with lox spread ($5.99). His toasted everything bagel was fresh and the lox spread had a ton of minced lox. It was very good and an excellent deal.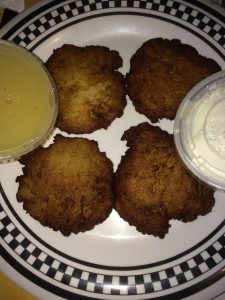 My daughter saw a favorite of hers and ordered a side of Potato Pancakes ($4.99), which is served with the traditional side of sour cream and applesauce. Definitely not the best I've ever had, they were soft and greasy – the edges were slightly crispy but not what I would have expected. We were very disappointed and will probably not order them again.
We only touched on some of the items on their menu, which is fairly extensive. There are definitely some things I would like to try on return trips, including a club sandwich (they offer 16 varieties), the chicken soup with kreplach, the hot roast brisket platter (open face with gravy), grilled liver and onions, etc. This is not an inexpensive place, by any means, but the servings are relatively substantial and the food is reliable enough that I think the cost is justified.
All in all, I will definitely come back to Suburban House. I miss having a Diner and am always a fan of places that serve breakfast all-day. I really love matzoh ball soup (obviously) and theirs is very good. I don't think, though, that we will become regulars – first, this is not my Heart's favorite type of food / restaurant, and the food isn't so good that I would argue / fight for it. More likely, it is someplace I come to for lunch / breakfast every now and again, especially when he is traveling or the family has a craving.