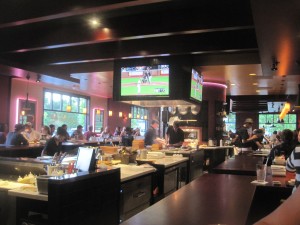 A Stone's Cove Kitbar opened up near the University, making it near home for us. A KITbar is a concept that combines a kitchen AND a bar into one and supposedly your "Cheftender" will "work to make sure each guest's experience is enjoyable, tasty, and entertaining."  Ummm… ok.  So – while we thought the food was good and restaurant Interesting – here are some pretty blunt observations.
I called to see if I could get a reservation (the building doesn't look very big and it literally opened two weeks ago so I figured it would be busy and my friend who went last week recommended it).  They don't take reservations during busy times but I could call before we arrived to put our names on waiting list.  – Ok.. I get that, not a problem.
I call at 7pm with a plan to arrive at 7:30pm.  They already were figuring a 45-minute wait – OK… I knew they would be popular and my Heart was trying to get home from work so the timing meant we wouldn't be in two cars, perfect. Reservation for Four (our friends were going with us) and SPELLED my Heart's name with a plan to arrive at 7:45pm
Arrive at 7:35 – Our friends beat us there and went in to the restaurant to check in, our named was spelled VERY incorrectly (they weren't sure it was us) and it was for TWO.  We go in and chat with the hostess, who is very young and pretty overwhelmed. Correct the number and start to wait.  Yes, it Just opened so, while it was annoying that our reservation was screwed up, they will work that out hopefully for the future.  The wait was now 1 to 1 1/2 hours for people coming in the door.
Space: Basically a long rectangular room with a large kitchen in the center with a "counter" surrounding the kitchen.  There are curves IN that create small four-person "booths" and curves OUT that give a space for four or six (maybe eight) to sit "facing" one another and then long straight spaces that can be for pairs.  There is one small space near the entrance with no chairs where you could order drinks but not stand / stay and there are a few (6-8) overstuffed chairs near the entrance and tall padded chairs on the wall in the back for waiting.  Because of the concept, you could order a drink / food but would have to stand holding it until you were seated, which could be a while.
35-minutes later (a little after 8pm) we were seated.  We were seated at one of the curves OUT, designed for six – which meant we were facing, and sitting very close, to two strangers.  AND, as a side note – as we walked up to the area, it looked unprepared / messy – it turns out the couple (who had already ordered and had their drinks, had unwrapped their silverware, etc.) decided they wanted to MOVE to the other side to have a "better view" which meant it all had to be cleaned again in prep for us… who does that?  It was just rude! (But not the hostess or server's fault)
Drinks:  The drinks are pricey but creative.  Sadly, my Heart and I have a cold so we weren't feeling very adventurous in the drinks area – I had a Woodchuck Cider (hooray, they have cider) and my Heart had one of the beer on-tap (Heavy Seas, I think).  Our friends had a Blood Orange Collins, it must have been good, he had a second, and the Pear Flower Martini – we were so focused on food I didn't ask her what she thought.
Starters / Appetizers: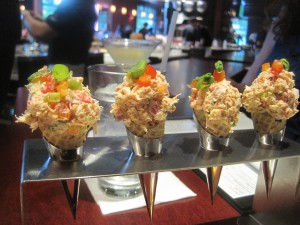 Our friends had the Lobster Cones: chipotle lobster salad with basil, guacamole & tomatoes in black sesame cones. Nice and spicy and adorable but you totally lost the flavor of the lobster – it could have been shrimp or even ham salad as far as we could tell, the lobster was so chopped up.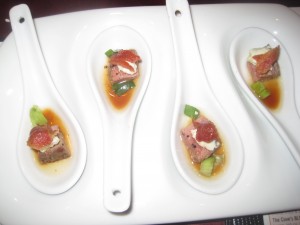 We had the Caramelized Beef Edibations: seared bourbon-marinated beef with gorgonzola, smoked bacon, green onion and Maker's Mark. The Cheftender who served it said to put it ALL in our mouth and NOT to chew for a second or two so that we could taste all the flavors combined first.  OK – so this is very pretty and creative but the beef was a tiny cube of relatively tough meat, you could taste the salty goodness of the gorgonzola but the bacon was really little more than crunch and if there was a teaspoon of whiskey on here – I will eat my hat… with Whiskey!  And this cost $10!  Frankly, for $10, I would expect a tiny little Party in my mouth – this wasn't it.  Note: when writing this I went to Stone's Cove's website to make sure I had the food descriptions correct and this Edibation is pictured when you hold your cursor over the description – boy was I annoyed!  The beef is positively "floating" in the Maker's Mark and our's (as you can see from our pic) definitely was not. As my Heart said, when I showed him the picture, it is more like they took ONE spoon of the whiskey and shared it across the other three spoons. Boo!
Dinner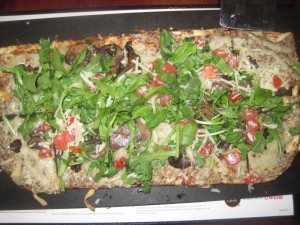 I had a huge lunch so I ordered light for dinner: Portobello Flatbread which included gruyere, arugula, tomatoes, parmesan, truffle oil & lemon.  I have started to really enjoy flatbreads – satisfies the pizza craving without bothering my gluten issues too much.  This was good, nothing super special for $11.  It is funny writing this now though – I wasn't looking at the description when I was eating it but I couldn't taste Any lemon flavor.  I did like the crisp, bright bitterness of the arugula in contrast to the salty creaminess of the cheeses and the lovely, meaty flavor and texture of the mushrooms.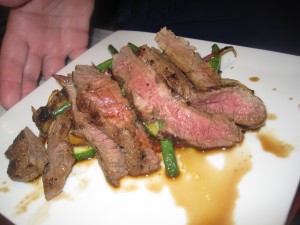 Definite food envy on this one. One of our friends had the Seared Marinated Flat Iron Steak with roasted vegetables.  She asked for rare and, while this looks closer to med-rare, she felt the marinating made it looked more cooked than it actually was because it was delicious!  I was more than a little jealous!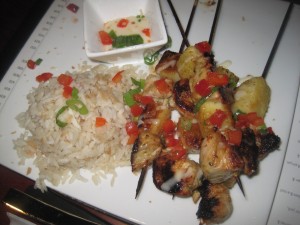 Our friend's husband had the Island Hopper Chicken Kabobs with  caramelized pineapple and piña colada sauce. Chicken was tender and moist and very coconutty.  Our friend enjoyed it.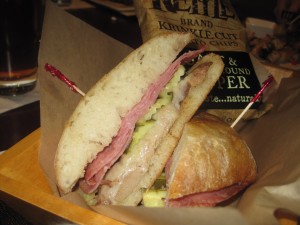 My Heart had the Cuban Panini: carnita, salami, gruyere, pickles, and cuban mustard sauce. Yes – the flavors were nice. Yes – these are sort of the ingredients for a Cuban Panini. But this is NOT a Panini – it was neither pressed nor grilled.  It was sort of Cuban Panini ingredients on Foccacia. Seriously? Call it Cuban-style and don't call it a panini.  And a bag of chips on the side?? Not impressed.
Dessert: Choices were: S'mores Flatbread or Cove Cones (any combination of four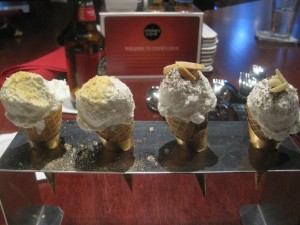 The S'mores flatbread looked great but our friend pointed out that peanut butter is an ingredient – my Heart is not a fan.  So we went with the Coves Cones – two of the key lime pie with graham cracker crumbs and two of the chocolate express with salted almonds.  Our friends got the cones also but with three chocolate and one key lime.  First – the cones are adorable. Thanks to the open kitchen, we could see ours being made (we were a little surprised that they are made at the appetizer station, our friend pointed out the possibility of cross contamination and as I watched one of the Cheftenders reach in to a section, grab a handful of a garnish for another dish and carry it right over our dessert.. I did also question that but I guess it is fine), which was nice so I could see how the dessert was put together.  They pipe in the filling and then add a "scoop" of whipped cream (which gives it that ice cream look).  Sprinkled on the toppings and serve.  Our favorite was definitely the key lime but with such a big scoop of whipped cream (which was delicious but I Love whipped cream) you couldn't really "combine" the flavor of the graham cracker crumbs, whipped cream, and key lime filling.  The key lime filling was wonderfully tart and creamy and very enjoyable.  The chocolate express (that is actually the menu description – I can't help feeling like it was a typo and they left out the "o") was also very good and, if you are a chocolate fan like our friend, this one's for you.  I do think calling it "salted" almonds is a bit of a stretch – more a toasted slivered almond – there was no taste of salt whatsoever, maybe it was supposed to be sprinkled on?
Final Thoughts:
Our friend who had the steak commented how good her vegetables were but as we sat watching the kitchen, I noticed that serving sized plastic BAGS with vegetables were heated and plated.  I am sure this is for efficiency sake and she did like her vegetables but took away from my impression of the restaurant.  As my Heart pointed out, you actually see More preparation of the food at somewhere like Qdoba, which has an open kitchen facing the ordering / pick up line.  Here things were pre-cooked Somewhere and pre-packaged and reheated in many cases.

Go with two or with six – if you are four and have time, wait for one of the booths – it is just awkward sitting so closely to strangers (we almost joined in on the debate the two guys, who joined our space after the old pretentious couple left, were having about Apple v. everyone else).  

Don't come with a party larger than six – you will NEVER be seated together, at least during busy times.
We watched people walk in and be told that there was a 60-90 minute wait and they, of course, asked where the bar was.  There are seats (no tables) at the back, against the wall but it is a little weird and not very convenient with a group.  Just be warned.
Our Cheftender was very nice and very funny – he seemed to know his stuff, as did everyone who stepped in to help us.  Service wasn't bad (I heard from a co-worker who went last week, their first week open, that service was a hot mess when she went) … I think they are getting it together.
The prices are definitely upscale, especially for small plate service – nothing against that but we go to places where you feel you are getting your monies worth because the food really is creative, fun, amazingly delicious, and the experience is wonderful – I could name several places like that.  This was not one of those places.  The wait is prohibitive, the prices are high (especially for what you get), and the experience is ok unless you are seated with snarky strangers who stare at you.  Again, I hate to make it sound all about the price like we think everything should be priced at fast food prices but we do go out often and are more than willing to pay for great food but not for ok food and an ok experience.
As we walked to the car, we all talked about whether we would come back or not – our friends named several restaurants / bistros they would rather go to.  I will be honest with people who ask me and recommend they try it out for themselves, but Not on a busy night and with a group of two or six, and I will definitely warn them about the prices.  The four of us probably won't be back – sorry Stone's Cove.