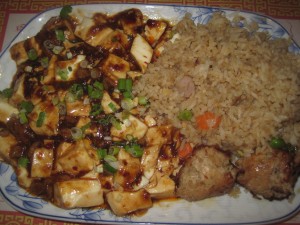 Visiting Salt Lake City with my poor Heart who is doing a leadership project for work and having meetings All Week, so I am mostly on my own exploring restaurants and enjoying some vacation time. As usual, I look for local Asian cuisine spots for lunch and dinner – Yum Yum Kitchen has four-stars on Yelp and pretty good reviews and, after a long, frustrating morning of going from Target to Walmart to etc. etc. looking for an ankle brace that fit properly with no success (woke up to find my ankle "out" which meant a change in my sightseeing plans as I limp about – boo!), I thought I would check it out.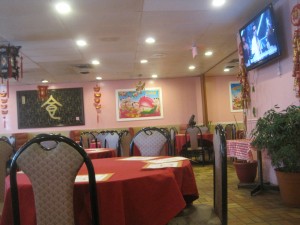 Decor: Pink on pink with a side of pink and odd giant baby posters.  I gather these are used in New Year's celebrations but – wow! I was seated and served by one Surly waiter. He was awful… I felt like I was totally wasting his time being there.  The lunch specials are a good price and they had my favorite dish so I stayed.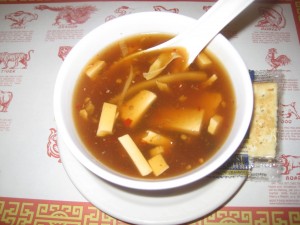 There are three levels for the lunch special – I did the 2nd option which included choice of soup, choice of appetizer (there were 4 or 5 options) and a main dish with ham fried rice.  The Hot & Sour soup was pretty good on flavor but pretty light on ingredients – no wood ear or cloud ear fungus that I can see (not every restaurant uses both but usually you see one).  Maybe it just wasn't in my scoop of soup.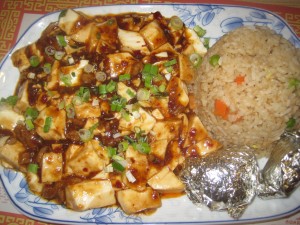 The appetizer came with my main course.  Appetizer: Paper Wrapped chicken, which obviously meant FOIL wrapped chicken: Well marinated chicken that seemed more like ground chicken than whole chicken. The predominant flavor: ginger. I wanted to try a different appetizer vs. egg rolls or something like that but I wasn't really impressed.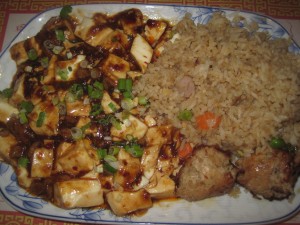 The ham fried rice was completely void of flavor – basically rice cooked with a drizzle of soy sauce, some tiny (teeny tiny) cubes of processed ham and a few flecks of frozen peas & carrots.  Main Course: my favorite – Mabo Tofu (or Ma Po Tofu – the Japanese version is "Mabo").  This is basically my favorite Chinese dish (I do Love Peking Duck but that is not lunch food).  I learned to make Mabo Tofu at home because it is so hard to get a really good version and, much like ordering carnitas or Chile Verde at Mexican, Mabo Tofu is my gauge for a Chinese restaurant.  When I ordered my lunch, I made sure to tell my belligerent waiter that I wanted it spicy but he either didn't understand what I was asking or ignored me (which is pretty much what I think). The tofu dish was not bad but definitely not as spicy as I would like it – more Americanized.  There was an underlying flavor of five-spice, which is unusual but not bad and there were bits (small bits) of actual pork (not ground pork) but some of the bites were doughy from whatever they coated it in (probably cornstarch).  Without a doubt not the worst I've ever had but, in all honesty, mine is better… which is not what I want when I am paying for it in a restaurant.
Other than delivering my food, I never saw my obnoxious waiter (I'm not entirely sure if that is good or bad) – there was a friendlier waiter who did stop by to refill my water once. They have one of those loud, annoying "ding dong" bells on the door (like a Chinese take away place) which was very distracting – all I could think was that I was very glad they weren't busier and maybe you could turn that off the bell when someone is actually sitting BY the door?  Seriously?  There was no music, just a big screen TV in the middle of the restaurant with a soap opera playing and as the waiters were bussing tables they were conversing, rather loudly, to each other in Chinese.  I am never a fan when staff spends more time having personal conversations than serving customers.  I was amused when another patron in the restaurant yelled "You Hoo" in order to get a waiter's attention. When I came in there was a large table of Asian women having lunch and most of the booths had Asian couples dining – generally I find a Chinese restaurant where most of the cliental are Asian is a good sign but all I could think was that there aren't any better restaurants in the area or they are relatives.  A young couple came in as I was finishing lunch, they ordered the Hot Pot – which is a speciality of the restaurant. Nothing was setup up so they had to wait for the "bar" to be put together and then had to stop the waiters several times to ask for things.  Didn't seem very customer friendly.  Paid my bill and at least it was cheap – $6.50 for the Deluxe lunch special.  Finally: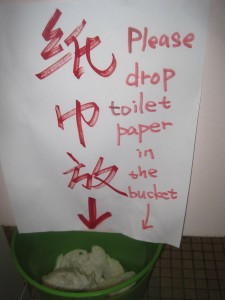 Stopped at the ladies room on my way out and found this – Really?  I can't begin to say how unsanitary that is – totally grossed out and won't be back.