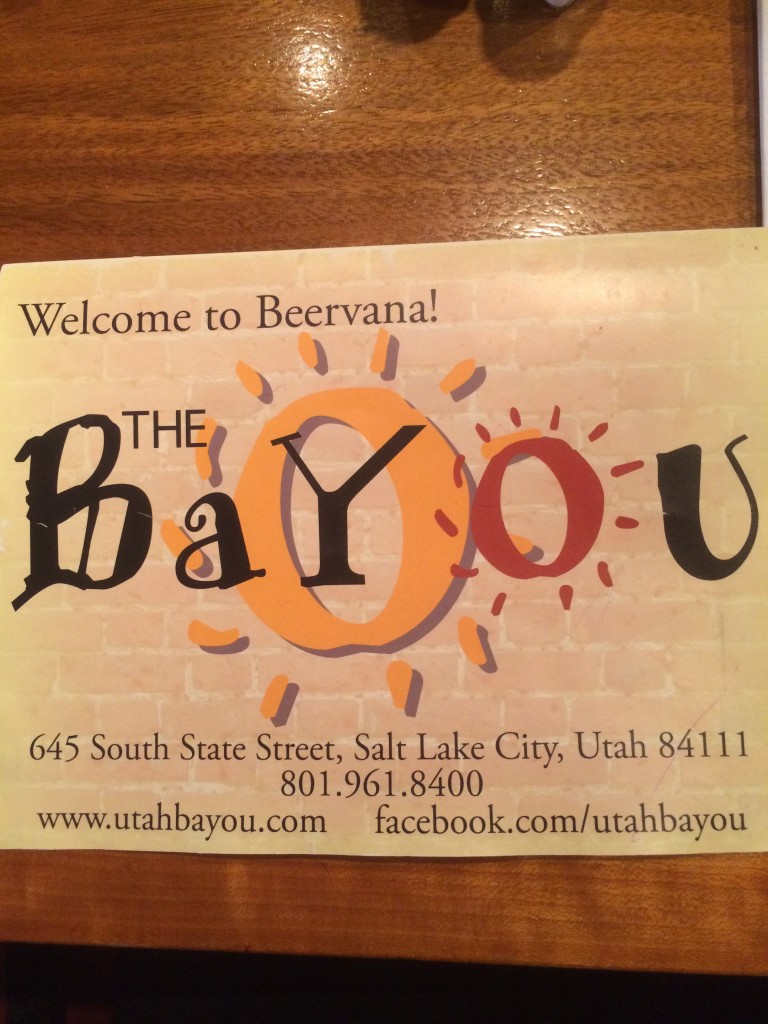 It has been a crazy semester so I am catching up on posts but, fortunately, the food on our vacation was fantastic so I remember Every place. Now, some background, my Heart is The Master of the Yelp – he always finds the very best restaurants. This time, because he was busy doing work stuff and on conference calls, I did a Yelp search and found The Bayou, which was walking distance from our hotel, had delicious sounding food (I am a fan of Cajun and Creole food), AND a stupendous beer menu.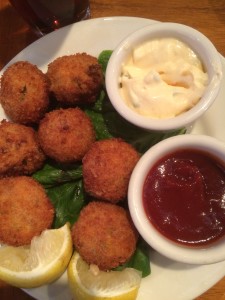 While my Heart searched the Beer Bible to find his first pint, we started with Cajun Seafood Balls ($6.99) – they were super crispy but didn't have a huge amount of flavor, although the sauces (Tartar sauce and Chipotle Cocktail) helped step up the dish. They were still a good start.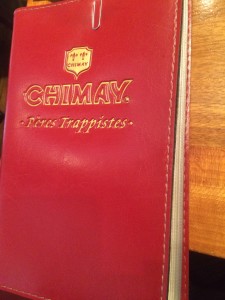 Not kidding about the Beer Bible either. A BOOK with more than 300 beers to choose from. It took him a while.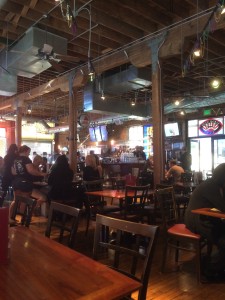 The Bayou is a big place, rustic but comfortable. Obviously a great place to hangout with friends and sample beers.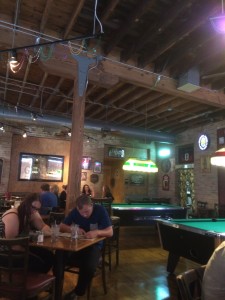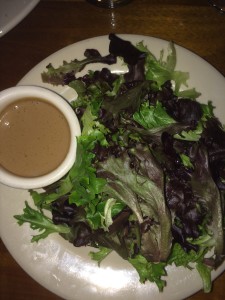 My entreé came with a salad – just mixed greens but at least they weren't iceberg lettuce and the dressing (house balsamic) was nice and simple.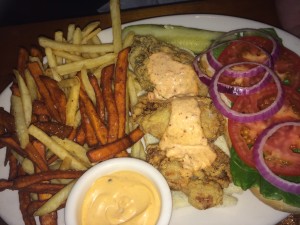 Our entreés were definitely what I am going to remember though (and the beer…).  My Heart had the Oyster PoBoy ($10). Yes… we were in a land-locked state but check out those oysters. They were massive and there were five of them. The coating had great seasoning and the oysters were cooked perfectly, still tender and juicy, and then topped with a lovely remoulade. The sandwich was accompanied by handout fries and sweet potato fries, sprinkled with herbs with a garlic-chipotle aioli on the side, which I could have eaten with a spoon.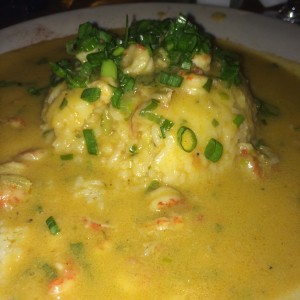 For me, one of my all-time favorite dishes is étouffée so, of course, no choice: Crawfish Étouffée ($13). Now, if I truthfully analyze this, the color was not quite dark enough (it should be closer to coffee with cream), which means they did not cook the roux enough but, that said, Delicious. It totally hit the spot and was exactly what I wanted – just the right balance of heat and creaminess and little bites of tender, not chewy, crayfish. The serving size was very nice and it came to the table steaming hot.
We were both stuffed so no dessert but we would definitely return – so many more beers to try and lots of other foods!