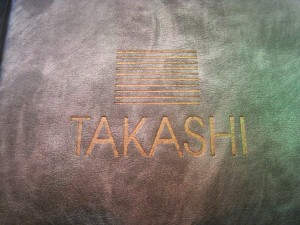 So during my vacation in SLC (my poor Heart was there for work and Did he Work – I basically saw him at 7am and then again at 9:30pm Mon-Thurs.  We were only able to have dinner together the afternoon we arrived and on Wednesday). Anyway – I did a pretty good job of eating frugally and really didn't spend more than $20 a day for all my meals – I was quite proud of myself!  This was our last night in SLC and the young man we met at Red Iguana 2 on Sunday strongly recommended Takashi Sushi so, what the hell … Vacation! Takashi Sushi also happened to be right around the corner from the hotel so it was very convenient.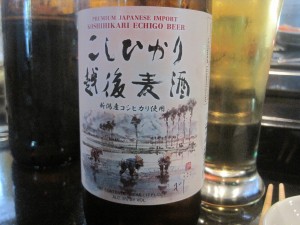 Sadly, they did not have any cider but the waiter knew the menu and recommended Koshihikari Echigo Beer, which is a gluten-free rice beer.  Not half bad and certainly better than any of the gluten-free beers I have tried so far. Score!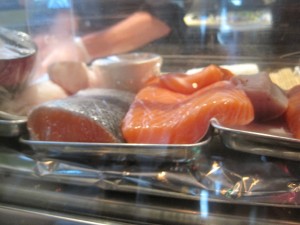 The place was crowded so I was offered a seat at the sushi bar.  That's fine because then I get to watch the sushi chefs' artistry.  I was a little disappointed to find that basically all of the sushi chefs were caucasian but sushi has been around quite a while in the US so I was hoping that they were well-trained (yes, I can be a little judgmental about this.. call it prideful for my Japanese culture).  I am also not generally a fan of "she-she", upscale, hip, trendy, swanky, etc. etc. sushi places that insist on having lots of fancy pants varieties but don't have the skill to make traditional sushi (and I'm not talking California rolls).  So that was actually the best thing about sitting at the sushi bar – seeing really wonderful looking ingredients and watching seriously serious sushi chefs create.  The chef where I was sitting had amazing knife skills to go along with a very friendly personality.  He took his plates seriously and made sure that everything was beautiful. I was impressed.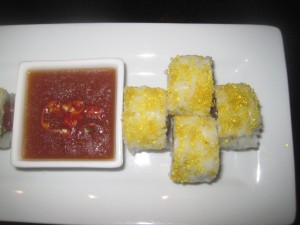 The menu was HUGE and included not just sushi but also other dishes but, without a question, Sushi was the Star.  I was glad to have beer and the sushi theater in front of me as I tried to narrow down what I wanted.  My first roll: Yellow Submarine – "Yellowtail, yellow fin, shiso, and spicy sauce inside: yuzu-flavored tobiko on top with tataki sauce on the side" ($11.50).  I love yellowtail so that is what sold me on this one and it certainly deserves the name because the yellow tobiko almost glowed in the dark.  The sushi was perfect and had great flavor – the sauce was nice but I am a little bit of a purist when it comes to dipping sauce.. just give me shoyu and wasabi.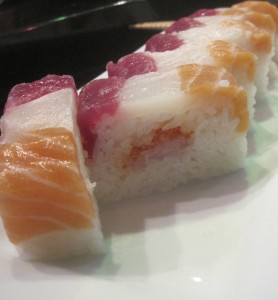 Next: Takashi's Hakozushi (aka, The Box) – "Not really a roll, this is a delicious composition of amberjack, spicy sauce & tobiko layered with sushi rice. Topped with tuna, yellowtail and salmon" ($14.95). Without a doubt my favorite. Hakozushi is not common in American sushi restaurants and I believe the only time I have had it is in Japan. This was perfectly done with wonderfully fresh fish flavors and it is just beautiful.  The two men sitting beside me were obviously regulars who were on very friendly terms with the sushi chef and they had never seen this preparation… they kept asking if I would share – I asked if they would share my bill at the end too – they laughed…  I didn't share! *smile*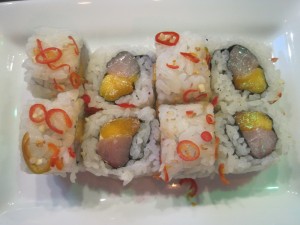 The woman sitting next to me recommended the Caribbean roll, her favorite so far – "Yellowtail, fresh mango, spicy sauce, and fresh chili pepper" ($8.95).  This roll had a wonderful sweetness with great texture and that pop of heat from the chili peppers.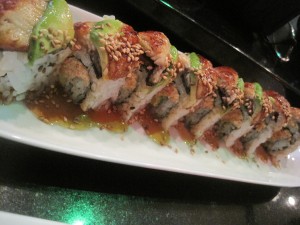 The final roll I ordered was actually for my Heart, who was stuck in a team dinner / meeting, because Unagi (eel) sushi is one of his favorites.  (Puff the) Magic Dragon roll – "Spiced crab and avocado roll topped with sliced unagi, avocado, eel sauce, and sesame seeds" ($13.95).  I actually only ate a couple delicious pieces and had the rest wrapped up to go so he could enjoy it when he got back from his dinner meeting.
This was a really fun dinner.  The two men sitting to my left were really friendly and funny and the woman who sat to my right who was also very nice and chatty  so, while I was technically alone for dinner, I did get to meet and chat with people and the sushi was delicious.  There are lots and lots of other rolls I would like to try on future trips, hopefully next time with my Heart.