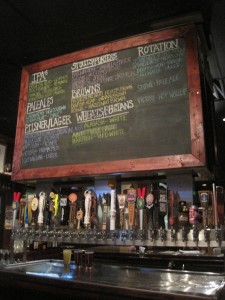 I've heard great things and ok things about Oscar's Alehouse so we decided to check it out ourselves.  These are pics from two visits, we liked it enough to take my kids!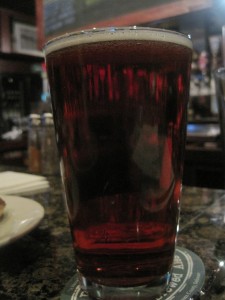 Oscar's Alehouse is located about 10 miles from us in Eldersburg, MD.  We do our Sunday grocery shopping in Eldersburg so we go out that way frequently.  The restaurant is located in a strip mall and is fairly nondescript from the outside but is huge and very homey inside – we were pleasantly surprised.  We headed right back to the bar, which is where my Heart always likes to sit.  First – there is an excellent selection of craft beers, both local and national, on tap.  There are also standard bottle beers like Corona and Bud.  There is a selection of wines by the glass and also a small martini and cocktail menu, if you are not a beer drinker.  For those of us who are gluten-free, there was a Foxbarrel – blackberry pear cider (a little sweet but not syrupy with a fresh berry flavor) on tap and also Angry Orchard Cider and Redbridge gluten-free beer in bottles.
One of the first things I have to say about Oscar's – the service, at least in the bar, is fantastic.  We really love Richard, who is behind the bar – he knows his stuff and is friendly and helpful.  A bartender can make or break a place for us.  The second time we went there were five of us so we couldn't sit at the bar but the service was just as good and just as personal.  They were busy because of the football game on the TV screens but they were "teaming" the tables perfectly – we never felt neglected even with a huge party in the back room and basically every table taken in the large bar area.  Also, when one of our wing orders was messed up, they caught it before it left the kitchen and they apologized but still brought us out the incorrect order so that my son would have something to eat while he waited for his buffalo wings.  This meant we had an extra set of wings and my son wasn't sitting there watching everyone else eat while his order was being corrected.  Very nice and also very considerate. Now on to the food!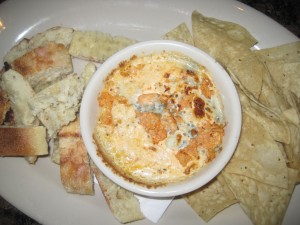 I am going to start this description with My Heart is not a fan of "Buffalo" anything – he doesn't really like the Tabasco-flavor.  We ordered the BUFFALO CHICKEN DIP (Fresh pulled chicken tossed in buffalo sauce with pepper jack, mascarpone, bleu cheese and herbed cream cheese. Served with grilled ciabatta and tortilla chips – $10) the first time we came and I guess he liked it because he ordered it as his "main dish" the second time trip.  While there could probably be a bit more chicken, the combination of flavors really rocks – a little spicy but not too much, the salty bite of the blue cheese and the creaminess of the melted pepper jack, mascarpone and cream cheese are perfect. Also – LOVE that it comes with both grilled ciabatta bread and tortilla chips so I can be "good" but he can have bread!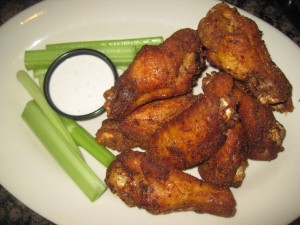 Next up – the Wings.  I can't stop talking about their wings.  Wings are my guilty pleasure and I have them all the time at lots and lots of different places. After these wings, I hesitate to order them anywhere that does them by Count vs. by Weight.  Oscar's serves up one-pound of wings for $8.  Now what does that mean?  Sure, you get 10 or 12 wings in most places and the price is generally in the $10 range but how big are the wings?  I have gotten some pretty damn scrawny wings in so called wing joints like Buffalo Wild Wings and Bill Bateman's.  Look at those wings – they are substantial, meaty, coated in seasoning (I ordered the Old Bay wings) and cooked perfectly. I also found out that I can split my order between two flavors at no extra cost (Bateman's only allows one flavor per order, no matter how many you order – ridiculous).  Seriously, I Love Wings and I was stuffed after those.  Yum!  They only have three flavors: Old Bay, Buffalo and Teriyaki but they also happen to be the flavors I like – that works too!
Because I had never been here before, I also ordered a side of onion rings that first trip… fortunately my Heart was willing to eat some.  Nice and crispy and not greasy at all – a nice side option.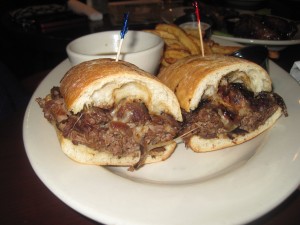 Next up, the ROAST BEEF SANDWICH (Sliced roast beef simmered in au jus served on rustic hero with caramelized onions and provolone. Served with a side of au jus and horseradish mayo. $10 ) My Heart had this on our first visit and my daughter on the second visit – I am not sure she is going to order anything else.  Delicious!  The au jus is perfect, especially with the hand cut fries, and the meat is super tender and tasty.  My daughter also really liked the horseradish sauce, even though she doesn't like mayo.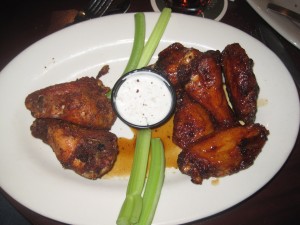 Oh look – more wings!  (smile)  This time I had 1/2 Old Bay and 1/2 Teriyaki wings.  Again – look at the size of the wings – Not disappointing!  The teriyaki sauce is pretty traditional but very tasty. My son had the buffalo wings – they were hot but not incendiary.  Good if you like a little more heat.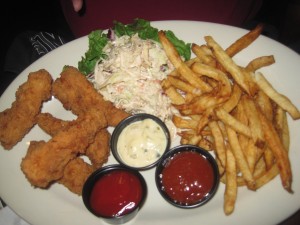 My son's girlfriend had FISH AND CHIPS (Nice portion of meaty white cod beer battered & deep fried. Served with cocktail & tartar sauce, cole slaw and fresh cut fries. $15) – by "nice portion" they meant a LOT.  The beer batter was not greasy and was super crispy and the fish was tender and flaky, cooked perfectly.  This was a substantial meal and one I think my Heart will order in the future.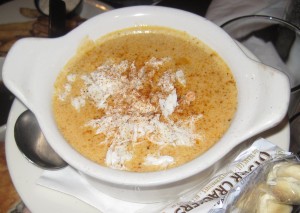 My son also tried a bowl of MARYLAND CREAM OF CRAB SOUP (Made in house with sherry, onions and lots of crabmeat. Sprinkled with Old Bay and served with oyster crackers. $5 cup / $7 bowl). Obviously a ton of crabmeat on top and a nice serving.  It could have been a tad hotter (I like my soup super hot) but the flavor was perfect, rich and creamy with lots of crab and the requisite and desired sprinkling of Old Bay.  Will order this again.
My kids left Oscar's with every intention of returning, regularly.  We are recommending it to all our friends.  A nice atmosphere, great staff, good food at a good price, excellent beer selection and gluten-free options for me, convenient with lots of available parking – really, you can't ask for much more than that.
Note: if you are gluten-free, ask to see the gluten-free "menu".  They have taken their menu and made recommendations for gluten-free items and also gluten-free options, like having the burgers on lettuce vs. a bun.