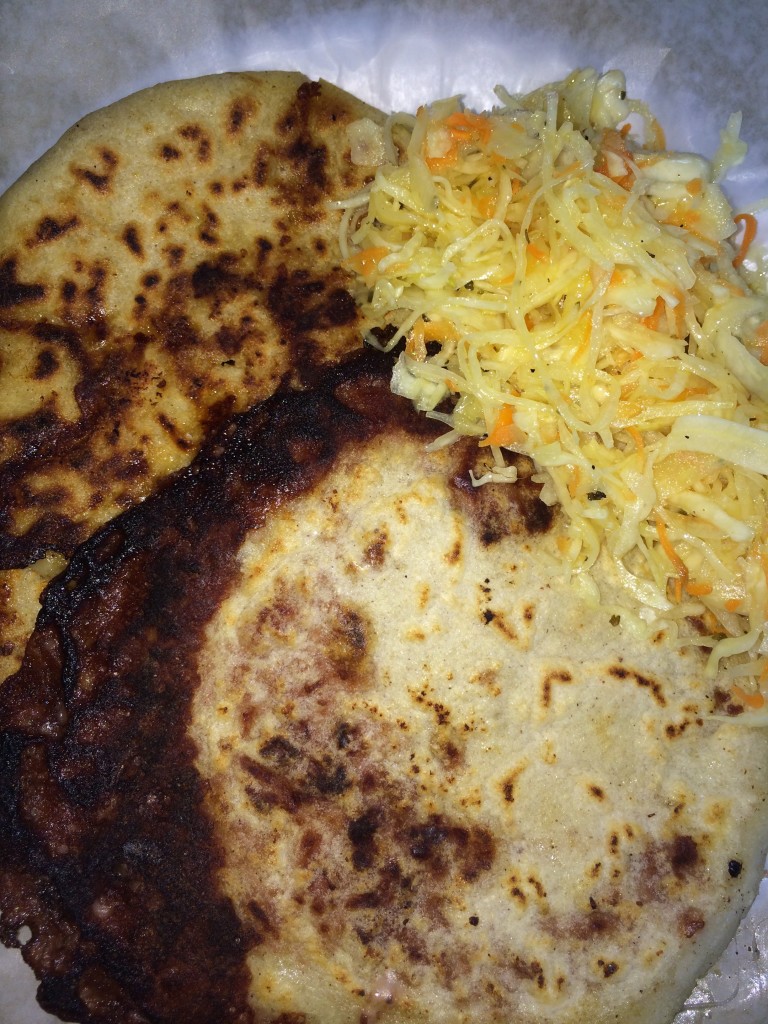 First – My Heart Rocks YELP.  We travel – Often – and food is a big part of our travel. He has found the best little hole-in-the-wall places all around the country thanks to his Yelp-skills. If you haven't used Yelp, it is an app that helps you find places like restaurants, based on your location. Now, it would be easy to just take the first "more than three stars" place close by but my Heart is driven to find unique, local places (frequently that serve "Mexican" food – his favorite!) when we travel. Sure, we have pulled up in front of places where I have looked at him with a "seriously???" face but he has never steered us wrong and Nelly's Cafe, serving Salvadorian food, was definitely one of those places. We actually drove past it twice because it doesn't really have a sign… well, there is a sign but it is painted on the glass door which is pretty tough to see from the road, and it is in a dingy little strip mall crammed behind another dingy little strip mall (and when I say little – maybe four shops).  That said – Totally Worth the Search!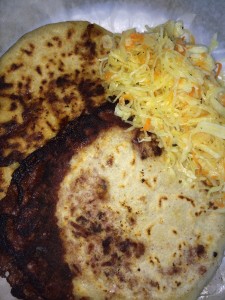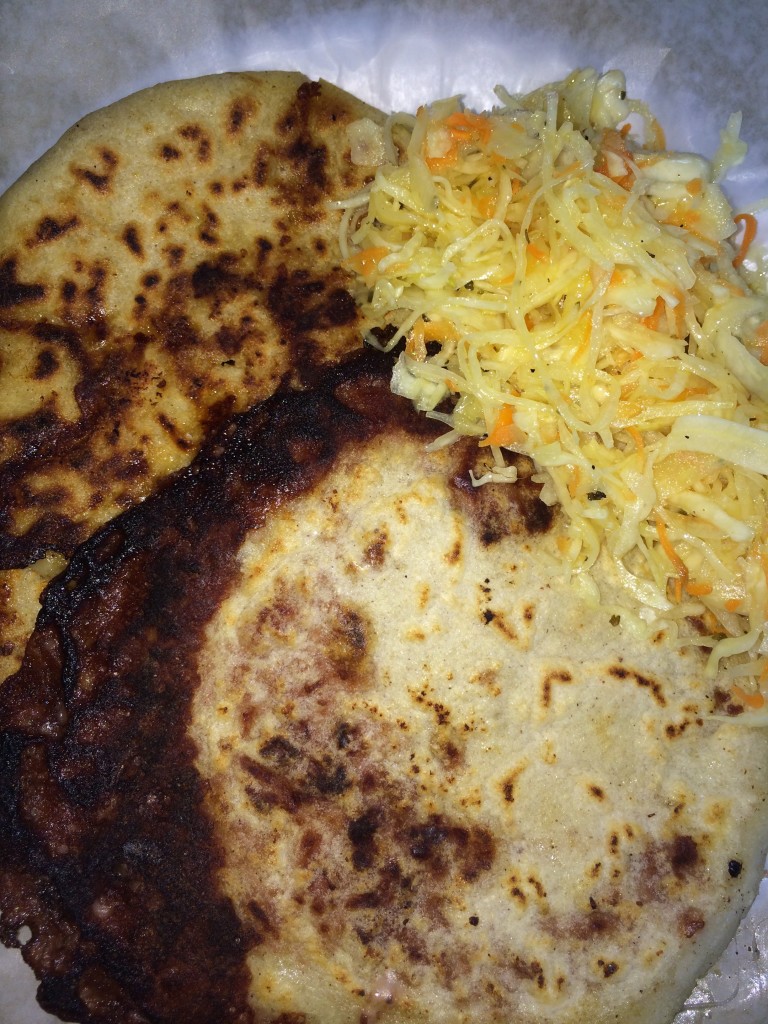 Nelly's Cafe is tiny with just four tables that each seat four crammed into a very plain little space and with a small counter top with three chairs that have a view into the kitchen. There is a beverage fridge in the seating area with drinks… help yourself. You order at the counter (I assume one of the women in the kitchen is Nelly) and they call you up to get your food. Nothing fancy. But, you can watch your food being made – FRESH. There is a big bowl of masa, a dough made from cornmeal, and they put together the papusa and tortillas to order. You can't get much more authentic than that.
The first thing we ordered were the papusas – a traditional Salvadorian dish, other Latin cultures serve variations, served with curtido, a lightly fermented cabbage. Papusas are thick corn tortillas filled with cheese, pork, beans, or a combination of those ingredients. We Love papusas and often buy them at the grocery store to have at home for a quick and satisfying dinner. These were outstanding, with the cheese melting out the sides – crisp but tender, huge, and delicious with the slightly tart curtido. We ordered one cheese & bean and two pork & cheese and at $1.50 each, what a deal.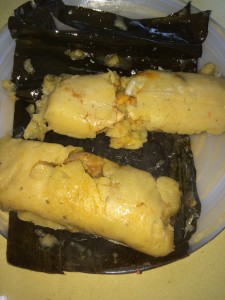 One of my favorite foods from my childhood is tamales. My dad would buy a bag of them (12) at the local flea market and bring them home and steam them for lunch or dinner. The family we always bought them from made them fresh the day before. The ones I grew up eating and generally get at Mexican restaurants are filled with a spicy pork or chicken mixture surrounded by a relatively coarse corn meal (masa) and wrapped in corn husks. It was so exciting to see tamales on the menu at Nelly's. This variety was very different from what I have eaten in the past. Their tamales were wrapped in plantain leaves and were very soft, almost buttery, and filled cooked chicken, potatoes, and chickpeas. There were delicious. The consistency was fascinating because they were so soft but didn't fall apart. The filling was very lightly spiced but was still delicious and the mix of the textures with the chunks of chicken, chunks of potato, and crisp little bites of chickpeas – Fantastic!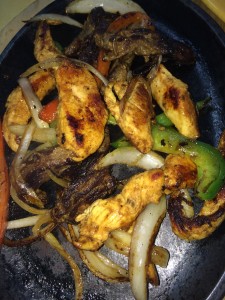 We were in College Park, Maryland for the Best Buddies Friendship Walk to support the University's Best Buddies chapter, which I advise. We were up and out early and then walked a little more than a mile on only a cup of coffee that morning so… we were really hungry!
To complete our lunch we ordered the chicken and beef fajitas.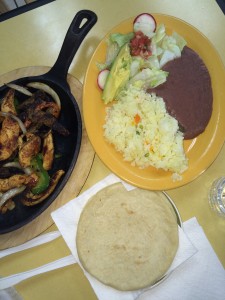 Not a huge serving but it would have been perfect for one – we shared and had all that other food so it was great. The chicken and beef was nicely seasoned and cooked up, still tender and flavorful, served on a hot cast iron skillet with seared onions and peppers. Traditional sides of refried beans, really delicious rice, lettuce, radish, pico de gallo, avocado, and two handmade corn tortillas accompanied the skillet. The fresh tortillas, which are much thicker than the corn tortillas that you would get a chain restaurants, were amazing – light and fluffy but substantial enough to stand up to the meat and veg. Definitely not those flimsy little corn or dried out flour tortillas you sometimes get in chain restaurants.
To say we were "stuffed" after this feast is probably an understatement. Everything was fresh with lots of flavor. One thing I thought about, people often talk about how all "Mexican" food (and many would call this "Mexican" even though it isn't) is spicy. This was so not spicy. There was hot sauce on the table to add, to your taste, but the dishes were packed with flavor and not spicy. Watching the other people who came and went as we were stuffing our faces, apparently the soups and stews that Nelly's offers are some of the most popular dishes. The papusas were also high on the list and we saw several people come in and pick up papusas for carry out. We were the only non-Latino people who came into or ate the cafe, which I always see as a good sign that the food is authentic and good. At the end of the meal, we went up to the counter to pay and they asked what drinks we had, totally trusting that we would be honest. A lot of the clientele are obviously regulars, which meant for lots of conversations and laughter. There is a digital Jukebox on the wall and the men behind us paid for some tunes, filling the tiny space with Latin music, and then they started singing along, which made for great amusement and heckling from the ladies behind the counter.
It is a shame Nelly's Cafe is so far away – we would definitely go back, just for the tamales and papusas alone. If you are in the College Park area – I would recommend an adventure if you want to check out some authentic Salvadorian dishes.