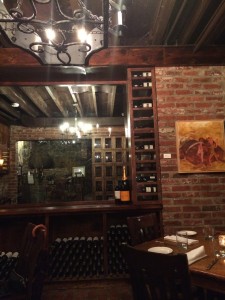 We were in Bethesda, MD for the Health 2.0 STAT event and were stopping on our way back for dinner. My Heart surprised me with this delightful dinner at Mrs. K's Restaurant & Barrel Bar and WOW… haven't had a dinner like this in a long time!  First off, the place was the last operating toll house in Montgomery County Maryland.  It opened as Mrs. K's Toll House Tavern in 1930. This makes the experience truly lovely because this is a very old "house" so there are these beautiful little nooks and crannies to sit in. The first picture is where we were seating, surrounded by racks and racks of wines – not a bad way to start the evening.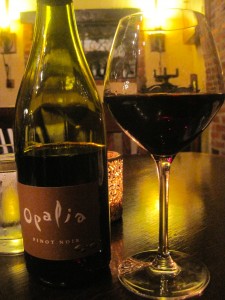 Of course, first Wine: Opalia Pinot Noir was my Heart's choice. I am still wary of screw-top wines but this was lovely and incredibly drinkable.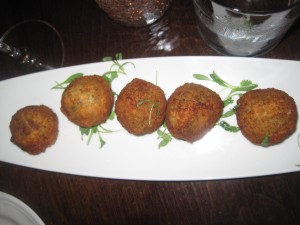 Our appetizer was the Spinach & Potato Croquettes. They were fantastic, with the taste of the spinach the primary flavor, so not "lost" in the potatoes and seasonings. They were also, by far, the lightest croquettes I have ever had.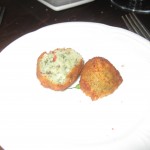 We spent time trying to figure out exactly how they cooked them and kept them so light without the potato mixture falling apart. We think they probably CHILL the potato balls and drop them in VERY hot oil.  Delicious.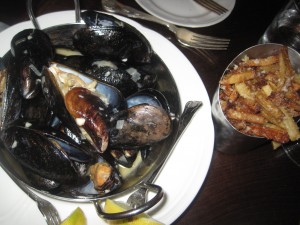 For his main course, my Heart had the Mussels & Frities: Garlic & herb mussels served with the hand-cut parmesan truffle fries. All I can say is WOW – These were, without question, some of the best mussels I have ever had. They were HUGE and perfectly cooked and the garlicky, herby, buttery broth was so delicious we used bread to sop up the rest so none was lost. I would come back to this restaurant JUST for the mussels alone and that is saying something since I am not always a mussels fan.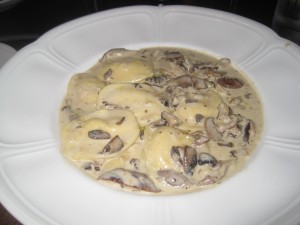 I was already eating bread (fresh rolls on the table are sometimes too tempting to refuse) so I figured I might as well go all the way. I had the Smoked Mozzarella Ravioli with a Wild Mushroom Cream Sauce. I am pretty much a sucker for anything that says "wild mushrooms" and this dish was a perfect pick. Luscious and rich with a ton of perfectly cooked mushrooms and plump cheesy ravioli, what's not to love?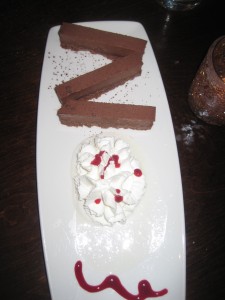 And yes, we had dessert (have you met my Heart??). He has been here several times and someone always orders the Kit Kat Bars. We spent a good deal of our time trying to figure out what the base it – there is a crispy, chocolatey base topped with a light but rich chocolate mousse. Like a Kit Kat bar only better. I really liked the whipped cream and bright, fresh raspberry coulis along side. My Heart is already making plans to recreate at home!
My Heart has been here several times for dinner meetings and he says that everything has been excellent. He also recommends the Bison Burger and always the Parmesan Truffle fries.
The winner of the night for me was absolutely the mussels and I would come back for that alone. The location is perfect for a nice romantic dinner but there is also a bar that seemed pretty popular when we were there. If you are in the area – check it out.