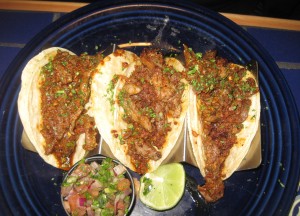 My Heart loves Mexican food – I jokingly say that if he had to return to England, he would miss Mexican food more than he misses me!  So that means, when we heard there was a new Mexican restaurant opening, we were very excited.  Mezcal Mexican Restaurant & Bar opened not far from us in a small strip mall, in the former location of one of our favorite sushi buffet restaurants (the owner retired).
We have made two trips so far – we stopped by on Christmas Eve to just check out the place and have a drink. (yes, we had some of the guacamole too!)  There is a big bar with some booth seating, along with the dining room area.  There are also daily drink specials, even on weekends.  Tuesday's they offer a "fishbowl" margarita for 1/2 price ($4) – that's a good deal,  though I wish that they would add a cider to their menu of "beers".  The decor is upscale and very nice – not a lot of that kitsch that you see in many "Tex-Mex" restaurants.
The menu is extensive and also relatively authentic – there are dishes I haven't seen anywhere but out west or in Texas including Pastor tacos (pineapple marinated pork), Coctel de Camarones (a spicy shrimp cocktail), and Molcajete Cabo (grilled marinated shrimp and scallops).  There is also a very reasonably priced lunch menu that includes egg dishes like: huevos rancheros and huevos chorizo.   This trip my daughter joined my Heart and I for a Sunday lunch. I have to admit, I was disappointed that the lunch menu is only available during the week since egg dishes are a favorite and not common in our area, but I could definitely find lots of things to eat.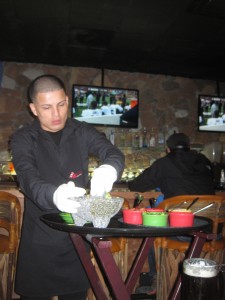 We had to start with the Holy Guacamole ($8.99) – their table-side guacamole.  The reason I love table-side guac is that you can get it "your way". The chef starts with TWO ripe avocados (most restaurants just do one) and then adds tomatoes, red onions, fresh cilantro, jalapeño, house made seasoning, and fresh lime.  We like ours with a little more kick so extra jalapeños!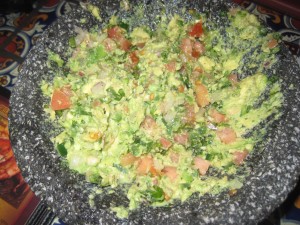 Lots of guacamole to share with warm crisp tortilla chips.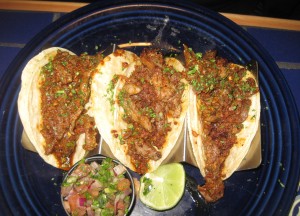 My daughter picked the Diabla tacos: Steak & Chorizo.  The tacos are served taco stand-style with double corn tortillas and a side of pico de gallo plus rice and beans. These were packed full of flavor and super meaty – I think my daughter will have trouble picking something different to order next time.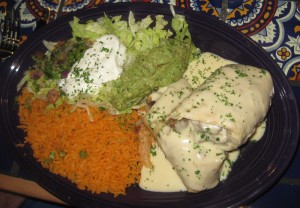 My Heart is a huge pork carnitas fan and this dish, Carnitas Chimichanga ($12.99), seemed perfect.  Of course, we had no idea it would be this huge and packed full of perfectly cooked pork topped with a wonderful cheese sauce.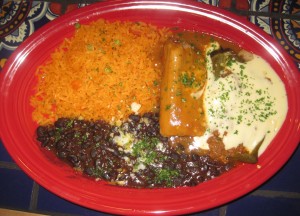 I decided to go with the "Build Your Own Combo" option because I generally judge Mexican and Chinese restaurants based on foods I love.  It gives me a good comparison.  There are three choices: Two Items/Two sides ($8.99) – Three Items/One side ($9.49) – Three Items/Two sides ($10.49).  The choices include type: ground beef, beef tips, chicken, beans, spinach, mushrooms, potatoes, or cheese – Items: burrito, enchilada, quesadilla, taco, chicken tamale, and ground beef chile rellenos – Sides: rice, refritos (refried beans), chile con queso, pico de gallo salad, charros beans, guacamole salad.
My selection was the Two Items/Two sides: chicken tamale – I love tamales and this one was pretty good, although I prefer pork, and the ground beef chile rellenos – this has to be the best chile rellenos I've ever had, with lots of cheese goodness and great heat.  The rice was pretty typical but the charros beans were delicious.
There are desserts, including churros, flan, and sopapillas but we were all stuffed. Everyone loved their meals so I know that we'll be back to try even more dishes – I think the carnitas nachos are in my future!  If you want to try some authentic Mexican – check it out.