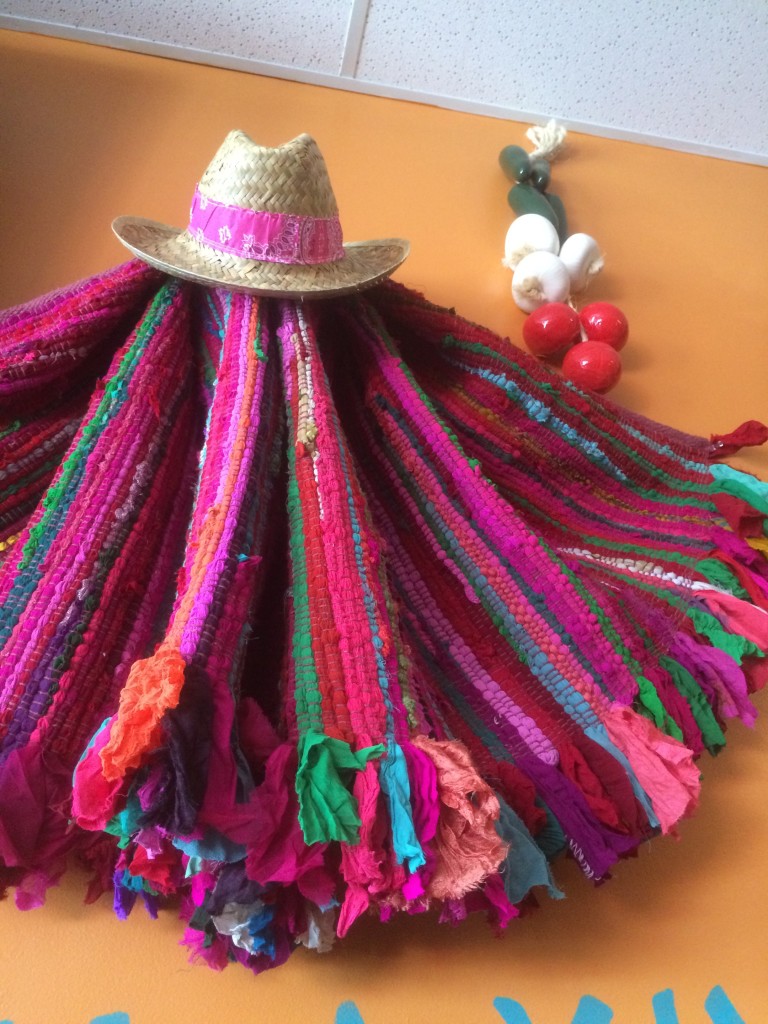 What makes my Heart happy? A new Mexican restaurant to try always brings a sparkle to his eyes!  We go to Eldersburg, Maryland most Sundays for lunch and grocery shopping with the kids, as part of our Sunday / Family Day tradition. It is a bit out of our way but one of my favorite grocery stores is Martins so that's the chief reason. We normally go to Panera, which is relatively healthy and light, for lunch, or sometimes to one of our favorite pubs, Oscars Alehouse, if we want a more substantial meal and brews, but… we are always open to options. Los Cabos opened a couple weeks ago and, of course, my Heart and I had to check it out.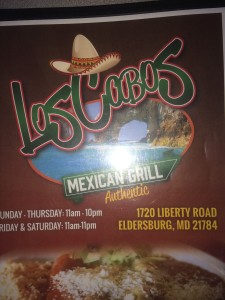 Friendly staff greeted us right away and got us seated at a table – it was lunchtime on Memorial Day (U.S. holiday) so it wasn't crowded. The decor is bright and somewhat traditional with some nice cultural touches, like the colorful poncho above. The music was traditional mariachi but not intrusively loud, just ambience. The waitress was very friendly and helpful and did tell us that they sometimes have a live mariachi band for events.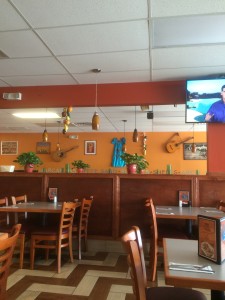 The menu is not huge but had some nice surprises. As the website says "Authentic Mexican and South American cuisine", there were dishes you don't see on traditional American "Mexican" restaurants. There were lots of seafood dishes, which gives me lots of options for future visits. We knew we were having a big dinner (ribs!) so we both decided on lighter lunches but the Shrimp Stew sounded wonderful, as did the Camarones Barrachos, Paella, Mariscada (seafood stew), and Marisco Peruano. I also love that tamales are one of the choices in their combo meals – I LOVE tamales.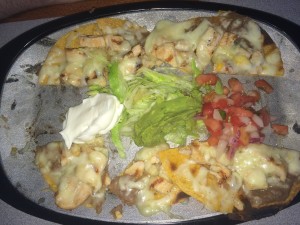 My Heart picked the Chicken Nachos for his lunch. When you go to as many Mexican restaurants as we do, it is good to have a standard to hold everyone to. (smile)  These were more traditional nachos vs. the loaded pile of tortilla chips Americans are generally used to. Each chip is built with all of the ingredients so every bite is a perfect bite. It doesn't look like a lot of food but he was pretty satisfied.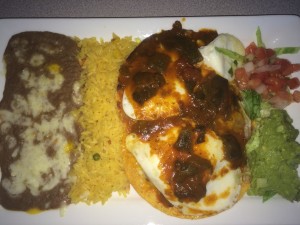 I decided on one of my favorite dishes: Huevos Rancheros – a perfect lunch dish. This was accompanied by traditional refried beans, yellow rice, pico de gallo, and a little guacamole. First, the refried beans were some of the best I've had and I am frequently not a fan. Good flavor and my Heart scooped up some with tortilla chips and agreed that they were delicious. The yellow rice was a nice change from the traditional "Mexican" rice you generally see, making me think that the owners are most comfortable with South American-style cuisine. The eggs could have been a little more runny but the tortillas were fresh and everything came together well but… the sauce… OMG – seriously! Huevos Rancheros is topped with a tomato sauce that is like a warm salsa – this sauce had amazing flavor and richness with chunks of roasted peppers and, from the smokey flavor, these were fresh roasted chilis made for this wonderful sauce. I think I could have eaten it with a spoon.
I don't think Los Cabos will replace our favorite, Mezcal Mexican Restaurant & Bar, which is closer and has the best Carnitas Nachos ever, but it will make a nice change for lunch on Sundays and I would recommend it to anyone who lives out that way.