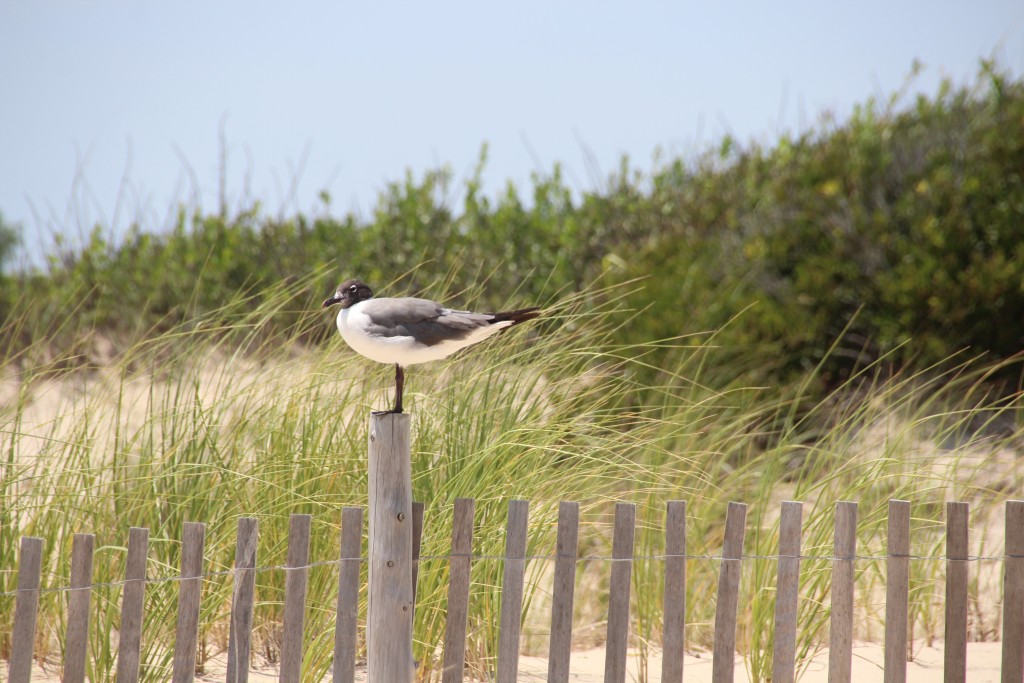 We took a mini-vacay and it was lovely. I've taken a fair amount of time off this summer but we haven't been able to afford a getaway nor has my Heart been able to take time off. He surprised me with a lovely long weekend to Lewes, Delaware, about two and a half hours from where we live. Of course, a majority of our adventures were wrapped around food – a perfect holiday for us!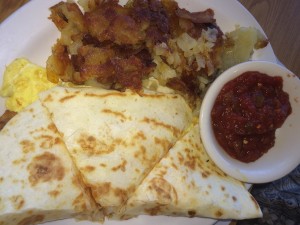 We left for Delaware early Saturday morning and drove straight through so our first stop was brunch. We are both firm believers in YELP and it hasn't steered us wrong in all our travels (of course, you can't just go by the stars… read some of the reviews too, just to make sure their relatives aren't BOOSTING the numbers!).
With almost five stars and oodles of great reviews, we headed to Ocean Grill. Sitting in the corner of a strip mall, the outside is pretty basic and the interior is not much better, with a little bit of random sea / beach artwork on the walls, decor was obviously not a high priority. BUT – the staff is warm and friendly and the food is inexpensive and hearty so who really cares what's on the walls. (smile)  My Heart ordered the breakfast tacos ($5.95) – you can tell from the picture that they really aren't "tacos" but are closer to a quesadilla. They were packed full of eggs, cheese, and crispy bacon and the salsa had great "heat". The hash browns were super crispy but tender underneath, the way hash browns should be.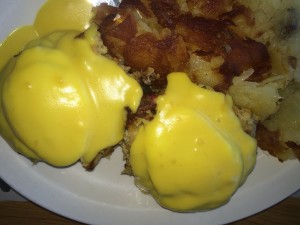 I am always a sucker for Eggs Benedict and these were Crab Benedict ($9.95) – perfect for starting a beach vacation. Each English muffin was topped with a nice size and flavorful crab cake then topped with a perfectly cooked poached egg (and I mean Perfect!) and some lovely Hollandaise sauce. The flavors blended well and I didn't finish that heaping pile of hash browns, I was so full of luscious egg and crab.
There were several families there when we were there and not just tourists. It is obviously very popular with the locals, too.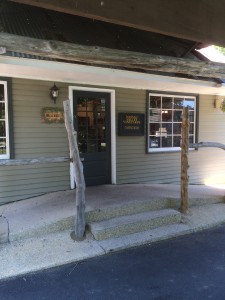 We knew that the hotel check-in didn't start until 4pm so… what to do? What to do?  Nassau Valley Vineyard was offering wine tastings starting at 11am so that sounded like a plan.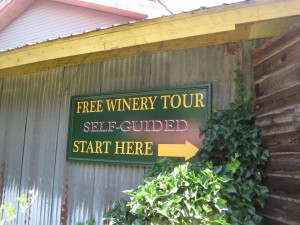 Indoor self-guided tour included photos and all sorts of wine facts. Not long but interesting.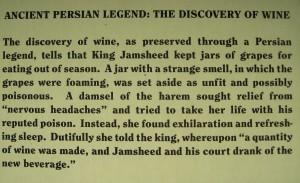 Fun legend – bet her "nervous" headaches made way for much nicer Wine headaches. (smile)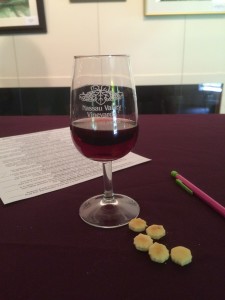 The wine tasting cost $5 for six tastings and you picked your six from a selection of 14 ranging from a Chardonnay to a sweet red. I have to say – this was the most substantial "tasting" I've seen in years. Most vineyards use a special "tasting pourer" that controls the amount poured so it is really just a taste (generally 1 oz.) but these were eye-balled and were really nice because we could share our "taste" so we picked some different wines from each other. Our favorites were the oak-aged 2011 Chardonnay, the 2011 Indian River Red "Vinter's Blend, and the 2013 Laurel's Red, a lovely Chambourcin that reminded us of our favorite summer Boordy red. We bought two bottles of the Indian River Red, a lovely blend of Cabernet Franc, Chambourcin, and Merlot aged in French Oak for 13 months. The notes say that this should age well so we are planning on holding it for Thanksgiving and Christmas.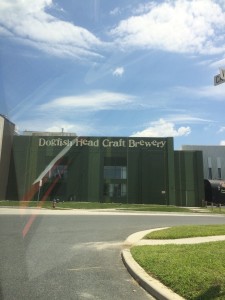 No other vineyards / wineries were close by but look… BEER and one of my Heart's favorites, Dogfish Head Craft Brewery. Four tastings for FREE and a really fun place to visit. Unfortunately the next tour was a 90-minute wait (1 hour tour is nice though) so we didn't do a tour but it was fun getting to try some other beers we hadn't seen before and the location was very festive including two bocce ball courts, corn hole, food available and a shop.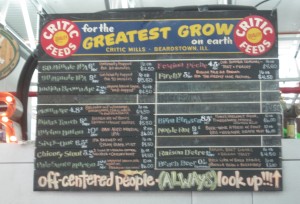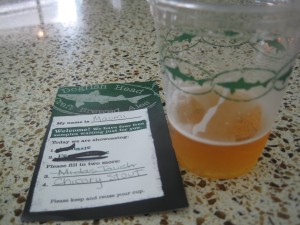 I am not generally a beer drinker, in part because of the gluten and also, just not that big a fan, but… when in Rome! I found a couple I really liked and they were also selling a gluten-free in the shop. Yes, we bought beer!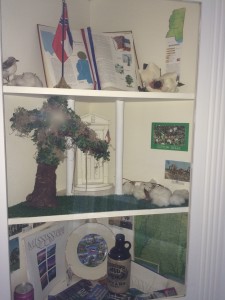 Next stop – hotel. The Heritage Inn was very nice. The hotel has a U.S. theme with each room named for a state. The decor were red / white / blue and, in the corner of our room and I assume in all the rooms, was a cabinet filled with Mississippi memorabilia, along with themed photos on the walls. A very quaint idea.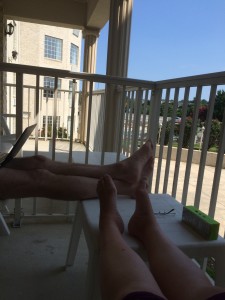 The pool was packed with kids / families so it was nice to have a private balcony to sit, relax, and enjoy the beautiful weather.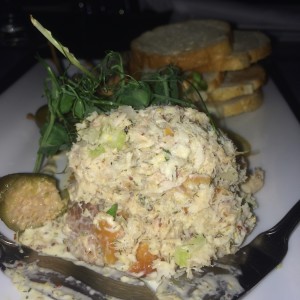 Another nice thing about the hotel was the location – walking distance to lots of restaurants and pubs. We decided on the Pickled Pig Pub for dinner. 14 unique beers on tap and a huge selection of bottled beers, this was a perfect spot for my Heart. We started with the special, Smoked Trout spread. Great smokey flavor and not a lot of "filler" served with toasted bread and salty, sour caper-berries.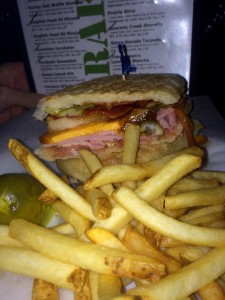 This sandwich called to my Heart – the Pork Flatliner ($13): Smoked pit ham, shredded pork, pork belly, bacon, smoked cheddar, southern bbq style sauce & pickles on toasted panini roll. And, of course, served up with fresh made fries. Obviously a meat coma between two slices of bread but the flavor of each meat wasn't lost and the smoked cheddar was perfect.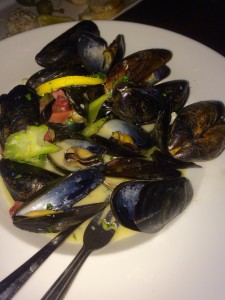 I was still full from brunch and all the wine and beer so I went for a lighter dinner, just ordered the appetizer Tarragon mussels ($10): mussels cooked with fresh tarragon, garlic, white wine, prosciutto, celery and butter served with some toasted bread. The tarragon flavor was a little lost but the wine, butter, and garlic made for great dipping and the little bites of prosciutto were delicious.
Pickled Pig Pub was definitely a good call for our first night. The menu has a ton of sandwiches and some nice looking main course dinners. They also offer unique burgers including the PB & J: 8oz choice ground beef, bacon, peanut butter, strawberry-jalapeño jam, and aged cheddar on a kaiser roll. Might have to check that out next time.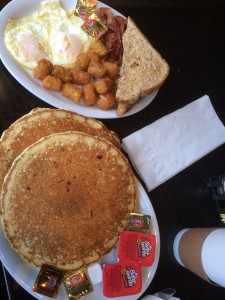 After a relaxing morning, we headed out in search of brunch and again trusted the Yelp. This time Arena's Cafe – Lewes (17314 N Village Main Blvd. #53, Lewes, DE), right down the road from Ocean Grill. I am listing the specific location because that's the only one we went to and I don't know about the other locations. The food was good but the service was absolutely awful. Yes, it was Sunday morning, but no… they were not busy – when we came in we had our choice of five tables out of eight-ten. It took 15-minutes for someone to even acknowledge our presence and bring us a menu. I think we could have left and no one would have cared one way or another. The food took an equally long time and, based on the faces of the people around us, others were also unhappy with the time it was taking. The kitchen and staff didn't seem very organized and no one seemed particularly happy to be there. Terse would probably be a nice and polite description of the service.
That said, Yelp reviews were right about the food. I picked the No Joke Breakfast ($8.99). The over-easy eggs were perfect, the tater tots were super crispy, a pile of crispy bacon under substantial slices of whole wheat toast (I think I was supposed to have a choice but the waitress didn't bother asking – I gave the toast to my Heart anyway), and two giant, light and fluffy pancakes is definitely no joke. Everything was delicious.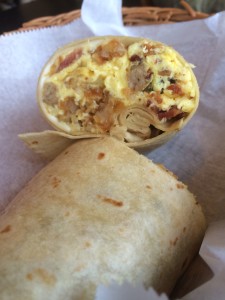 My Heart had The Porker ($5.99): Eggs, bacon, sausage, American cheese, and tater tots all together in a wrap. It was equally yummy and he helped me eat those huge pancakes so it was a very hearty brunch.
I would only recommend Arena's if you have lots of time on your hands and you don't mind grumpy / uncaring staff. Our waters went unfilled and, short of tripping the waitress, we were fairly ignored. The food was good and the prices were great but there was nothing extraordinary and I'm sure there are better places out there – like the Ocean Grill, which is walking distance from Arena's.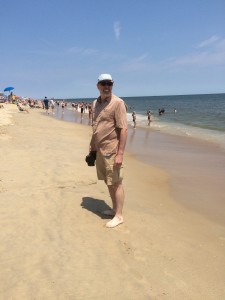 Of course, you can't go all the way to the beach and not actually go TO the Beach. The weather was perfect with sunshine and a lovely breeze to keep you from baking.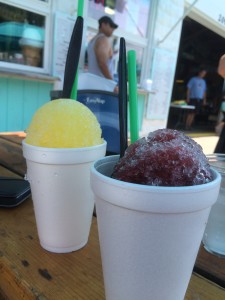 After a couple thousand steps on the beach, it was definitely time for icy sweet treats – Snow cones at 2 Dips Ice Cream. Not Baltimore snowballs but just what we wanted at the time.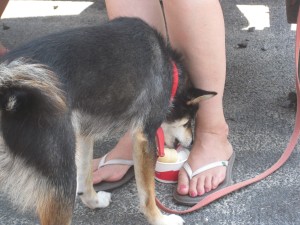 While we were sitting enjoying our snow cones, a family of four walked up with their dog. They sat down at the picnic table next to us and waited for their order. The dad went up for the "vanilla cone" and asked for a cup because it was "for the dog". I know people will say that dogs shouldn't have ice cream but I thought it was pretty cool that they ordered a cone just for the dog and, after "pushing" the cup all around, the mom put it between her feet to make it easier. I commented to the dad, "Best puppy parents EVER" and he smiled and said, "Well, he's had a hot day on the beach, too, so he also deserves a treat." Adorable!
We went back to the hotel and chilled by / in the pool for the afternoon before heading off for martinis. My Heart found a place with a martini bar, which sounded like a definite plan.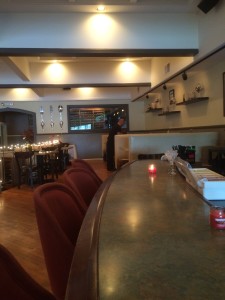 The first thing I noticed when walking into Hooked Seafood & Martini Bar was the bar itself. When was the last time you saw a "low" bar. We spend a lot of time in bars/pubs (always my Heart's preference when we go to restaurants. I think because the service is often better.) and I can't remember the last time I saw a bar / pub that wasn't hightops and high chairs. As a short person, depending on the chairs, this is not always the most comfortable seat. This bar was a treat!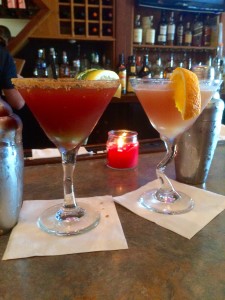 Ok – the Martini menu was relatively standard without too many surprises but I tried one of the most unique and my Heart tried the signature drink, the Garvey. The Garvey is Stoli orange, Grand Marnier, Chambord, pineapple and orange juice. One taste and I knew it was basically a French martini (truly one of my favorites). The bartender (who IS Garvey) confirmed. A lovely drink with just enough sweetness to make it easy to drink… several !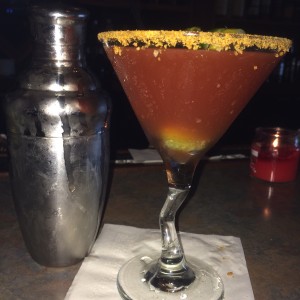 And mine – the Clamato martini (I think I would come up with a more creative name). OMG… for me it was Beach in a glass. If you've never had Clamato, it is tomato juice with a touch of clam juice. My parents drank "Clam diggers" (clamato & vodka) for years in the early 70s. My first thought was that my Dad would have loved this drink. Made with Clamato and a cucumber vegetable infused vodka (I am not sure that made much difference because the Clamato is pretty overpowering, in a positive way) with three hand-stuffed bleu cheese olives and a pickled asparagus spear in a glass ringed in Old Bay. Yup – the Old Bay totally sent it over the top. I seriously could have drunk these ALL night. I did come home and think about getting the makings but Clamato (and tomato juice in general) is incredibly high in sodium (800mg in an 8oz glass) so this is staying a vacation drink.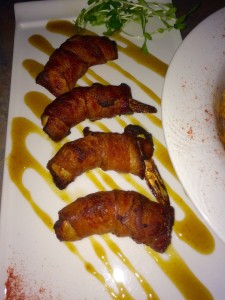 We also ordered a couple appetizers (so the martinis wouldn't go straight to our head – we had to walk to dinner after this!).  At the bartender's recommendation we start with the Shrimp Dijon ($12). Shrimp with horseradish & jalapeño cream cheese wrapped in bacon with a maple dijon drizzle. Sometimes I think chefs / cooks try too hard to make "creative" combinations and miss the boat with too many ingredients / flavors (i.e. horseradish, jalapeño, mustard, maple). Horseradish / jalapeño is odd to me but I couldn't really taste either because there was hardly any cream cheese so I don't actually know if it worked or not. On the other side, Bacon-Wrapped Shrimp is always a win and the drizzle was a lovely sweet addition and totally worked. Four shrimp for $12 is a bit hefty – six would have been more appropriate – but it was pretty good.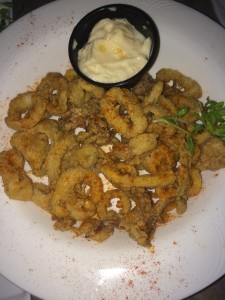 We also tried the Fried Calamari ($12) which included fried banana peppers and a side of "smokey" mayo.The calamari was well cooked but the difficult part was telling the calamari from the banana peppers and I think, ultimately, it was a small portion of calamari. Restaurants – please don't "add in" an ingredient so you don't have to give a "full serving" of the main ingredient. I felt shorted. The smokey mayo was fine but nothing special and  probably an additional cup of traditional marinara would have been good.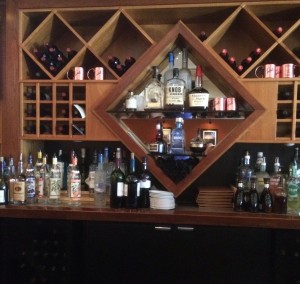 The bar definitely had that "old school" feel and the bartender was very nice and friendly. We weren't wow'd by the food but would probably come back for the martinis.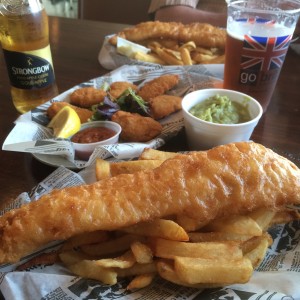 Now for dinner – my Heart had asked if I wanted to go for crabs since we were at the beach. We Yelp'd for the best crab restaurants but there weren't that many with rave reviews and we have lots of really good ones at home so… Go Brit caught his eye and was walking distance down the road.
My Heart was in heaven. The reviews raved about the Fish and Chips ($10.95) so, of course, that was at the top of the list. Reviews also complained about the serving size, not being "American servings" but we thought they were just right. The fish was lightly breaded, super crispy, and the fish was cooked perfectly. The chips were very much the British-style and there was ketchup and malt vinegar on the table. We also ordered the Fried Oysters ($9.95), which is not a British-thing but YUM! Also, cooked perfectly, with a light coating and nice big, juicy oysters. My Heart was so happy to see Mushy peas ($3.25) on the menu. Mushy peas may be a little odd to Americans, especially because they tend to be almost a florescent green but, trust me, DELICIOUS! They are marrow fat peas cooked up to mushy goodness with butter and they taste nothing like our green peas so don't expect mashed overcooked canned peas. About halfway through the meal, my Heart said "So… moving to Lewes??" and he was only partly kidding – that's how happy he was. Go Brit also had a nice selection of British beers (and Strongbow Cider for me) and there is a ton of other traditional British fare on their menu that we would love to try (including Bangers and Mash, Shepherd's Pie, and Fisherman's Pie). I think we would have eaten there every day if we were staying longer.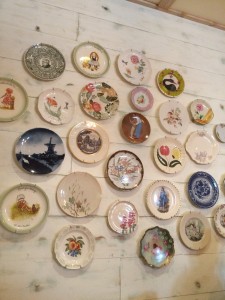 I have to say – my Heart rocked the YELP and found us wonderful dining experiences for this vacation.
We woke up Monday to rain, perfect timing as we were heading home. One last stop for breakfast on our way out of town, Nectar Cafe and Juice Bar.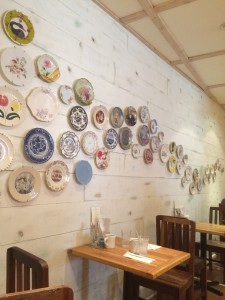 First thought was quaint and quirky. I LOVED the wall full of plates. My parents covered the walls of the kitchen with plates so this reminded me of them.
I know this is a juice bar but neither of us actually order juice – don't know why but there were certainly lots of people around us ordering juice and it looked delicious.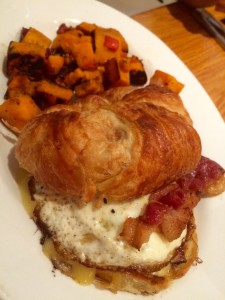 My Heart ordered the Breakfast Sandwich ($10): ham, bacon, egg, melted gouda, grilled tomato, mustard and mayo on a multigrain croissant with a side of sweet potato hash. Nothing super unique but one of the best breakfast sandwiches I've had. They used a lovely grainy mustard that really ramped up the flavor. Everything was cooked perfectly and my Heart raved about the hash… and he isn't a fan of sweet potato.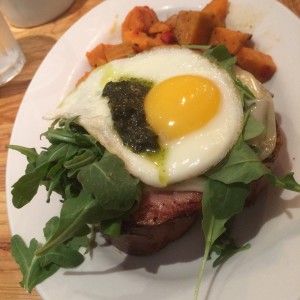 How could I not have the Green Eggs and Ham ($12): Ham, gruyere, arugula, egg, and pesto, all served up on a big piece of house-made Texas toast. Yum does not begin to describe this and I am so going to re-create it at home. Everything worked together and made me want to make Every bit the PERFECT bite. A little pricey compared to other brunches during our visit but it is in the middle of Lewes proper and walking distance from the beach so their prices are totally justified and really worth it. The perfect meal to end our mini-vacay and visit to Lewes.
We had a great vacation with lots of time to chill and enjoy the beautiful weather, lovely beach time, and each others company. My Heart rocked the YELP and I would return to almost all of the restaurants again (probably not Arena's Cafe – there are better places with better food and far better service) although we might actually LIVE at Go Brit until we have everything on the menu!