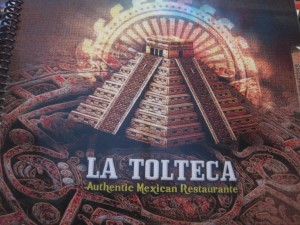 We were heading to Valley View Farms to pick up some more herbs and vegetable plants for the garden and my Heart, who is a master at finding delicious restaurants on YELP, found La Tolteca Authentic Mexican Restaurant in Cockeysville to try out for lunch.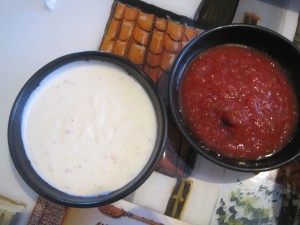 The first thing the waiter brought to the table was the requisite tortilla chips and salsa that you generally get in a Mexican restaurant. This time there were two sauces: one traditional salsa and a white dip that tasted vaguely of Miracle Whip (so slightly sweet) and was sort of like Ranch dressing – I was not a fan. The salsa was ok, although I prefer a fresh pico de gallo.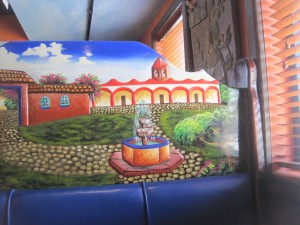 The decor was very vivid and the music was a little loud.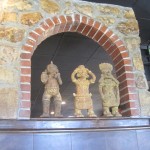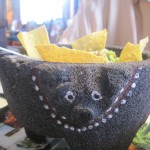 Of course, we had to start with the Guacamole Mexicana ($7.95) – made at the table! Two avocados, chopped cilantro, tomatoes, onions, and fresh jalapeños (I asked for extra), a drizzle of vinegar, salt & pepper, and the juice from a whole lime. Did I mention I loved the little piggy bowl? It was really cute.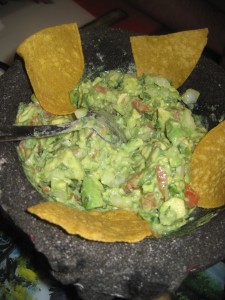 The guacamole was delicious – nice and chunky with just the right amount of salt and pepper (there really does need to be a little salt but it shouldn't be overwhelming). The bite of the vinegar and the lime was perfect with the smoothness of the avocado and the heat from the fresh jalapeño is one of my favorite parts of guacamole.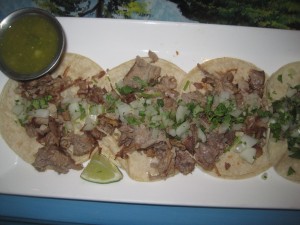 My choice for lunch: Pork Carnitas Street Tacos (8.98 – there is also a platter (with the addition of Mexican rice and refried beans) available for $11.95). Carnitas are always a favorite choice for the first time at a Mexican restaurant. It gives a level of quality. Like most street tacos, there were four small doubled up corn tortillas topped with delicious carnitas, flavorful bites of tender pork with little crispy bits topped with chopped onions and cilantro and a salsa verde on the side. I am glad I didn't order the platter because those four little tacos were more than enough.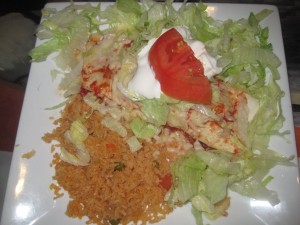 My Heart ordered the Cal Ripkin Jr. Burrito Supremo ($8.79), with chicken. According to the menu, Cal Ripkin's favorite dish. I can say that this was the smallest burrito I have ever seen and it was covered in shredded iceberg lettuce, a blob of sour cream, and a hunk of tomato – not too inspiring but it was filled with nothing but  chicken, which had good flavor. My Heart was pretty satisfied with his lunch.
I don't think we'll make a trip out to La Tolteca just for lunch or dinner, especially with Mezcal right in our backyard, but if we were in the area and needed lunch or dinner, we would probably come back.