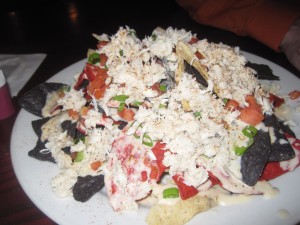 We were up in Perry Hall, an area that we do not know very well, so to the YELP. The Gunpowder Lodge was just a couple miles from our reason for being in the area and, with 4+ stars, we had a plan and it was a good plan!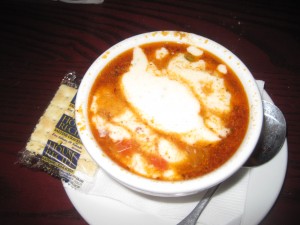 First, it is always a plus to see cider on-tap (Angry Orchard) and the Orioles were on the TV screens. The setup is pretty much like a sports bar with a lot of outdoor decor and a outdoor seating.
Not a fancy menu but some good reviews from regulars guided us. I started with a cup of Crab Blend soup ($3.99). Maryland loves its crab soups and this was a lovely combination of cream of crab soup and traditional Maryland crab soup (which is a tomato-based soup with lots of assorted vegetables and Old Bay seasoning). The soup was a little light on the crab side but it had great flavor and the scoop of cream of crab soup added a wonderful richness. I would have been happy with a bowl for dinner.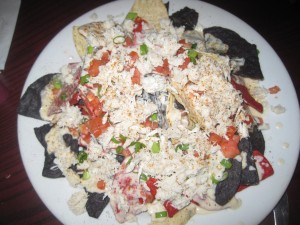 Next up – my Heart's Crab Nachos: Tri-colored tortilla chips, smothered in pepper jack cheese sauce, diced tomatoes, chopped green onions, Old Bay and lump crab ($12.99). First off – it was HUGE with no shortage of crab. The sauce was not overpowering and a creamy sauce was nice vs. just melted shredded cheese.  We're already talking about re-creating these nachos at home.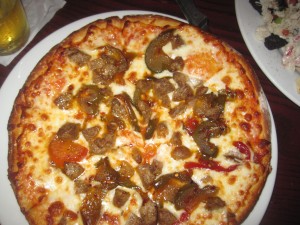 Tuesday's daily special is $5 pizza and I have had a terrible craving for a nice hand-tossed crust pizza, gluten issues be damned, and this seemed the perfect opportunity.  Sweet & Spicy Pepper Pie with hot Italian sausage, shredded mozzarella and parmesan cheese. ($9.99 but $5 on Tuesdays)  Generally the Italian sausage is my favorite part of the pizza but the sweet & spicy peppers were a delightful surprise.  The crust was fantastic, obviously a fresh dough crust. I shared some of my Heart's nachos and he had a little pizza but we had more than enough to bring three pieces home with us – not a bad size for a $5 pizza.
We watched lots of food go out into the dining room. The Crab Dip looked fantastic and got a lot of top Yelp reviews. Wraps, sandwiches, and burgers also seemed to be very popular and the German potato salad must be pretty good because that seemed to be the side of choice.
Gunpowder Lodge is a bit out of the way for us, about 25 miles, but someplace we would consider if we find ourselves in the area again.