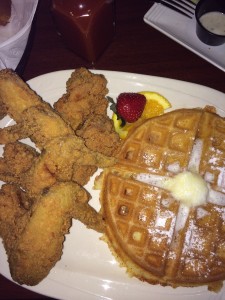 This is only sort of "Exploring" because my Heart and I actually went to Granny's when they first opened in another location but that was about five years ago… we were not impressed (the service was awful, the food adequate, and the prices very high). My daughter and I were headed to an Indian restaurant nearby and found it closed due to a major "plumbing issues" (I don't even want to know), so we were seeking another place for dinner and wanted something different. She jumped on Urban Spoon and, as I said "we could go to Granny's?", that's what popped up so we took it as a sign.
Granny's Restaurant is one of the last surviving businesses in the local DYING Owings Mills Mall.  You know a Mall is dying when even the McDonald's closes down.  We did think it was odd that Granny's would choose to moved to such an awful location but the restaurant continues to be very popular, especially on Sundays, and the new location is spacious and upscale.
There is no questions this is "Southern Cuisine with good Down Home Cooking". Lots of fried dishes with southern flair.  Definitely on the high end cost-wise but, as is noted in most of the YELP and Foursquare reviews – you get a "ton" of food.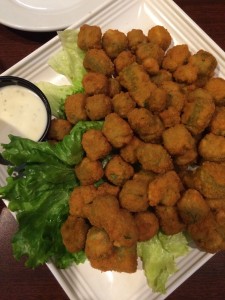 We opened the menu and instantly knew what we were starting with, both of us being huge fans of fried okra. For $7.95 that was quite a plate of okra. The sauce was your basic ranch dressing but the okra needed no help. It was super crisp and steaming hot and cooked perfectly. I was eating it like I hadn't eaten all day (I had). Perfect!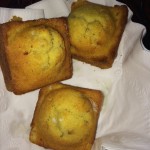 We also received the requisite serving of corn bread. A little sweeter than we both prefer for "southern" cornbread but delicious. Slightly crisp outside, hot and "buttery" inside with bits of corn tucked in.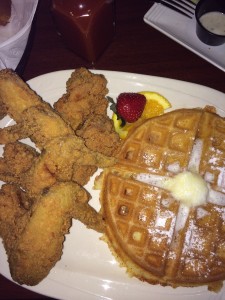 My dinner choice had to be Chicken & Waffle – pricey at $17.95, considering it was four chicken WINGS but WOW – like everything we had so far, the wings were super crispy and hot, not greasy at all, cooked perfectly and they were sizable wings. The waffle was light and fluffy. I loved that my meal came, automatically, with hot pepper sauce (probably Tabasco) so I didn't have to ask for it and also a little pitcher of hot maple syrup.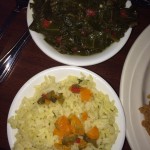 Dinners come with your choice of two sides and there are SEVENTEEN sides to choose from. YUP… Seventeen. I had to choose the collard greens (such a huge fan and also a true test of a good "southern" restaurant) and, like a fool, I went for a "healthier" option, seasoned rice.  The greens were perfect, a little salty but not to much, a bit of bite from vinegar but not too much, a touch of heat but not too much, and some smoke from whatever meat they used (I couldn't tell if it was smoked ham hock or smoked turkey wing… both are commonly used). They were tender but not mushy. The rice was tasty but this was no time for the "healthy" option and once I saw my daughter's mac & cheese, I definitely felt regret!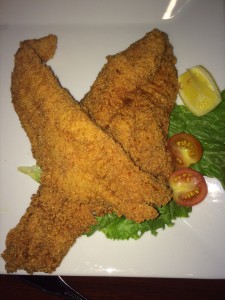 My daughter had the fried catfish ($19.94) – check out the size of that serving! Again, perfectly cooked – not at all greasy, nice and crispy and hot, the catfish was tender and not overwhelmed by the coating. She was thrilled with her choice.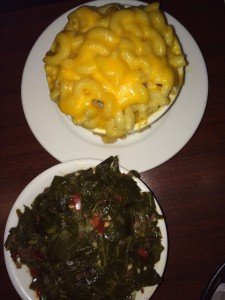 Now, I am NOT doing a thumbnail of her sides because – LOOK at that mac & cheese. Super melty, cheesy goodness that wasn't the least bit greasy and had all the flavor of her grandmother's mac & cheese. It was perfect. Of course, she also had the collards because… well, what else would you have?
The food really was wonderful and incredibly satisfying. We both took home a majority of our dinners, having scarfed down the fried okra like we hadn't eaten in a week, we were already getting full before the main course arrived. The prices are high but the quality of the food is obviously also high and the servings are immense – I didn't see anyone leave the restaurant without a plastic takeaway container and I have NO idea how anyone leaves room for dessert.
The server was very nice and friendly but he could have been more attentive (we almost had to  tackle him to get a refill on our waters) – that will not keep us from returning. There are lots of things on the menu I still want to try and, while this won't necessarily be a "regular" place because of the prices, we will be back … even just for the fried okra!