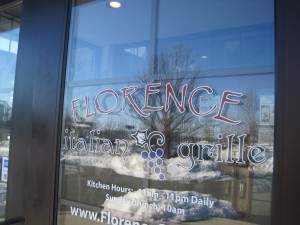 We were staying outside of Allentown PA as my Heart was doing his PSIA Level Two Practice Exam at Bear Creek Mountain Resort.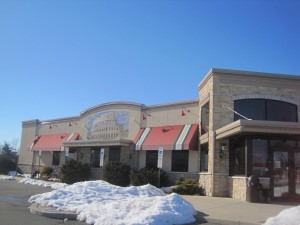 The first day they were working with the examiners on what will be on the test, etc. I took that day to relax in the hotel and just take a break from everything (except to write blog posts, apparently). I was going to walk across the street to a diner but it seems we were on a local highway so there was no obvious way to cross the "street", and I was walking because my Heart had the car.  I obviously didn't think that through. Florence Italian Grille was  next to the hotel and the alternatives were Taco Bell and Burger King – nope!  The Yelp reviews weren't great but weren't bad so I thought I would check it out.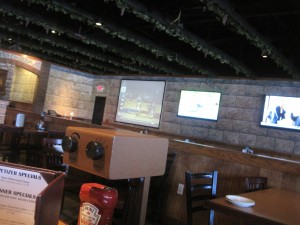 My first thought was that the restaurant can't quite figure out WHO it is. The outside and decor is Italian kitsch with grape vines / ivy on the wood beams and "paper" stone walls to make it look like a piazza but the music playing is country western.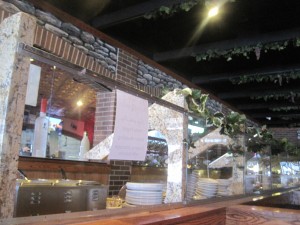 I was seated in a booth in the main dining room which had three big TVs gracing the walls and one of those selected sound systems on the table (where you can pick which TV you can "listen" to) like a sports bar. A very peculiar setting.
There was an very long salad bar that basically ran the back wall of the dining room – this was mentioned positively in several Yelp reviews.  The lunch special was $8.99 for a choice of several creative sandwiches – I was torn between the prime rib bleu sandwich and the Italian sausage so I asked the very friendly and helpful waitress who said that the prime rib sandwich is very popular but her choice would be Italian sausage – Done!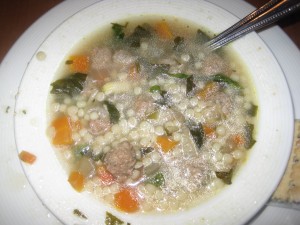 I didn't notice on the menu but it seems the lunch special comes with your choice of soup or salad. Nice because I love soup and, as it was super cold out, Italian Wedding soup sounded perfect. Talk about a hearty serving, no cup that!  I am not sure it was fresh made but the seasoning perfect, the meatballs had lots of flavor and there were tons of them, the pasta wasn't squishy, and the carrots & kale (or whatever greens it was) were tasty. I would return just for the soup.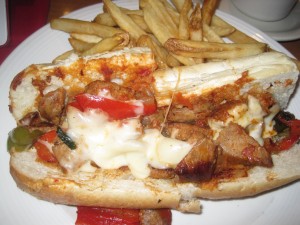 Then came the Italian sausage sandwich, which included my choice of French fries or chips (I probably should have had chips because I totally didn't do the French fries justice) – Very soft toasted bread absolutely filled with well-cooked red and green bell peppers and tons of Italian sausage chunks all topped with melty mozzarella cheese. My favorite part? There was a lovely bit of marinara but it wasn't overpowering and didn't make everything soggy – which is why I frequently order a sausage sandwich WITHOUT the sauce after so many bad experiences. This one was perfect – the marinara was more of a condiment then the main point of the sandwich and it complimented the rest of the ingredients.  I didn't eat all the bread, partially because I was absolutely stuffed at the end.
Lunch was surprisingly successful considering my initial impression – the waitress was helpful, friendly, and kept my coffee cup filled. The food was good enough that I wouldn't hesitate to return even if the decor / music / etc. didn't quite work.  Food and good service Always Wins!