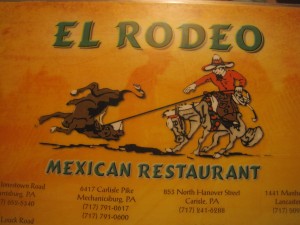 My Heart was heading up to the Allentown area for his Professional Ski Instructor Association (PSIA) Certification Level Two practice exam at Bear Creek Mount Resort and the timing worked out so that I could tag along!  Lucky me!  The exam is a two day process so I am taking the first day to just chill and relax (and apparently write blog entries) and I will be skiing the 2nd day. On our way up to the hotel, having left home around 7pm, we needed to stop for dinner on the road and, of course, my Heart found a Mexican restaurant – I think he actually has a homing device. *smile*   El Rodeo Mexican Restaurant seems to be a Pennsylvania chain.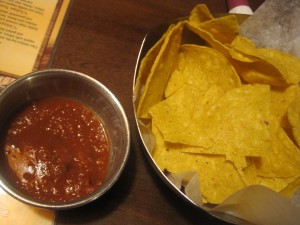 First the requisite chips and salsa. Reading the YELP reviews, many seemed disappointed in the salsa but I think some people confuse salsa with pico de gallo, a fresher, chopped salsa fresca vs. a more traditional cooked salsa roja. The salsa was very passable with just a little heat and nice spice. The chips were fresh, a little greasy, but nice and warm and a good start to the experience.
There is an extensive menu – it took us quite a while to decide.  My Heart was torn between two dishes but our very friendly and helpful waiter recommended the Carnitas, which was good because it really is a favorite and it makes it easy to compare with other experiences.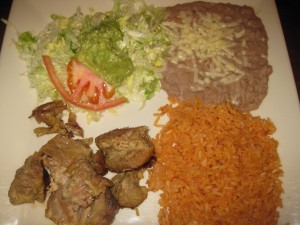 Not a huge serving but not bad for the price ($9.59) – there were three warm flour tortillas wrapped in foil on the side. They looked like ready-made flour tortillas vs. restaurant made, which was disappointing.  The rice and beans were nothing special and the "toppings" for the carnitas were nondescript – generally I would prefer slices of avocado, red onion, etc. The pork was well seasoned and very tender but there were lots of fatty bits, which my Heart actively commented on. What they didn't do was "char" the pork before plating, which you frequently see in recipes and other restaurants – that bit of extra heat helps caramelize bits of meat AND render the fat, making it more "juicy" than just chunks of fat.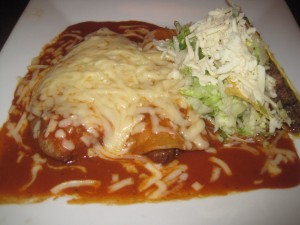 I had one of the combination plates: One beef enchilada, one hard beef taco and one cheese chile relleno (7.59). I was a little surprised that the combination plates didn't include rice & beans. The taco was fairly good with seasoned ground beef that was mild and only a little greasy topped with shredded lettuce and some type of shredded white hard cheese. The beef enchilada had the same ground beef (I am glad that I had the cheese vs. the beef chile relleno because I am sure that it would have been the same beef).  The cheese chile relleno had a fairly thick and somewhat greasy coating but was packed full of melty cheese, the best part. Everything was coated with an enchilada-type sauce. I added hot sauce to everything for a bit more flavor.  The waiter recommended a couple more dishes if we were to return, including the Burritos de Carnitas.  I do think we would stop again, if we are up this way, but definitely does not compare to our current favorite, Mexcal Mexican Restaurant, back home.