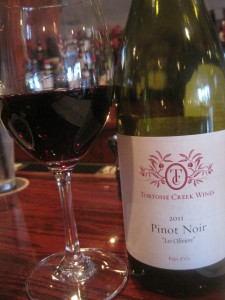 We were wine adventuring at the Old Westminster Winery in the afternoon and needed to stop for dinner on the way home.  Since we had  been drinking wine, we figured we had better stick to wine and decided to stop at The County Cork Wine Pub in Eldersburg. I hesitated to put "Exploring" in this title since we have been there a couple times before but it is also not necessarily a "Favorite".   Nothing against it but it is a little out-of-the-way for us and is also a little pricy but this visit might have changed it to a "Favorite" !
*Note – I am going to mix up the timing in this blog because I have pictures from a previous visit also.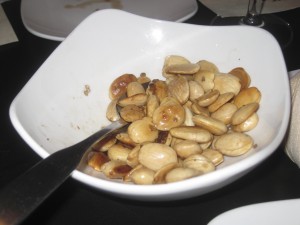 The Cork does seasonal menus so things change but most of the Snacks stay – These Roasted Marcona Almonds with smoked sea salt  are YUM! Sure they are just almonds but simply taste Better than your average Blue Diamond.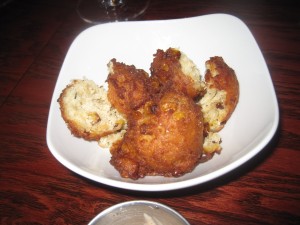 This visit we tried the Cork's Hushpuppy with sweet onion and roasted corn.  Some of the corn was a little burned and the hushpuppies themselves were a tad dry (you can see that they crumbled a bit) but the Chipotle Sour Cream dipping sauce – WOW.. totally worked with the 'puppies and really made this dish something we would order again.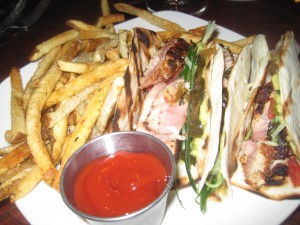 My Heart ordered the Seared Ahi Tacos which have a chili rub and are served with "smashed avocados, cucumbers, tomatoes, and a jalapeño relish" and with super delicious garlic, rosemary fries.  There were three tacos and they were Filled with perfectly cooked tuna… absolutely no skimping on the main ingredient.  The accompanying condiments worked great with the heat of the tacos.  Garlic rosemary fries are kind of an odd side with fish tacos but they were so wonderful, who cares.  The first thing you smelled when they set the plate down was garlic and rosemary – YUM!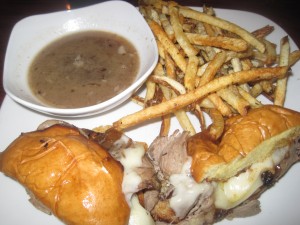 I had the Saved Lamb French Dip which is served up on a brioche roll with caramelized onion and swiss cheese and has lovely lamb au jus on the side along with the same garlic rosemary fries. Let's put it this way:  After the first bite that I gave my Heart, he said "You Win".  Not that this is a contest but we frequently pick two different dishes on a menu, probably things we both wanted, and then see who's is best!  This sandwich rocked and is probably the Only thing I will order here, as long as it is on the menu – The lamb was perfectly cooked, moist and tender, and the sweetness of the caramelized onions and rich melty goodness of the cheese – perfect.  I think the only thing I would change is the brioche because it did not hold up well with all of the heavy, juicy ingredients AND dipping it in the au jus but…  who cares – I ate most of it with a fork.  Sometimes lamb can seem greasy but this was a fantastic sandwich. I was so stuffed, I barely ate any fries – which made me sad because they were quite wonderful, especially dipped in the au jus !
Below are a couple dishes from our previous visit – as I said at the top, The County Cork Wine Pub was not a favorite… especially based on the meals below but yesterday's dinner proved – revisit a "good" place and give it a chance to prove it is a Great place!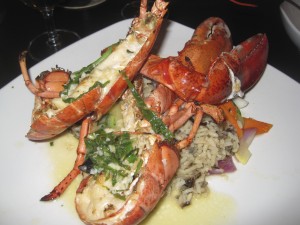 This was a special for the night and I happen to love lobster. It was really super expensive for a little bistro in Eldersburg, MD but I thought I would give it a try.  My review right after visiting: "It was pretty good but, for the price, I wouldn't do it again"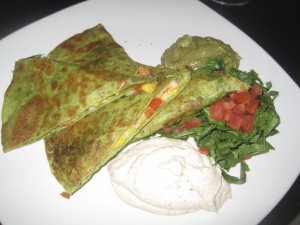 My Heart had the Crab Quesadillas that trip and it, on the other had, was fantastic.  Lots of chunks of crabs that weren't in anyway overwhelmed by the other ingredients, either in quantify or in flavor.  Unfortunately these are no longer on the menu.
I think these dishes and the dishes from our most recent visit do show – maybe the most expensive dishes aren't the best ones on the menu – Check it out and see what you think.