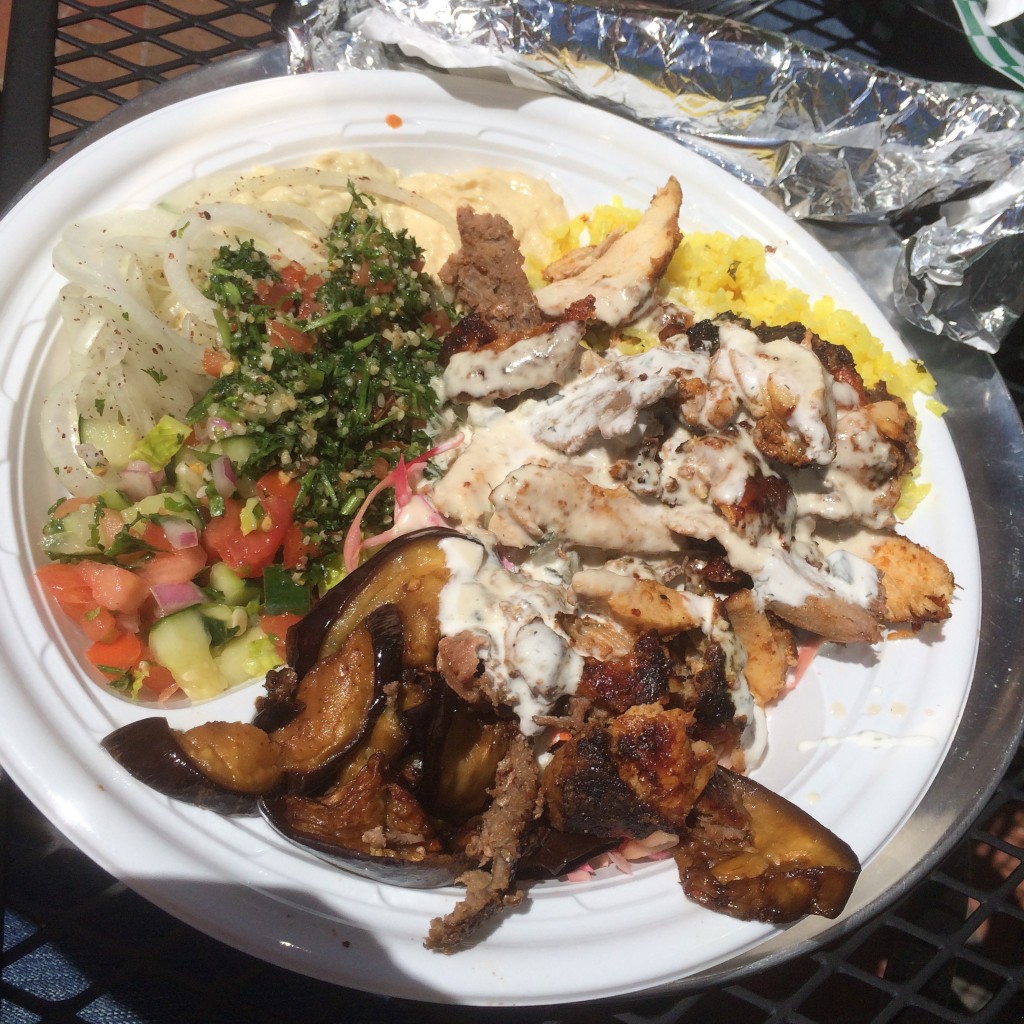 We are always on the lookout for new restaurants, especially ones with an international theme. Cilantro, Mediterranean Cuisine opened earlier in the year not far from us. There is a similar restaurant, also close by, called Hummus Corner. What drew me to the new place was Lamb – I am a huge fan of lamb shawarma so we had to try it out. The pictures are from two visits.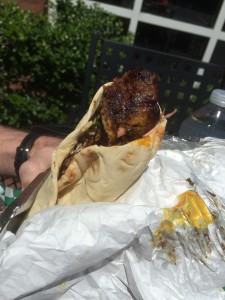 The first visit, my Heart had the lamb shawarma wrap. Not only was there a ton of lamb but there was a choice of fresh toppings that you could add in including Tabbouleh salad, Tzatziki, Hummus, Tahini, and Babaghanoush, grilled eggplant, cabbage salad, tomato cucumber salad, couscous, and yellow rice. There were also sauces: tomato salsa, Harissa, marinated raw onion & sumac, and jalapeño sauce. You can see the size of wrap – Huge !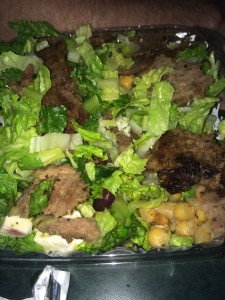 Our second visit, my Heart ordered the Greek Salad with lamb shawarma added. Again, a huge serving.The Greek salad included tomato, cucumber, bell pepper, kalamata olives, chickpeas, red onion, and feta cheese and a cilantro lime dressing.
I didn't show much imagination on my second visit – I ordered the same wonderful combo: Chicken & Lamb Shawarma platter. Like the wraps and bowls, you get to pick from all those toppings and sauces. The lamb and chicken shawarma are super delicious and tender. I love that you can get both couscous and yellow rice and not just one or the other. All of the toppings are wonderful but I am especially a fan of the Babaghanoush, the cabbage salad, and the grilled eggplant but everything is wonderful – packed with fresh ingredients and tons of flavor.
Also, the sauces are filled with flavor and when they say something is "hot", they mean it. Ask for just a little bit initially or a taste before you get too much – even if you are a fan of heat.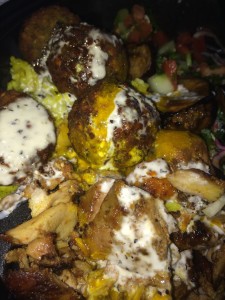 My son and his girlfriend were with us for the 2nd visit – they both ordered the combo platter with falafel (my son had the lamb shawarma and his girlfriend the chicken), which meant we got to try them also. You can select the type of falafel including a traditional variety, spicy, smoked roasted red pepper, and white bean rosemary. These were wonderful falafels exactly the way that they should be, crisp on the outside but tender on the insider. Too often falafels are overcooked and just crunchy little balls with little flavor but, much like meatballs, they should be tender and moist inside. Move everything comes with flatbread, sometimes there is a small extra charge but it is totally worth it – they are obviously also fresh-made.
Since our last visit, my son and his girlfriend have been back a couple times, in less than 2-weeks! – obviously a HIT.