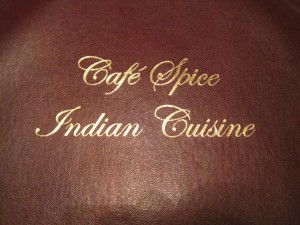 Sadly, the Indian restaurant that we liked closed so we are on the search for a new restaurant and I think we found one in Cafe Spice. Note: the description of the dishes are directly from the menu.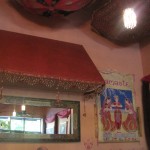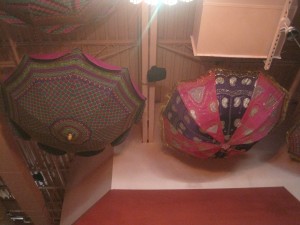 First – Great decor. Lots of bright colors and pictures. I really liked the umbrellas hanging from the ceiling.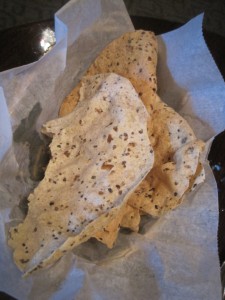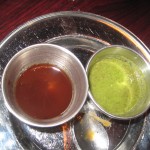 After being seated, we were brought water and papadum with lovely sauces: A green coriander chutney, which had a little heat, and a tamarind chutney, which has a lovely sweetness. Pretty standard.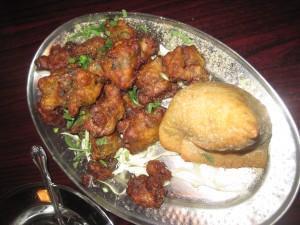 To begin our meal we ordered: Vegetable pakora (assorted vegetables combined in a chickpea batter and fried) – definitely enough for two.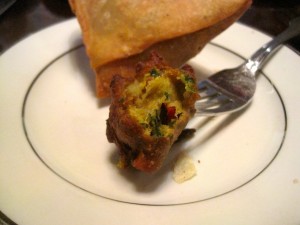 These were incredibly light pakora and not at all greasy – just crispy little bites of veggie goodness.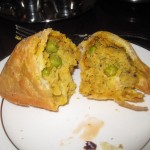 We also ordered, vegetable samosas (deep fried pastry stuffed with seasoned potatoes & peas). The portion consisted of two large samosas. They were also delicious with great seasoning. Both the pakora and the samosas were steaming hot so I don't feel like they were sitting in back in a steam rack waiting to be served, but rather, were made fresh for each serving.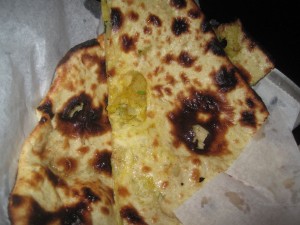 You can't have Indian without ordering some type of "bread" – how else do you soak up the delicious sauces?  We ordered my Heart's favorite: Aloo Paratha (Whole Wheat Roti stuffed with seasoned potatoes) – one large round, cut in half. This was equally delicious.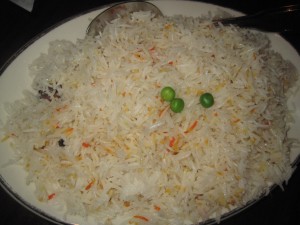 Our main courses came with the requisite jasmine rice. This is a hearty serving, which I appreciate since this is one of my favorite kinds of rice. Jasmine rice is always fragrant and this also has seasonings in it, including a cinnamon stick tucked in.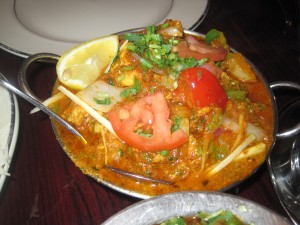 I ordered the Chicken Kadai (a rich onion butter based sauce mixed with onion, green bell pepper, ginger, tomato and garnished with fresh cilantro). This curry is packed with flavor, tender chicken chunks surrounded by delicious sauce and bits of ginger.
When we go to a new restaurant, we generally order something different and share and then jokingly rate our meal to see who's choice "won". This visit – my Heart WON without question. While my selection was quite delicious – his knocked it out of the park.
My Heart ordered Kheema (minced lamb cooked with spices, peas, and onions). First – Lamb! Always a favorite. Next – I don't know what those "spices" are but they rocked. This dish had great heat but wasn't incendiary and the flavors all worked together with the lamb, which packs a lot of flavor on its own, to make each bite a delicious experience. I could have licked the bowl, it was that good.
There is no questions that we'll be back (in fact I am planning a visit with my daughter soon). There are so many things on the menu we want to try. There are 10 or 11 "curry" dishes (remember that "curry" doesn't mean just a curry-flavored dish in Indian cuisine. It is basically a gravy / sauce based dish and there are a ton of varieties) and you can pick your protein, the options included chicken, lamb, beef, goat, and I think there are a couple other options. There is also a selection of rice dishes including several kinds of biryani.
The service was very good and the decor is bright and cheerful. The prices were moderate, each of our main courses in the $12-13 range. They were fairly busy and also have a very busy To Go business, based on the number of people who stopped and picked up food. It took a while to get our food but nothing excessive and I like the idea that everything is made fresh and isn't just sitting in back in warming trays, or worse, refrigerated/frozen and being re-heated.
I would recommend this restaurant to anyone who enjoys Indian cuisine and/or who is looking for a little adventure and to Spice up their dining experience.