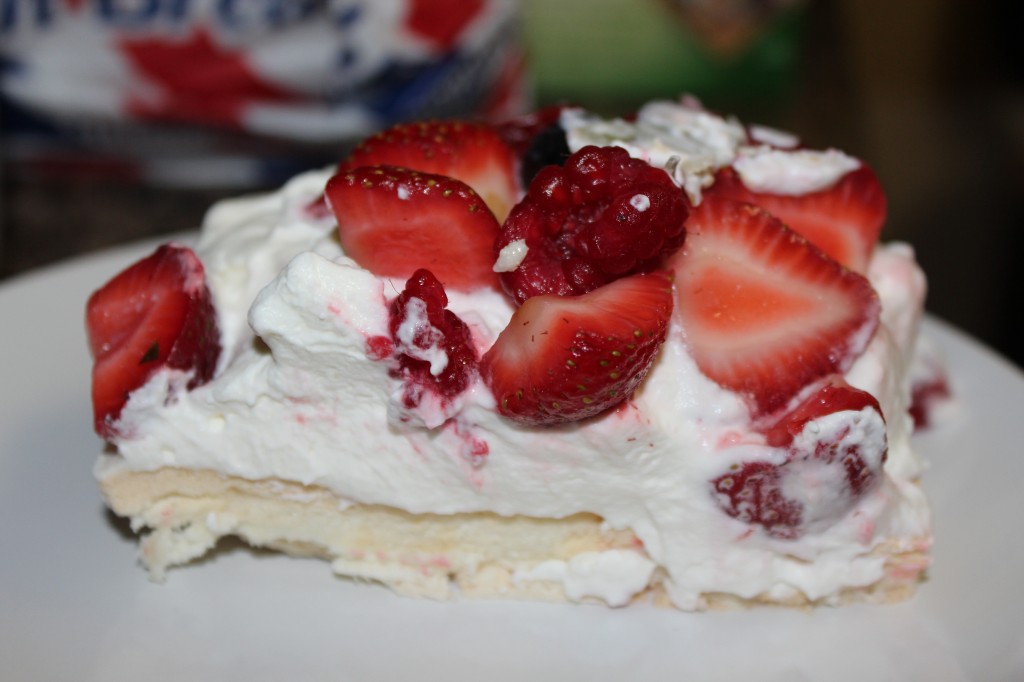 We generally switch it up for Easter Sunday. Instead of doing the usual Sunday / Family Day: lunch, groceries, etc… We did our shopping on Saturday so we could spend Sunday just relaxing and enjoying the day.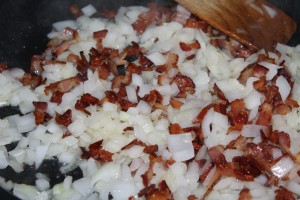 Starting with Brunch – a sort of hash dish. A combination of two inspirational recipes: Sheepherder's Breakfast and Mexican Chorizo Hash.
Started with 1/2 lb chopped bacon, cook until crisp then drain most of the grease and add in one whole onion, chopped.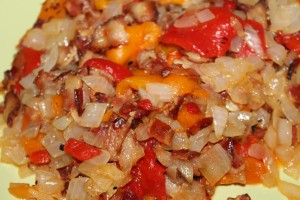 Once the onions are translucent – Add in drained jarred roasted peppers, roughly chopped, and cook for 3-minutes.
Remove cooked vegetables from pan. Add in 1 Tbsp olive oil.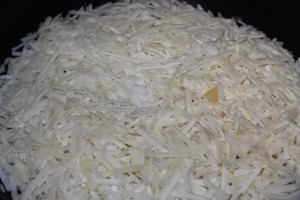 While cooking the bacon, peppers, and onion – Defrost one 30-oz package of shredded hash browns.
Add defrosted hash browns to the pan with the olive oil, spread out and let cook, untouched, for 10-minutes until bottom is golden brown. Seriously… Untouched – it will get a nice brown crust.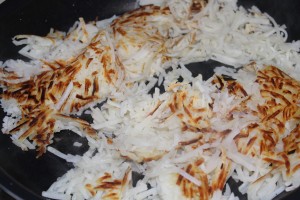 Flip the potatoes and mix in the cooked vegetables.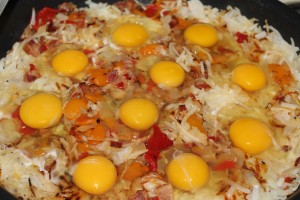 Make little "wells" and gently drop in raw eggs (it would be easier with less eggs but there are five of us).  Reduce heat to low, cover and cook for 10-minutes or until eggs are set and bottom is golden brown.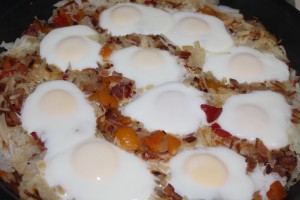 Definitely watch when the eggs are "set" – they were still "jiggly" when I checked and I stepped away and then they were firmer than I wanted.  Also, one of the inspirational recipes called for shredded cheddar  but I forgot – it would have been a nice addition. Also, consider offering your family / guests ketchup or hot sauce – my family liked the addition.  This can definitely be made with any type of meat and spinach or other vegetables would work too!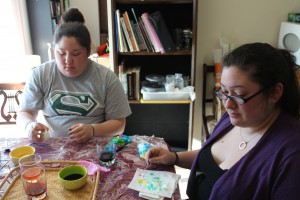 Next up – Egg Coloring and yes, my kids are grown but who doesn't love coloring eggs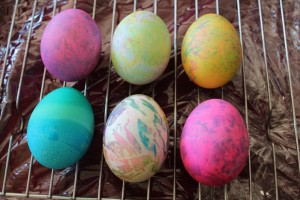 These are Mine!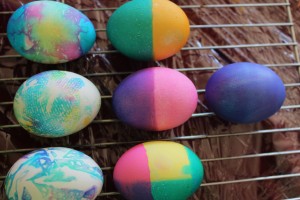 My daughter, Angela's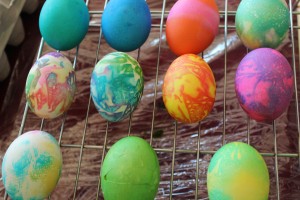 And my son's girlfriend, Shannon's – the mix was a "tie dye" package that was very interesting and fun to use.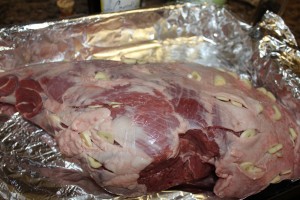 Next – The Lamb
Pre-heart oven to 400-degrees F
An almost 7 lb. bone-in leg of lamb.  Made small pockets in the fat and inserted slices of garlic.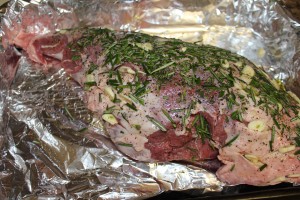 Rub olive oil into the leg of lamb then rub in chopped fresh rosemary and freshly ground black pepper.
Place in pre-heated 400-degree oven for 30-minutes and then reduce the temperature to 350-degrees and cook at additional 60-minutes for medium rare (or until a meat thermometer reaches 145 – 150-degrees F).  Remove from oven and let rest for 10-15 minutes.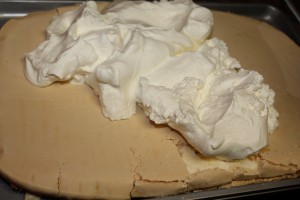 My Heart's dessert – Pavlova
Saturday night he made a beautiful meringue (8 egg whites whipped to a stiff consistency then add in 1 lb. of confectioners/powdered sugar, 1 Tbsp at a time, and also 2 Tbsp cornstarch & 1 tsp vanilla extract. Spread on parchment in a baking sheet and bake for 1-hour at 350-degrees F then turn off the oven and leave it in for another hour. Remove and cool thoroughly.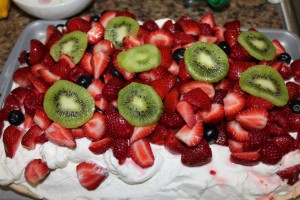 Sliced strawberries, blue berries, and raspberries were combined and marinated with Cointreau for approximately 1-hour.  One quart of heavy whipping cream, whipped with just a little vanilla extract. Spread whipped cream onto the pre-made meringue and then top with the marinated fruit and slices of kiwi.  Everything went into the fridge for 2-hours.
The lamb was perfect – some slices were rarer than other slices, which is just what we want. Super tender and obviously juicy. I did manage to find a perfect leg this year – some nice fat for the outside but really fairly lean.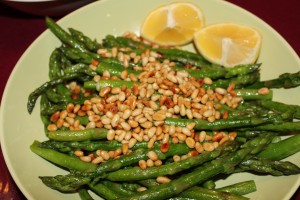 Sides included: sautéed asparagus with toasted pine nuts and a squeeze from 1/2 a lemon. I wanted a "Greek" taste to the asparagus but the pine nuts definitely were not easy to eat "on" the asparagus – next time spinach!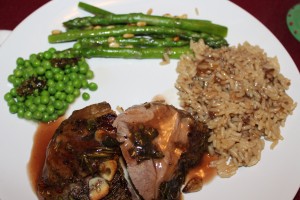 Other sides: petite peas, my Heart's delicious mint sauce (which is good on both the lamb AND the peas), my Heart's amazingly delicious gravy, and rice pilaf .
Such a satisfying dinner.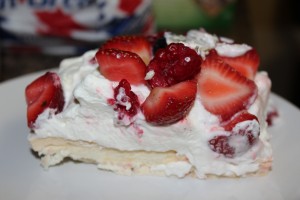 And for dessert – the absolutely gorgeous Pavlova. Even though this is whipped cream, it is an amazingly light dessert and a perfect ending after a fairly "heavy" dinner. Also – it is delicious for a few days after !!