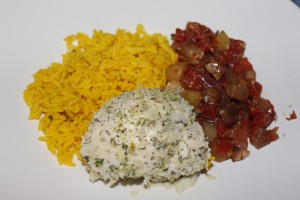 My Heart had surprise gall bladder surgery last Friday so this week has been an adventure for dinners (there will be a blog!).  All meals needed to be bland, low fiber, and as non-fat as possible – started with soft liquid foods like Chicken Rice Soup and slowly adding in more texture and flavor.  Tonight was the first dinner with very solid food, still keeping it fairly low fiber and very low fat.
The inspiration recipe: Skinny Broccoli & Cheese Stuffed Chicken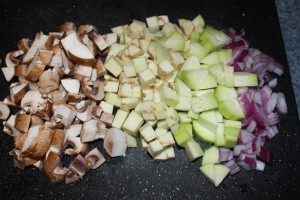 Not traditional Ratatouille ingredients, in part because my Heart is not supposed to be eating too much fiber yet.  Went with red onion, because I had some left in the fridge… I would normally use a sweet onion /  peeled zucchini, from our community garden, peeled so there wasn't too much fiber / eggplant, also peeled / Baby Bell mushrooms – all chopped.  I will also add chopped green and red pepper in the future.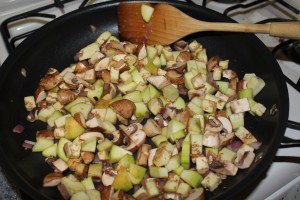 Sautéed the onion and 1 heaping tsp chopped garlic in less than 1 Tbsp extra virgin olive oil until the onion was soft then added the remaining vegetables and continued to sauté…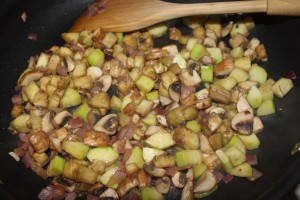 until just softened, about 10 minutes, but not browned.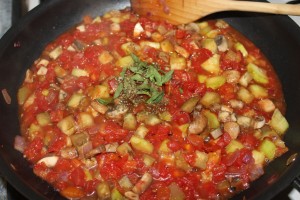 Added one can of chopped no-salt chopped tomatoes with the juice and stirred in 1 Tbsp fresh oregano, 3 tsp dried basil, and freshly ground pepper.  Over medium heat, brought the mixture up to soft bubble and then dropped the temperature and let it simmer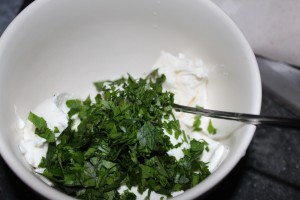 Cream filling: 3/4c non-fat cream cheese mixed with 1/2c chopped fresh flat-leaf parsley, 2 tsp lemon juice, and freshly ground black pepper.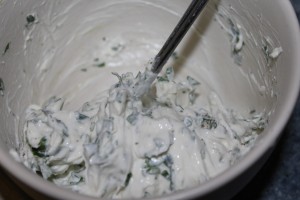 Thoroughly combined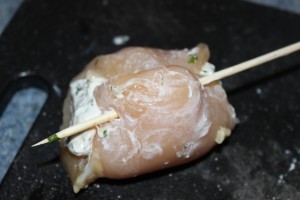 The inspiration recipe recommended, instead of pounding the chicken to thin, cutting the breast crosswise – making two breasts into four thinner breasts.  I don't think they were thin enough, next time I will also pound the chicken to make it easy to roll and quicker cooking.  Put a scoop of the creamy filling and then rolled the chicken breast and used skewers to "seal".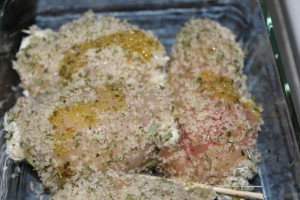 Dipped the rolled stuffed chicken breasts in egg white wash (one egg white, whipped until foamy, with 2 tsp lemon juice incorporated) and then coated with a Italian seasoning / Panko mixture.  Placed in a glass dish coated with a light layer of olive oil and drizzled a touch of olive oil on top of the chicken before placing in a 350-degree oven.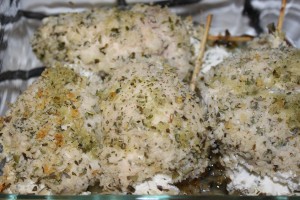 Baked for 45-minutes.  Probably could have cooked a little less but I was trying to reach an internal temperature of 170-degrees… I think my insta-read thermometer is broken.  Also, would have liked the chicken to be more golden brown so will probably increase the temperature of the oven next time.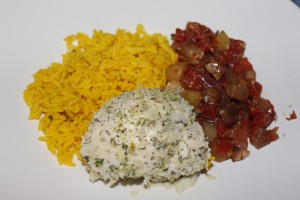 Plated with the Ratatouille, Goya Yellow Rice (my Heart's favorite), and the chicken.  The chicken had not dried out but would definitely like a crispier coating.  The texture and flavor of the non-fat cream cheese is nice and all of the seasonings worked well together.  Got a thumbs up from my Heart so I think we'll be working on this recipe and making it again.