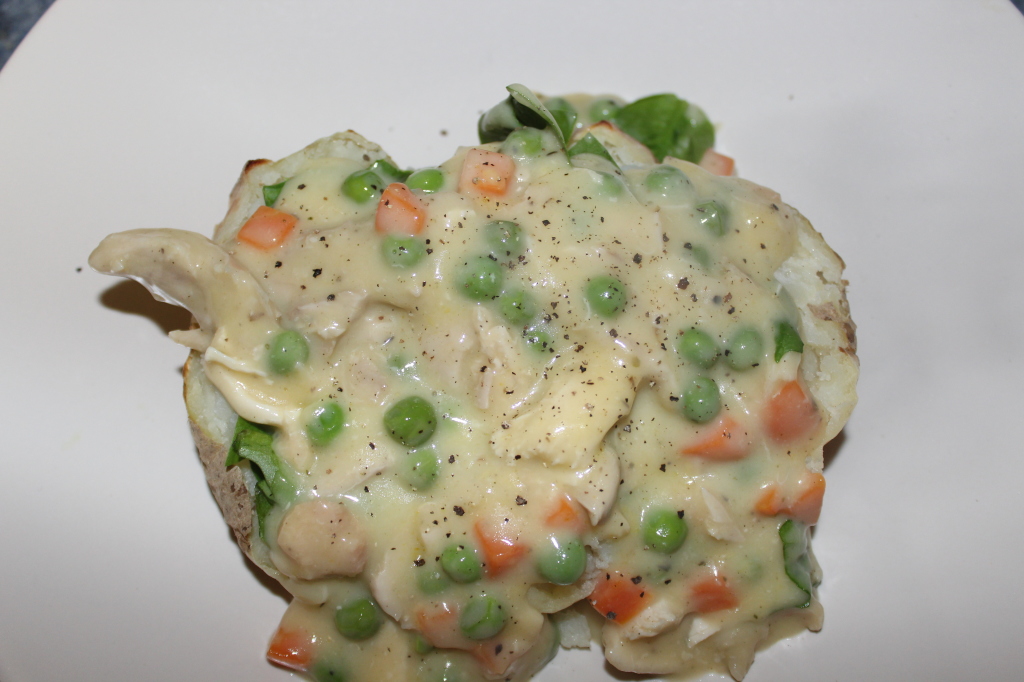 Creamed chicken is a family favorite and an age-old comfort food for me. My grandmother would make creamed chicken and biscuits all from scratch. As my kids grew up, I adjusted the recipe taking advantage of canned soups and other convenient foods. My version must have been pretty good because it became one of my Dad's favorite meals. The one tough part is always the biscuit because of the gluten-free thing and gluten-free "biscuits" don't quite make it. My Heart is a Brit and they put everything in jacket potatoes (baked potatoes) so I thought I would try it – Fantastic!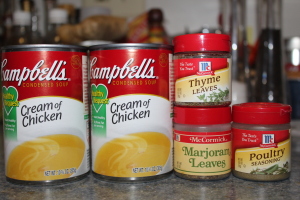 Yes, Campbell's Cream of Chicken soup is not gluten-free but it was on sale ($10 for 10) so I made an exception plus I knew I wasn't using biscuits – that's my story and I'm sticking to it. Health Valley does make a pretty good Organic gluten-free cream of chicken soup, if you need / want that type of product.
Seasoning, I want to have that roasted chicken flavor so thyme, marjoram, and poultry seasoning.
This made a hearty dinner for two (two whole potatoes) and two lunches (1/2 potato per lunch topped with a substantial serving of creamed chicken.)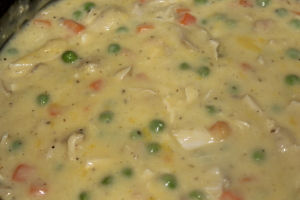 Combine 2 cans of Cream of Chicken soup with 1 to 1 1/2 cans 2% milk – the more milk, the more liquid and I like mine fairly liquid-y. Combine in a large pan. Add in the seasoning: 2tsp each: thyme and marjoram, freshly ground black pepper, a dash of salt and 3tsp poultry seasoning.
To make this even simpler, I use a store-bought rotisserie chicken, all of the dark meat and one breast (reserved the other breast for another meal) You could use a whole chicken if you want it meatier and, if you prefer white meat, you could use just breast meat. I have also poached chicken breasts to use but, really, this is a perfect recipe for rotisserie chicken. Stir in the rough chopped chicken and simmer the mixture over medium-heat, stirring occasionally to make sure the bottom doesn't stick.
While the soup and chicken is simmering, microwaved 1/2 bag of frozen peas and carrots. I have also used frozen "soup vegetables" or mixed vegetables. I have also used fresh vegetables. The choice is yours. Just make sure to cook the vegetables before adding them, this comes together pretty quickly which doesn't give the veggies much time to cook.
While the creamed chicken is coming together, scrub four medium russet potatoes, pierce with a fork and microwave for approximately 20 minutes, depending on your machines wattage. Also, pre-heated the oven to 425-degrees F. I like the speed of microwaving potatoes but I want some crunch to the potato skin so, once the potatoes are cooked, pop them in a hot oven for 15-20 minutes to crisp up the skin.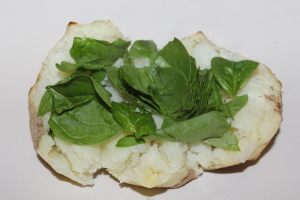 Now to put everything together – Open up a potato, break up the inside a little, and (just to add a bit more veg) sprinkle with a handful of torn raw baby spinach leaves. If you have ever done anything with raw spinach, you know it starts to wilt instantly with heat. I wanted the extra green veg but didn't want it to cook down to nothing.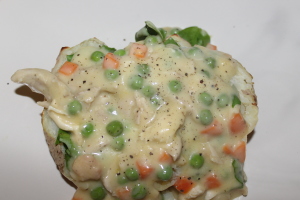 Top with a few scoops of the creamed chicken and a bit more freshly ground black pepper.  This meal came together in about 25-30 minutes and was hugely satisfying. I'm not sure I'll ever fix it with biscuits again. Perfect for a cool fall or cold winter night and the leftovers were just as delicious.