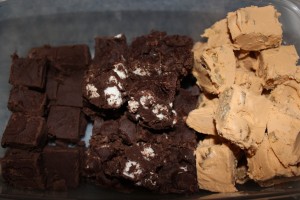 So if you read this blog regularly you know that I don't bake – I am actually not a big dessert person either… give me a steak and I'll skip the cake!  But sweets are such great Christmas gifts and it is really hard to wrap a roast.  *smile*
I decided to make sweets to give to some of our neighbors who say Hi every morning and who help make the neighborhood more than just an apartment complex.  I found this Fast & Foolproof Frosting recipe, so simple even "I" could do it – of course, I fiddled with it a bit too!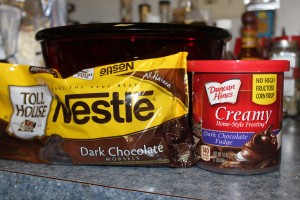 Ingredients: 1 bag of chocolate chips (I used dark chocolate for two batches) and 1 can of creamy frosting (I used dark chocolate fudge).  That's IT !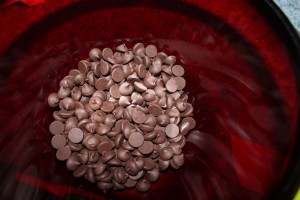 Lightly oil a 9×9″ pan before you start the process
Pour one entire bag of chips into a microwave safe bowl and microwave on high for 30-seconds and stir thoroughly.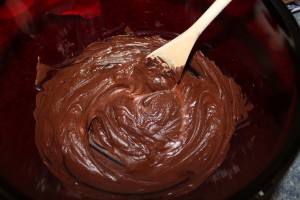 Continue microwaving in 30-second increments and stirring thoroughly until the chips are smooth. Don't rush the process or the chips will separate and the fudge will turn white.  The timing varies based on the chips.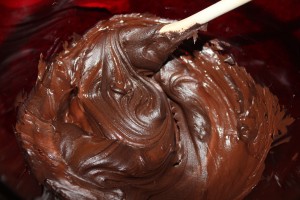 Once the chips are completely melted, stir in the whole container of frosting until combined.  At this point, you can scoop and press the mixture into the prepared pan and you have a traditional chocolate fudge.  Cover and refrigerate for 30-60 minutes until firm (although it is cool in our apartment so I just left it on the counter for a couple hours and it firmed up just fine).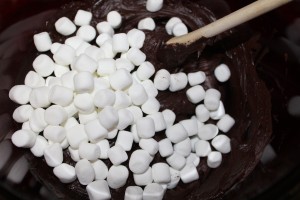 Batch #2: The same dark chocolate chips and dark chocolate fudge frosting but, once everything was combined, added 1 1/2c miniature marshmallows.  I wanted to make a Rocky Road but decided not to add the nuts since I was making this for others – always worried about nut allergies.  On the other hand, my daughter wants nuts in this next time!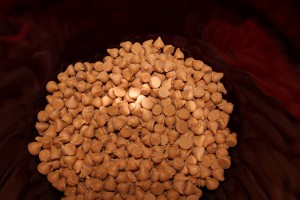 Batch #3: Butterscotch chips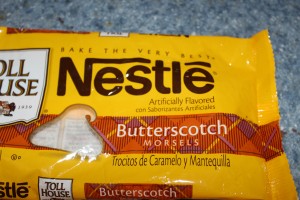 These took slightly longer to melt but, again, don't rush the process – just be patient.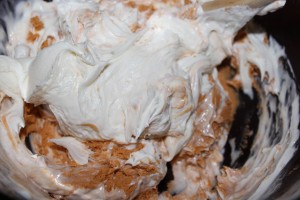 Instead of the chocolate frosting, I used vanilla frosting.  What I really wanted was a Dulce de Leche frosting that used to be out there… it doesn't look like it exists anymore, sadly.  The vanilla frosting worked out just fine.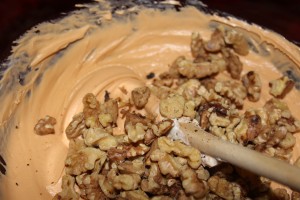 I also added toasted walnut pieces to this fudge.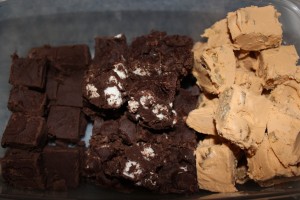 We gave the neighbors a "sample" of all three types of fudge – they were very well received.
Notes:
Based on the notes from other bloggers who also tried this fudge, don't use Cream Cheese frosting – it separates with the heat and, while the fudge tastes ok, it doesn't look very good.
The textures were fascinating – the solid chocolate fudge had the texture you would expect for traditional fudge and the marshmallow fudge had a similar texture but with the little "chewy" marshmallow morsels and the addition of nuts would be equally good. The butterscotch fudge had an almost melt-in-your-mouth texture and turned out to be a favorite.
Alternatives: There are also milk chocolate chips and frosting, if dark chocolate is not your style.  There are  peanut butter chips, which could be melted with vanilla frosting and with peanuts added would make a peanut brittle style fudge.  The options are endless.