Found this dip at our local Wegman's – Mama Vida Crab & Artichoke Dip.  We go to a local vineyard many Saturdays during the summer for their concert series.  We go to enjoy the music, wine, and food with our friends and this dip sounded like something everyone in our group would enjoy.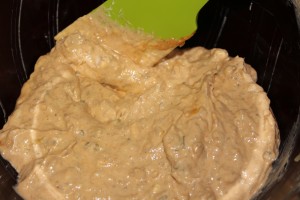 The dip can be serve either hot or cold – since it is  summer, cold seemed more appropriate.  1/2 of the jar was combined with an 8oz package of non-fat cream cheese and served it with crackers – A big hit with a great combination of flavors and lots of crab… but what to do with the rest of the jar?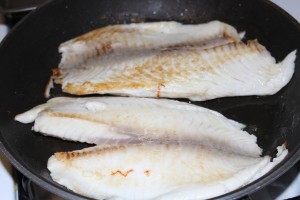 Two tilapia fillets, browned on either side.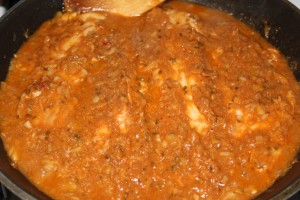 Then covered with the rest of the jar of crab & artichoke dip including less than 1/4c of water used to rinse out the remaining dip from the jar. The dip was very thick so adding just a touch of water was needed.  Brought the pan to a bubble over medium heat and then dropped the temperature slightly and let the fish simmer until cooked through, less than 15-minutes.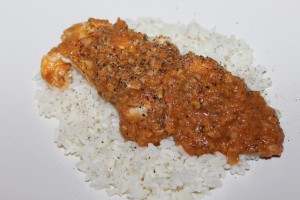 Served on long-grain white rice – the sauce was perfect with the tilapia and with 0 fat in the dip, a fairly healthy dinner too.  I love it when a plan comes together.